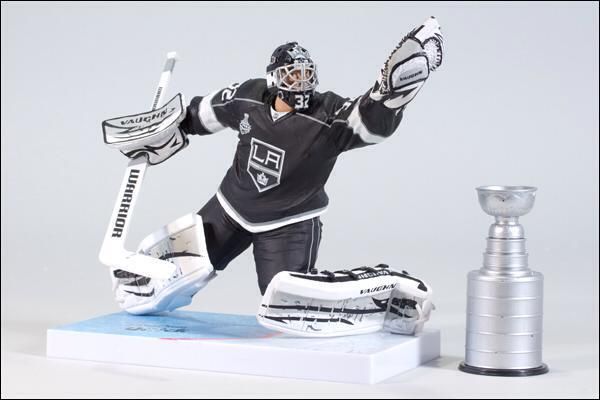 I was busy watching the Presidential elections when something came across my Facebook feed that had NOTHING to do with politics and EVERYTHING to do with AWESOMENESS.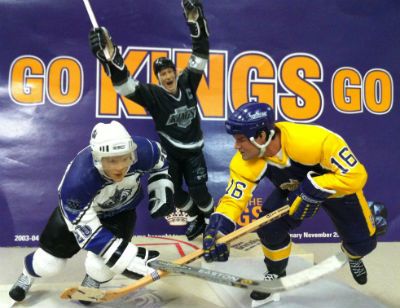 Over at Todd MacFarlane's Spawn.com, they have announced L.A. Kings goaltender Jonathan Quick will be immortalized as a toy. Considering it doesn't do much but sit there, I guess you could call it an inaction figure. But it does comes with a Stanley Cup, which is nice.
I have the other three McFarlane L.A. Kings figures, Luc Robitaille, Marcel Dionne and The Wayner. (I didn't bother getting Jeremy Roenick, for obvious reasons) I had hoped that we'd see another figure before now. But the last King to come out was Dionne back in 2006. I had all but given up hope.
It seemed the only way a King would get the call would be to win one of the big individual trophies, like the Art Ross or the Vezina. Seeing Quick romp through the playoffs on the way to not only hoisting Lord Stanley's chalice, but also the Conn Smythe trophy brought the hope that MacFarlane couldn't possibly ignore that performance. Well, they didn't, and they produced a fantastic sculpt that I can't wait to get my hands on.
This also breaks a very important tie: both the Kings and the Ducks had four representatives in the toy aisle. Anaheim has had Paul Kariya, Teemu Selanne, J.S. Giguere and Sergei Federov (I forgot about him.) Jonathan Quick's Casteline doppleganger tips the scales in favor of Los Angeles.
Here's the catch, the figure is only going to be available online at Spawn.com. I imagine you'll also be able to get it on eBay. But Quick will not be gracing the pegs at your local Toys R' Us. Also, the figure will debut in December.
But hey, who cares! I just added yet another trinket to collect dust on my shelf.