I was out to dinner with some buddies Thursday night for a rare guy's night out. What can I say? Between working nights and getting all our schedules to match up, it's hard to get all of us together.
And as is the case, the barbs were flying back and forth. Good-natured needling always takes center stage when we get together, and it still causes us to double over in laughter. The beauty of it is no one gets off scot free, there is no off-bounds. And it's usually extremely vulgar. Just guys being guys.
At dinner, I was being hammered mercilessly for ordering a three-cheese panini ("Hey, isn't that just a grilled cheese sandwich?" "Does it comes with crayons and ketchup?" "Where's your apple fries and sippy cup?" "Need a booster?")
During a lull in the ribbing, my friend Brandon leaned over to me and showed me a text message he got.
"You just got scooped, son," he said.
I glanced at the message, still laughing from all the ragging I was enduring for my dinner. I had to do a double take when I finally read it:

"Doughty agrees to 8 year, $56 million deal."
I grabbed my iPhone to verify from the Kings website, and there it was. The confirmation that Kings fans everywhere had been waiting for all summer: Drew Doughty is a King.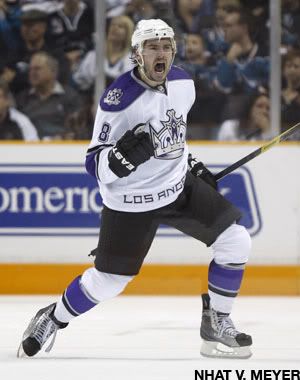 I realized as I was driving home from dinner that the feeling I was experiencing was something different than the usual preseason jitters I experience every year. Gone was the veil of uncertainty, replaced by an overwhelming sense of elation.
For once in a very long time, fans know exactly what to expect from the Los Angeles Kings heading into the season. They don't have to worry about goaltending, thanks to Jonny Quick and Jonathan Bernier. They don't have to worry about scoring, thanks to the return of Anze Kopitar and the new free agent signing of Mike Richards. And now, they don't have to worry about the defense, with Doughty joining Jack Johnson on the blueline for the foreseeable future.
I also realized that this team, as presently constructed, is going to be the same team for quite a while. Thanks to CapGeek.com, I can bring these numbers: While Doughty is signed through 2018-19, Richards' contract is through 2019-2020. Johnson's deal ends in 2017-18 and Kopitar's is up in the 2015-16 season. The contracts of Jonathans Quick and Bernier both expire in 2012-13, and it's not inconceivable to admit one of those two will be locked up long-term while the other gets dealt.
There's your core, Kings fans. Kopitar, Richards, Johnson and Doughty (plus either Quick or Bernier). From here on, Lombardi will be adding pieces to compliment these four players on offense and defense. These are the pillars the franchise now rests upon. This is the future of your Los Angeles Kings.
What a perfect end to a perfect evening.
Related links
• LA Times: Kings sign Drew Doughty to eight-year, $56-million deal


"I've been a Kings fan since I was a kid and I was never thinking about going elsewhere," Doughty said by phone from his home in London, Canada. "I knew it was just a matter of time before it got done and I'm just really excited to be a part of that team for eight years. I hope we can win many Stanley Cups in that time and I'm going to do everything I can to help lead us to that."
• LAKingsInsider.com: Leiweke comments on Doughty signing


"I just want to go win Cups. Drew is going to help us do that. What the fans should understand is, this kid is a warrior. I'm glad he's on our side. I'm glad he's here for eight years and I'm glad we got it done, because I think the world of him."
• TSN.ca: Kings reach verbal agreement on multi-year deal with Doughty


Doughty statistically ranks among the best defencemen to ever play for the Kings. His nine career game-winning goals ranks fourth all-time among Kings defencemen and his 17 career power-play goals ranks ninth all-time. He also ranks 12th on the all-time list in career goals (33), 13th on the all-time list in both career assists (93) and career points (126), and tied for 15th on the all-time list in career plus/minus rating (plus-16).