Game 1: Kings 3, Blues 1

• To peep out all the videos online about this game, check out today's Hockeywood Dailies.
• AP: Matt Greene's short-handed goal lifts Kings on road

Matt Greene scored his first career playoff goal short-handed late in the second period and rookie Slava Voynov also got his first of the playoffs as the Kings beat the St. Louis Blues 3-1 in the opener of a Western Conference semifinal series Saturday night.

• LA Times: Defense answers for Kings in series-opening win

The eighth-seeded Kings have won their last six playoff games on the road, including four from this post-season campaign, three from the Vancouver series and Saturday night's win at Scotttrade Center against the second-seeded Blues.

• LA Times: Elliott: It's plodder's day for Kings' Matt Greene
Greene himself came up with the best description of his pace in scoring the short-handed goal that launched the Kings to a 3-1 victory over the Blues on Saturday in the opener of their Western Conference semifinal series.
"Lumbered," he said. "Maybe that's it."

• ESPNLA.com: Jonathan Quick, Dustin Penner lead way in Game 1 victory
THE STAT: The Kings have won six consecutive playoff games on the road and are 8-2 away from Staples Center over the past three postseasons. This is the fourth consecutive playoff series in which they've taken away home-ice advantage in the first two games.

• FoxSportsWest.com: Kings effectively sticking to "Sutter's Law"

Greene's shorthanded game-winning goal – in which he traveled the length of the ice to chip in a Brown rebound over Brian Elliott's shoulder – was the second shorthanded goal by a defenseman in Kings playoff history and the first since Rob Blake in 1993.

• ESPN.com: Kings' confidence keeps growing

While St. Louis was flying around them, the Kings' players repeated the same talking points that have pushed them this far. Keep working hard. Keep finishing checks, and believe at some point it's going to turn.

• NHL.com: Kings shut down Blues 3-1 in series opener

If not for Quick, the Blues could have run away with the game in the early going. He robbed Andy McDonald twice from point-blank range in the game's first minute, then kicked out B.J. Crombeen's backhand effort with 8:18 left in the period to keep it a 1-0 game.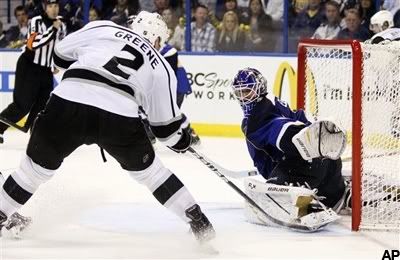 They said it

"Special teams and PK. I'd say that's number one, when you don't allow the other team to get confidence on the power play and you score three shorthanded goals. If I'm on the other team, that's deflating. It's the same guy doing it. Brownie is the main catalyst on that. He's tenacious out there on the PK. It's almost like he enjoys it more than 5-on-5 or the power play sometimes. That's been a success. And obviously Jonathan Quick.'' – Dustin Penner, on the keys to winning on the road in the playoffs.


"That's what the series is going to be like, is trying to limit the shots from the inside and make it really hard for them to get scoring opportunities. They had some good chances tonight, and again Quickie is there for us and we find ways to get timely and big goals.'' – Dustin Brown, on trying to limit the Blues' scoring chances.


"I don't think we made many adjustments. I just think it was the fact of getting our legs underneath us. This is a tough team, to come into their building, and they came out flying. They're one of the best teams on home ice in the league. We were able to kind of weather the storm a little bit. They got one early, but we were able to get one back at the end of the first and we continued our strong play through the last two periods there.'' – Jonathan Quick, on the Kings' defensive adjustments throughout the game.


"It's good. It's definitely a great feeling to be able to chip in and help out a little here. We've got a lot of work to do. It's fun right now, but it's a new day tomorrow.'' – Matt Greene, on scoring his first career playoff goal.


"We know how good they are, and we know how good they were last series. We just try to find ways. I don't think there's magic to it. Quite honestly, 0-for-17 (on the power play) has no bearing on it. It's about tonight. It's like us not scoring on the power play. I'm sure they want to get better at it and I'm sure we want to get better at it.'' – Darryl Sutter, on keeping the Blues' power play off the scoreboard, in the regular season and Game 1.