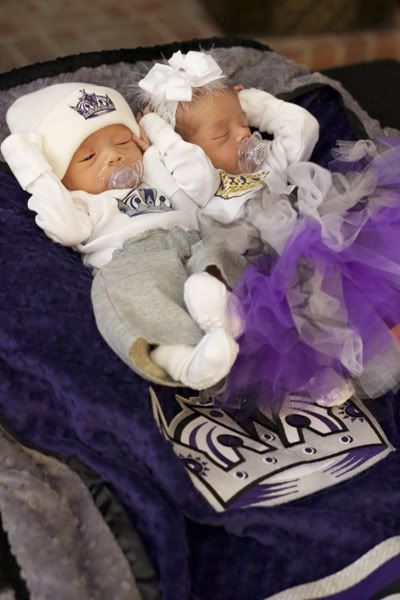 Very often, writers are very disconnected from their readership. After grinding out countless articles with little feedback, one starts to wonder why exactly does one spend so much time writing instead of interacting.
So last season, I came up with a simple contest to reach out and see exactly who is out there. The rules were simple: send in a picture of yourself wearing a Kings jersey and you got a decal. And I was stunned by the response.
I had a ton of shots sent in, many showing a lot of pride in the team. There were shots of fans with players, with Bailey, with the Ice Girls, with the Stanley Cup. There were family shots, couple shots and shots of friends. There were old school jerseys, new school jerseys and everything in between. There were shots from Staples, Las Vegas and even one from Stonehenge. (Check out all the entries on the Tumblr site.)
The eventual winner was one of the first entries I received. It was a tender shot of newborn fraternal twins Zander and Emma, both wearing Kings onesies on a plush Kings blanket.
Everyone I showed them to just melted. And voters agreed. Through all four rounds, the twins ran wild on some solid competition. And in the end, the twin tots reigned supreme.
Their photo was sent in by proud papa Eddie Resendez, who I found out was one of the biggest Kings fans I have met. Why? Because he convinced his wife to create the ultimate Kings baby room for his son! In fact, Zander's room puts many other man caves to shame.
There's so much to like in this room. Zander's name and birthday hang over his crib in the official player font and numbers. A custom Kings mobile, with mini jerseys of Kings legends twirl over Zander while he sleeps. I really dig the custom Kings jersey blanket, made with the Crown logo from the purple third jersey. Overall, a baby room fit for, well, a King.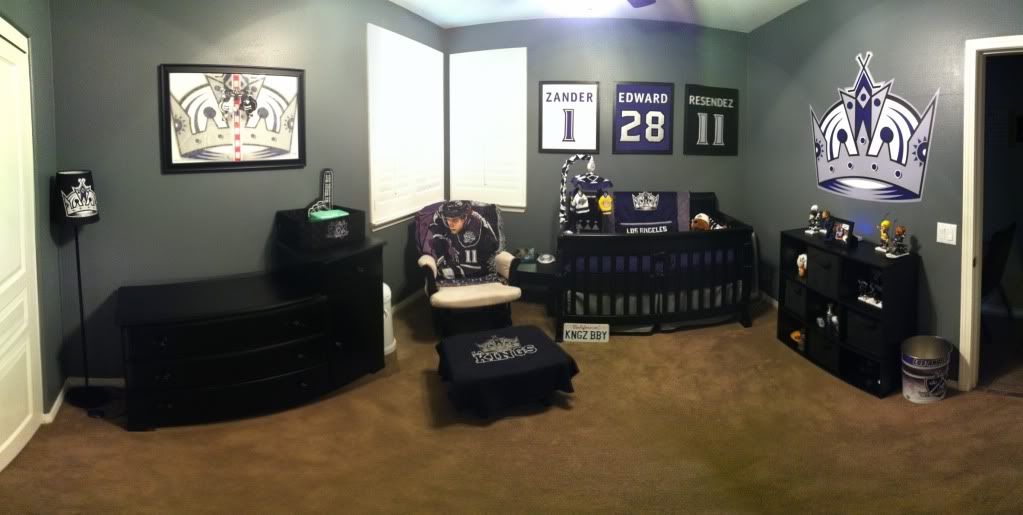 I was impressed and wanted to find out more, especially since I wanted to know how he convinced his wife to allow him to create such a masterpiece. So I fired off an email to Eddie, who was nice enough to answer some of my questions.
Q: How long have you been a Kings fan?
A: I've been a fan since 6th grade which was about 1990ish. I had never really heard much about hockey but my older brother and I started playing roller hockey in our garage and our love for hockey took off from there.
Q: How long have you been married?
A: My wife, Jennifer, and I got married on July 7th, 2007. 7-7-7!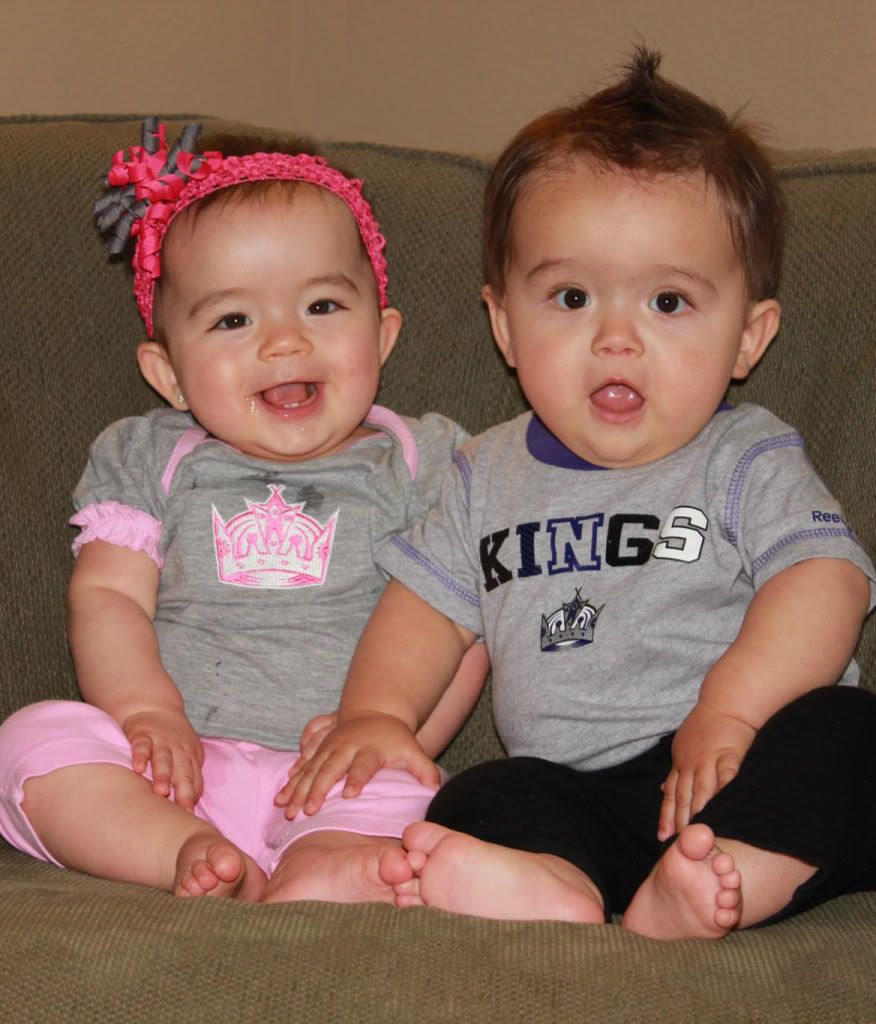 Q: When were your kids born? Have they been to their first game yet?
A: Zander Edward and Emma Grace born on Jan 28th, 2011. They went to one game last year vs the Stars on March 7th. Unfortunately it was an OT lose.
Q: How did you convince her to let you design the bedroom?
A: Luckily when we found out we were having twins, I started working on her and after we found out we were having one of each she said I could design my boys room and she would design my little girls room. She is awesome like that!
Q: When do you think the Kings will win the Stanley Cup?
A: I think Dean and AEG have put the Kings in place to compete for the Stanley Cup this season and I see a huge window open for the next 2-4 years. This is the best shape this franchise has ever been in and hopefully once the playoffs start everything goes their way and they make a solid run this year. I can't wait for this season!
Congratulations Zander and Emma (and Eddie and Jenn), on becoming Hockeywood's version of Twinning! And thanks to all our competitors, it was a blast seeing everyone's pictures.
And since it was so much fun, We're gonna do it again. But this time, we're gonna rock it all season! Stay tuned for all the deets, Kings fans.