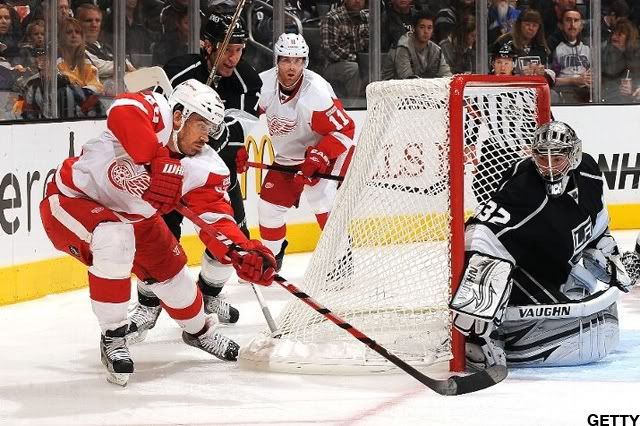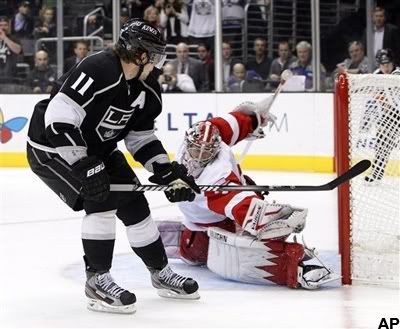 Game 20: Red Wings 4, Kings 1

To peep out all the videos online about this game, check out today's Hockeywood Dailies.
• AP: Kings falter as Red Wings collect rare road win
The Detroit Red Wings snapped a five-game, road-losing streak behind strong goaltending by Jimmy Howard and offense from players who had been struggling to score.

• LA Times: Detroit Red Wings' 4-1 victory ends L.A. Kings' winning streak
One team on the ice at Staples Center on Saturday looked old, slow and fumble-fingered — and it wasn't the Detroit Red Wings. The Kings spent too much time watching the Red Wings work their magic with the puck and demonstrate that their rumored demise is merely opponents' wishful thinking.

• LAKings.com: Downed by Detroit
The Kings and Detroit Red Wings traded roundhouse punches early in Saturday's game. The Kings didn't get up. After a shorthanded goal that should have given them tremendous momentum against a Detroit team that has been weak on the road this season, the Kings became shockingly uninspired and it cost them in a 4-1 loss to the Red Wings in front of a sellout crowd of 18,118 at STAPLES Center.

• NHL.com: Datsyuk, Wings dethrone Kings 4-1
Detroit remains tightly calibrated through its ups and downs, and it didn't blink when it gave up a shorthanded goal early against the Los Angeles Kings. The Red Wings (10-7-1) responded with Pavel Datsyuk's slump-busting power-play goal and scored the next three for a 4-1 victory to finally end one of the worst road stretches in club history.

• Detroit Free Press: Detroit Red Wings 4, Los Angeles 1: Wings break two-game skid
Unlike the San Jose game, when the Sharks turned their shorthanded goal into a landslide, the Wings didn't let the Kings have the momentum for long. Nicklas Lidstrom got the puck at the blue line and blasted a shot on net, and after Tomas Holmstrom got his stick on the puck, Datsyuk strode in and netted his third goal of the season.

• Detroit News: Pavel Datsyuk scores twice, Wings end road losing streak
Howard stopped Kings leading scorer Anze Kopitar on a penalty shot at 11:06 of the second period, with the Wings leading 2-1. "I really enjoy those moments," said Howard of the 1-on-1 confrontation. "It's kind of my chance to score a goal. I love that 1-on-1."

They said it

"We didn't make any plays. At least that's what it seemed. We were just chasing the puck around the whole time, and with a team like that, it's obviously tough to do. You pretty much have no chance if they have the puck all the time." – Anze Kopitar, about the game.

"They might be a little bit older. They're not slow, definitely. It's the furthest thing from the truth. They're a good team. They have a lot of skill. They get on you quick on the forecheck, and they force you to make mistakes, and then they capitalize. They played a good 60 tonight, and they were just better than us." – Jonathan Quick, on the age of the Red Wings.

"They capitalized on turnovers and we didn't. When you play these guys, there are shifts when you're in your zone for a little while, but tonight it was way too much. We turned pucks over and played right into their game. They had a great game. A lot of their guys were playing really well. We played right into their system like that, so they're going to have great success." – Matt Greene, on the game.
"Against a team like Detroit, that play over the top of you, you've got to bring everybody back, you've got to stay low. You've got to make those little handoff support plays. Tonight, it was one pass and we thought we were done. We were resting, when it should have been, 'OK, I've got to stay involved, I've got to get it back and I maybe have to bring it out the other side.' I thought we brought a lot of the issues on ourselves." – Terry Murray, on whether the Kings were "chasing the game."

"I stayed patient with [Kopitar]. You know he's a talented player. I figured he was going to make a move and I just went out, followed him back, stayed patient and was able to make a glove save." – Jimmy Howard, on stopping kopitar on the penalty shot.