One of the rites of passage when the new season is on the horizon, is to check out the Kings' schedule to see what games you'd like to see live. After all, there's nothing like seeing hockey in person. The sounds, the action, everything is better when you are watching from the stands.
But then I read that all 65 Kings games on Fox Sports are going to be broadcast in hi-definition, and I started to look at which away games I wanted to catch. And if you're gonna watch any sport in hi-definiton, it has to be hockey.
So here, in chronological order are the games that are must see from the safe confines of your couch:
• Oct. 14: Kings at New York Rangers, 4 p.m., FSW
The Kings start with three home games, followed by the season's longest road trip, six games in nine days that starts in St. Louis and ends in Dallas. It's a challenging trip right out of the gate for the club, who haven't had a winning record in October since 2005. Four of the teams L.A. is playing went to the playoffs last season, including the Rangers, who had a 3-1 game lead on the Capitals before Washington won four straight to eliminate New York. The Rangers boasts one of the league's top young goalies in Henrik Lundqvist and has re-tooled their top line, adding Marian Gaborik and adding Christopher Higgins in the Scott Gomez trade to Montreal. Don't forget the always controversal former King Sean Avery, who has lost a step but is always must see. Do you need a better excuse to beg off work early on a Wednesday? I didn't think so…
• Nov. 13: Kings at Atlanta Thrashers, 4:30 p.m., FSW
So, you're probably wondering why I'm putting Atlanta on here. They haven't made the playoffs since 2007, they are having ownership problems and as a result, they haven't decided whether they are in a rebuilding mode. Sounds like a stinker, right? Well, the reason Kings fans want to watch this game is to take a look at Ilya Kovalchuk, whom the Kings could acquire in a trade later this season or sign outight as a free agent next year if he opts to test free agency. In my humble opinion, Kovalchuk would be the final piece for this club and the timing could be right if the Kings are making a playoff push this season, as many people think.
• Jan. 26: Kings at Toronto, 4 p.m. No local coverage
The Mad Scientist Brian Burke has been furiously trying to retool the Maple Leafs back into playoff contention. The drama that unfolded at the NHL Draft earlier this summer just adds to this game's intrigue. In case you forgot, the Kings had the number 5 pick and selected Brayden Schenn, younger brother of Toronto's young defensive star Luke. The look on Burke's face was priceless. The fan base for Toronto is clamoring for a playoff push, and the team has missed the playoffs for the past four seasons. Maybe it's because I associated Burke with the Anaheim Ducks still, but I want this guy to fal miserably. And the Kings could be hitting their mid-season stride in January.
• Jan. 31: Kings at New Jersey Devils, 2 p.m. No local coverage
The defending Atlantic Division Champions may have lost a bunch of players on the ice over the off-season. But they did bring in former coach Jacques Lemaire, signed Brandon Shanahan, and they still have Marty Brodeur in goal. The Devils may not match their 106 point performance of 2008, but they have enough pieces to make this a good game. As you may have noticed, the game isn't on FSW. Can you say Hockeywood Watch Party? Maybe…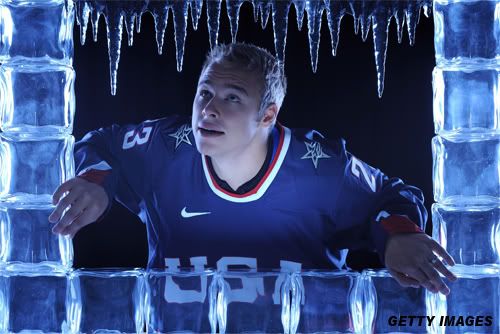 • Feb. 21: 2010 Winter Olympics Ice Hockey, all day, NBC
Hockeywood may focus on the L.A. Kings, but we're hockey fans first and foremost. And this day could quite possibly be the greatest Olympic qualifying bracket of all time. Starting at 9 a.m. Pacific, Sweden, the 2006 gold medalists, take on the 2006 silver medalists, Finland in a re-match that could eliminate one of these powerhouses from the tournament. The 1 p.m. game features the formidable Russian team, featuring the Kings Alexander Frolov squaring off against the Czech Republic, the 2006 bronze medalists in another medal rematch. And finally at 4:30 p.m., Kings captain Dustin Brown and the United States squares of against Cindy Crosby and Canada in the nightcap. It's a lazy Sunday, filled with world-class hockey, broadcast in hi-def. This, my friends, is heaven.
So there you go, five games (O.K., technically seven with the Olympics) that I feel are must-see TV. What games are you looking forward to seeing?