Last week, when Wayne Gretzky stepped down as coach of the Phoenix Coyotes, I mused that the Kings should bring Wayne back to Los Angeles, in a public relations capacity. After all, the Wayner has the jersey on the wall and the statue in front of Staples, and is generally considered the G.O.A.T. in the NHL (You gotta include Bobby Orr in the conversation… just saying.) My point was it couldn't hurt the organization, from a public relations standpoint, to bring him in, wave his little hat and say "Kings Rule," much like Marcel Dionne and Rogie Vachon do now.
Well, over on fan site LetsGoKings, fans were not receptive to the suggestion…

I'm on board, as long as he's the Kings' ambassador to somewhere remote. How about Namibia, for example? He can enjoy the local gastronomy there.

and:

They could hire him to stand where his statue is and wave after we melt it down.

and:

would he be willing to shift to LW?

Needless to say, I had moved on. The preseason was drawing to a close, and I've been efforting the season preview for the Kings. (Coming later this week) Today, when I went over to Jesse's house to record the season's first Hockeywood Insider podcast, he greeted me at the door with a smile and asked if I heard the news…
Lombardi: Kings have interest in Gretzky
Basically, Kings General Manager Dean Lombardi said on sports station The Fan 590 (audio here) that he had spoken to Gretzky about returning "in some capacity" now that he's done with Phoenix. One of the titles bandied about was "Minister of Culture." To me, it sounds like Deano and I are on the same wavelength. Bring in the Great One, have him don a purple foam finger, and perhaps try to motivate the team with his presence. Seems harmless, eh?
But that's not all. Lombardi proceeded to say that he's not interested in No. 99 just for "shaking hands and kissing babies." He spoke of the great winning culture Wayne brought to Edmonton, when the Oilers were champions. And that's when it clicked for me.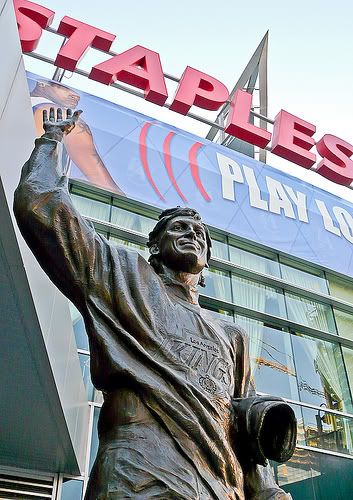 From the get-go, Lombardi has said that he wants to "instill a culture of winning," something that has sorely lacked in the franchise for years. Lombardi has done that with the franchise, from the standpoint of the ice. He's rebuilt the farm system, helped nuture and for the most part, brought along the Kings' young talent with varying success. (The signings of Roenick and Cloutier will forever hang around his neck like a giant paisley tie on a striped shirt). The one thing he's always lacked in was public relations. Enter Luc Robitaille.
Luc has done wonders since he's been named President of Business Operations. I believe Lucky understands good business, and I think he's on the same page as Lombardi. Bringing in Gretzky in some sort of P.R. role with the organization can't hurt the team's visibility. But try saying that to fans…
From LetsGoKings:

He (Gretzky) is too powerful, ambitious and egotistical to take up a post wherehe would have anything less than tangible influence on the organization.
and from HockeysFuture:

The Minister of Culture = Bailey's (the Kings mascot) replacement.

and

I hope DL realizes he might be bringing in his own replacement.

One thing's for sure… Kings fans are passionate. Never has so much vitrol been spread over something that is an obvious public relations ploy.
I'm not saying saying No. 99 is going to be as effective as Tony Robbins would be pumping up this young group of talent, but his reach into the non-traditional hockey market of Los Angeles would be far-reaching. And as much respect as I have for Marcel and Rogie, Wayne eclipses both of them, in terms of star wattage.
I really doubt Lombardi would place someone in a position to usurp his authority. I pretty sure Gretzky would hold a strictly ceremonial title with the franchise, and I really doubt he'b be in some dark back room in El Segundo, plotting to overthrow Lombardi. Bringing Gretzky in is just something else the Kings can do to garner interest in the club from non-fans. (Which there are many here in the City of Angels.)
Have him speak to the players, have him host roller hockey tournaments, have him help scout talent. All of these things can't be all that bad, if it means bringing Wayne back into the fold to the Kings.
LA Times: Lombardi invites Gretzky back to the Kings…but don't buy new 99 jerseys yet
9absekzdjr