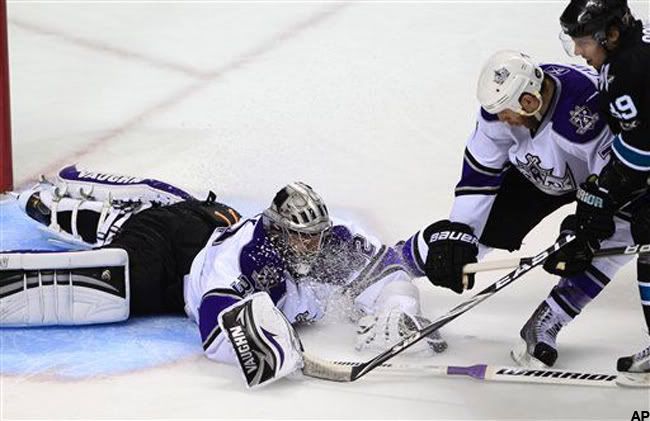 Game 5: Kings 3, Sharks 1
To peep out all the videos online about this game, check out today's Hockeywood Dailies.
At the beginning of the first round series between the Kings and the Sharks, many pundits said L.A. goaltender Jonathan Quick could possibly steal the team a game. Turns out, he's got stickier fingers than anticipated.
Quick set a franchise record, by turning away faced 52 shots on goal, helping the Kings force a Game Six and eliminating any controversy who the number one goaltender.
On the flip side, the Sharks' starting goaltender Antti Neimi was chased in the first period, after allowing three goals on four shots. Antero Nittymaki came in and effectively stopped the bleeding.
This time, the Kings were able to hold onto the lead, despite giving up a ton of shots to San Jose. In addition to 53 shots, the Kings also blocked 22, which means the Sharks were looking for the haymaker early and often in Game Five.
The Kings killed all four of the Sharks' power plays Saturday and they have snuffed out 18 of 20 in the series, including all the PPs at HP Pavilion. Keep in mind, this was the league's second best power play unit overall and best at home. To see one of the Kings' strengths factor so much in the series is impressive.
Bt the offense is still a question mark. On Saturday, it was The Wolfman Line (as my podcast partner Jesse has dubbed them because they have nards.). The frustrating thing was their ice time. Kyle Clifford, one of the best Kings in this series, got less ice time than a Zamboni preparing for a shootout in the regular season. Only Kevin Westgarth and Scott Parse got less ice time.
And for what he brings to his line, wouldn't you think it would behoove the team to somehow get that Wolfman Line out as much as possible?
Of course, you can't point to the paltry four shots the Kings registered in the third. At that time, they were just focusing on shutting down the high-powered Sharks offense. But it would be nice if the Kings could pot an empty-netter. There were several gimmes that the players shot wide right. Bury the biscuit in the basket, fellas.
Other highlights: Jarett Stoll won 15 or 17 faceoffs. He didn't do much else, but he was very effective in the role he plays. Dustin Penner, he of the Trade Deadline deal, finally lit the lamp for the first time in the postseason. Surprisingly, Penner was starting, while Alexei Ponikarovsky was a scratch. Turns out to be the right move, as Penner has been very disappointing this postseason (and overall while donning the Crown in L.A.)
Most importantly, the Kings have now officially matched last season's squad by pushing the series to six games. And now the series heads back to L.A., where the Kings haven't won yet.
Listen to the players quotes, and they're just excited the postseason has been extended another game. Maybe they didn't believe they'd have a chance to win either. But as was evidenced on saturday, when the Kings really apply themselves, they are a tough matchup for anyone.
You thought Staples was loud in Games 3 and 4? Just wait until you hear the roar of Game Six. I was there when the Kings beat the Red Wings back in 2001. It was Staples turned up to 11. And now that the Kings have a little momentum, maybe they can make the Sharks scatter.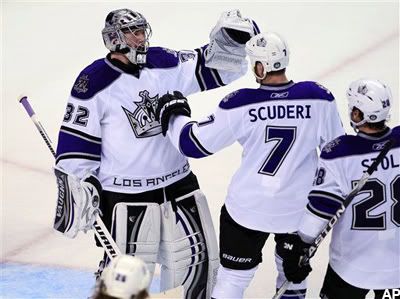 • AP: Kings avoid elimination with 3-1 win over Sharks
Jonathan Quick used his pads, glove and just about every other part of his equipment and body to make sure the Los Angeles Kings would hold onto this big lead and stay alive in their playoff series against San Jose.

• LA Times: Kings avoid elimination with 3-1 win against Sharks
But the Kings would not have prolonged their playoff series to a sixth game, set for 7 p.m. Monday at Staples Center, if not for Quick's calm in the face of 19 shots in the first period and 18 in the third. The 15-shot middle period was a vacation by comparison.

• LAKings.com: Kings beat Sharks to head back to L.A.
"Unbelievable," Matt Greene said. "Unbelievable," Wayne Simmonds said. `He's the reason why we're still alive in the series," coach Terry Murray said. As usual, in the face of mass praise, Jonathan Quick shrugged, praised his teammates and looked ahead the next game. A playoff franchise record 51 saves? Ho-hum.

• NHL.com: Quick makes 51 saves in Kings' 3-1 win
Simmonds and his linemates have combined for six goals and seven assists in the series. … The trio has been especially impressive because they are so young and basically unsung. Richardson is the oldest at 26, while Simmonds is 22 and Clifford is a 20-year-old rookie.

• Mercury News: Sharks lose to Kings 3-1 in Game 5, series shifts back to Los Angeles
For the second time in three games, the Sharks dug themselves a three-goal hole in the first period, but this time they could not climb out of it, losing 3-1 to the Los Angeles Kings and missing the chance to close out their first-round playoff series.

• San Francisco Chronicle: Kings dust Sharks as Niemi departs early again
Antti Niemi was San Jose's best player in the regular season. After becoming the everyday starter Jan. 13, when Antero Niittymaki went down with a groin injury, Niemi was the epitome of a steadying presence in leading the team from 12th in the West standings to second. In his final 31 regular-season games, Niemi allowed four goals (never more) three times and was pulled only once. None of which means much now.


They said it
"At times, you get lucky and the puck hits you. You find yourself in the right place at the right time, which was the case a few times here. It hits your pad instead of going off the post and in, like it was the last couple nights. Like I said, it was a solid team effort. Everybody dug in. The PK was great. We got some big goals there in the first period and we were able to move on." –Jonathan Quick, on his game.

"Our line, and I think the rest of our team, we kind of woke up a little bit. We realized, obviously, that we were in for one. We were lucky to score on our first shot, and we just tried to follow up from there." – Wayne Simmonds, on getting the early goals after San Jose's strong start.

"Absolutely. I think the fans have done a great job coming out
and supporting us. We've got to get a win for them. We've got to get a
win for them, to keep this going. If we want to advance here, you've got
to start winning on home ice. That's obvious, especially since we're
not going to get to start off any series (at home). So we've got to be
better on home ice, we've got to be better in Game 6 and come back ready
to play." – Matt Greene, on whether the Kings feel they need to redeem themselves at home.

"They have my trust. I put them out there against the big line. They're pretty responsible on the checking part of it, but really high-energy on the offensive side, recovering pucks, moving, creating opportunities for everybody. So it was a solid game by them, and it's great to see your young guys step up in a pressure situation like this." – Terry Murray, on the Wolfman Line of Clifford-Richardson-Simmonds.

"We have (a goalie decision) to make every night. We have two great goaltenders." – Sharks coach Todd McLellan, on whether there is a goalie controversy now.

"A couple times he didn't even see it, it just hit him. He was spectacular. You make 51 saves in a playoff game — not too many goalies can do that." – Rookie Logan Couture, who was stopped on a point-blank shot at 8:32 of the final period.