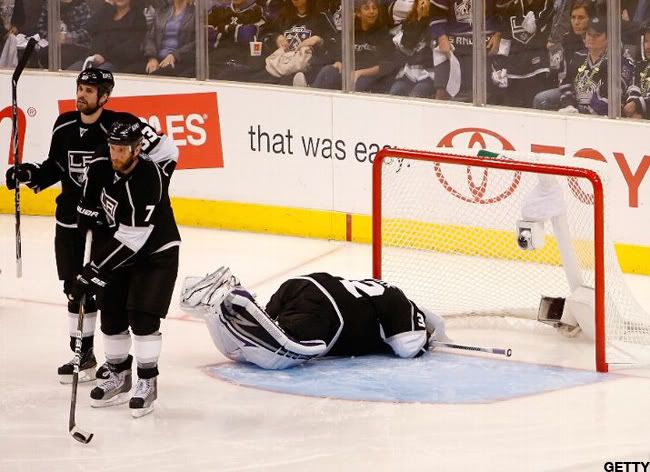 Game 6: Sharks 4, Kings 3 (overtime)
To peep out all the videos online about this game, check out today's Hockeywood Dailies.
Wow, sorry for the delay of getting this recap up. Just as the Kings' season was winding down, a brutal spring cold was gearing up in my house. So, after several days, I'm ready to re-visit Game Six.
The Los Angeles Kings had high expectations heading into the season, and led fans on a whirlwind ride filled with amazing highs and mind-numbing lows. Regardless of how many twists and turns a ride has, eventually it has to end. And so, the Kings' 2010-11 ride is over.
After an impressive postseason, where they were able to push the defending Pacific Division leader San Jose, the Kings survived far longer than many expected.
Each time the Sharks struck Monday, the Kings were able to answer. In the second period, the Sharks struck first when Kyle Wellwood scored his first of the playoffs. But the Kings tied it when Justin Williams potted his third of the season with a power play goal.
A little energy left Staples when the Sharks' Jason Demers to make it 2-1 a few minutes later. That energy was revived when Ryan Smyth scored in the first 18 seconds of the third to tie the game. Dany Heatley then scored an unassisted goal to give San Jose a 3-2 edge, as fans could sense time was running out on the season.
That's when the Kings' power play, all too often frustrating this season, struck for a second time. Trevor Lewis scored his first playoff goal to tie the game for a third time midway through the third period. Staples Center started to buzz as expectations started to rise.
That expectation turned into true energy when the Kings were awarded a five minute major penalty when Jamie McGinn blasted Brad Richardson with less than four minutes to play in the game. It seemed certain the Kings would be sending the series back to San Jose for a deciding Game Seven.
But then the Kings' real power play… you know, the one that was ranked 21st in the regular season, showed up. They could only muster four shots with the man-advantage before time expired in the third. Two minutes after the Zambonis resurfaced the ice for the overtime, Joe Thornton killed the Kings with his first overtime goal of his career.
And it is rather fitting that the one most frustrating element of the Kings' game this season, the paltry power play, was the one thing that let them down when they needed it most. Granted, they had two PP goals in the game, but like much of the season, the Kings' PP percentage was weaksauce.
And thus ends the book on the 2010-11 season. From start to finish, I'd have to say it was one of the most interesting seasons to date. And if you are a regular listener to The Hockeywood Insider podcast, you have already heard my anology of the Kings taking baby steps under Dean Lombardi. Last year, they lost to the Canucks in Game 6 with less than two minutes left in the third period. This year, they lasted four minutes longer, only to lose in OT.
Am I reaching? Perhaps, but it shows that this team did make progress. And I'll argue until the cows come home that the Kings would've been favored had Kopitar not broke his ankle late in the season. But whatever. Let's chalk this season up to gaining more experience.
I'll break down a season recap soon. Right now, I'm gonna go chug some DayQuil and get ready for work.

• AP: Sharks move on after outlasting Kings in OT
Justin Williams, Ryan Smyth and rookie Trevor Lewis scored for the Kings, who lost in the opening round for the second straight year and have won just one playoff series since their run to the 1993 Stanley Cup finals with Wayne Gretzky.

• LA Times: Kings' elimination ends season of broken promise
Their season ended Monday six games into a playoff adventure that was as inconsistent as their 82-game season had been and unusually dramatic, though often for the wrong reasons.

• LAKings.com: Kings dropped in six
Fittingly, almost poetically, it all came down to one final power play. For most of the season, a lack of power-play success had prevented the Kings from turning "good'' into "great.'' For all their accomplishments in 5-on-5 and penalty-kill situations, the power play remained a nasty weed in a fairly lush garden. The Kings could have put all of that behind them Monday night. Given a golden opportunity, they could have scored the biggest power-play goal of the season. They did not.

• NHL.com: Sharks advance on Thornton's OT goal
The Kings erased 1-0, 2-1 and 3-2 deficits Monday, tying the game for the final time with 8:21 remaining in the third period on a power-play goal by Trevor Lewis. Jarret Stoll launched a shot from the left point that hit a skate in front, and Lewis knocked in the loose puck.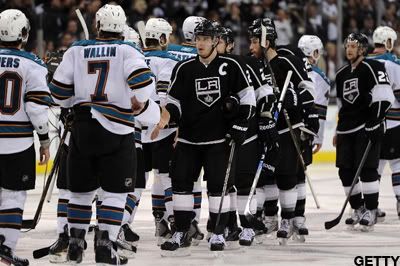 They said it
"Regardless of what everyone else thought about this team going into the playoffs, we believed in this room that we could do something good. Any time a season is ending and you're not the winning team, it's a disappointment, but for every guy in here, I don't think anything other than that everybody was giving their best shot. Playoff series are tough. They were the better team for stretches than we were and they found a way to come out on top. That's just how it goes." – Dustin Brown, on the end of the season

"It's disappointing. At the end of the day, you feel like you
beat yourself a little bit there I think as a team. There were a few
games in there in the series where I think we could have played
better. I know everyone in the locker room thinks we could have played
better. You dig yourself a little bit of a hole against a team as good
as San Jose, and it's tough to climb out of that. No matter how hard we
fought, Game 5 and tonight, it wasn't enough at the end." – Jonathan Quick, on the end of the season.

"Going into overtime, we still had a minute and 36 seconds, something like that, to score a goal. We weren't going to rush anything. We were going to make sure we made the right plays, made the right passes. It was a great opportunity for us. We should have scored. We didn't, and our season is over. Myself, being the power play, I'm pretty disappointed that we didn't score there." – Drew Doughty, on not scoring on the five-minute power play.

"That's the critical moment in the game, right there. We had a chance to put it away. I thought we did with about 17 seconds left in the game. There was celebration going on. People were throwing their arms in the air. i thought it was over. But again, that's a missed opportunity." – Terry Murray, on not scoring on the five-minute power play.