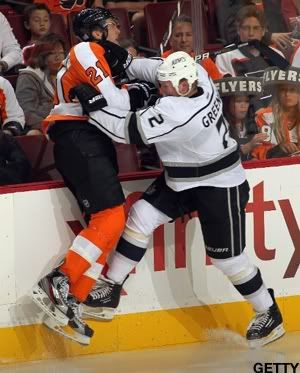 Game 4: Kings 3, Flyers 2 (overtime)

To peep out all the videos online about this game, check out today's Hockeywood Dailies.
• AP: Kings spoil Flyers' perfect start in 3-2 win



A former Flyers captain, Richards hit the ice against his former teammates for the first time since he was traded in June. He heard mostly cheers during his pregame introduction and a huge ovation when the Flyers thanked him on the big screen for his years of service. The goodwill ended soon after and he was booed each time he touched the puck.

• LA Times: Kings defeat the Flyers in overtime, 3-2



Kings defenseman Drew Doughty is expected to be out at least seven to 10 days after suffering an undisclosed upper-body injury Saturday, though General Manager Dean Lombardi said via email that the injury was not to the defenseman's head.

• LAKings.com: Jack and Thrill



More Flyers fans than usual, many wearing a Richards Flyers jersey, pressed along the gate outside the arena waiting for his arrival. Some fans asked each other if they thought Richards would be booed. He wasn't, at least, not at first.

• NHL.com: Kings top Flyers 3-2 in OT




Doughty entered the game fourth in the League in average ice time per game at 27:33 in three games. In his absence, Johnson played a game-high 30:57, Willie Mitchell played 27:15, and Rob Scuderi played 22:39 while blocking a game-high five shots.
• Philadelphia Inquirer: Kings hand Flyers overtime defeat in Richards' return



"Oh, the guy that didn't play very much," Richards said. "The guy that hit Doughty. Nobody likes that. It's tough on the ice when you just go out there and try to run around; it's tough to play against those players, but at the same time, we did a good job."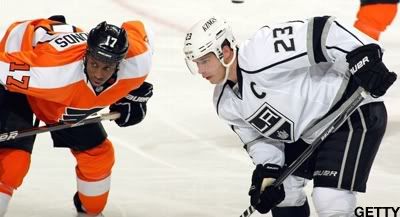 They said it


"It wasn't a big deal to me. From a media standpoint, you try to blow things up a little more than it is. For me, it was just another game in a road arena. I've been booed everywhere. I've been cheered. You just go out there and play once the puck is dropped. That's the easiest thing to do, is go out there and play hockey.'' – Mike Richards, on getting the trip to Philadelphia over with.
"Mike (Richards) made the play. He kept it in on the blue and, as soon as he started kind of walking to the middle, I had a feeling he was kind of looking for the pass. He wound up and made a great play to freeze everyone, and all I did was deflect it. He made the whole play by keeping it alive in the zone and then making a great fake shot. I had a feeling he was going to do it.'' – Jack Johnson, on the overtime goal.
"Absolutely. We wanted to win this for a lot of reasons, obviously Mike (Richards) being at the top of the list. I thought he got a warm reception early and then got booed the rest of the game. That's Philly. If you're not on their team, they're going to boo you. I know he appreciated the response initially, and I know he was happy to get that first assist on the game-winning goal.'' – Justin Williams,

on the importance of ending the trip with a win

.

"It's just a lot of stop and start from the game standpoint, whether you're going in the penalty box, going on the power play, timeouts, all that stuff. There was no real flow to the game. No way to roll our lines, and get everyone into the game and into a sort of flow or rhythm, which makes it tough to get some consistency going. It really limits the bench and you don't get everybody involved." – Chris Pronger, talking about the 22 combined penalties in the game