EDITOR'S NOTE: This was written after the end of last season's Stanley Cup playoffs. I'm re-posting it to raise more awareness, thanks to Hockey Fights Cancer and Be The Match during the L.A. Kings game against the Devils.
Now that they season is officially over, thanks to the Boston Bruins ending their 39-year Stanley Cup drought, I am in a reflective mood. And I want to discuss something very personal to me.
More often than not, fans are so focused on their passion for their team of choice, that they miss the overall picture of life. While we cheer about solid goaltending or lament about lack of scoring, for the most part, fans are in a bubble.
Sports has become our release for everyday life. Work day just starting? Just wait until the game tonight. Stuck on the freeway? The game starts in 2 hours. Girlfriend/wife or boyfriend/husband giving you drama? From 7:30 to 11 p.m. on game days, it doesn't matter. Sports have become a way for many of us to cope with the otherwise mundane details of life.
For others, it becomes an obsession. After all, the word "fan" is short for "fanatic." Some fans have such a thirst for the sport, they quench it by inhabiting message boards. Others start up their own websites or blogs to journal the efforts of their favorite team. Still others record podcasts, where they can provide running commentary on their favorite team. (Wait, those all sound eerily familiar.)
Then there are the hardcore fans. The ones who literally have the team tattooed on their bodies. The ones who construct rooms in their homes, where the watching of all games has become a time-honored tradition. You have fans who annually fork over their hard-earned cash to root on their team as season ticket holders.
These dedicated fans follow the team, not only on the road in America and Canada, but overseas. These fans represent their team during important times in their lives, like the birth of a child or a wedding. It becomes a part of their lives, like a rite of passage.
Or the loss of a loved one.
One such fan was a kid named Tanner. In case you are a casual Kings fan or a member of another team's fan base, you might not have heard about Tanner. But you might have seen him and not even known who it was. A bright-eyed kid, wearing a toothy grin and a black Kings hat. During the 2010-11 season, he was EVERYWHERE.
Tanner's head, AKA or Tannerhead, became the most unlikely of all hockey mascots. He was first spotted in Las Vegas at Frozen Fury. He soon became a staple at… er… Staples. Pretty soon, his smiling visage was seen on TV, on the monstrous Panasonic scoreboard and interviewed by the Kings' Heidi Androl. Tannerhead has been kissed by countless Ice Girls, posed with many Kings players and clowning around with Bailey.
Buoyed by a Facebook page his uncles set up, pictures started to flow in. He sported a Ryan Smyth mullet, was seen with a shirtless Matt Greene and hung out with Hall of Famer Luc Robitaille. Soon, his image was cloned and he quickly spread around the hockey world. He invaded other arenas, such as the Jobing.com Arena in Phoenix and the Pepsi Center in Colorado. He even stowed away for a trip to Japan.
Everyone wanted some face time with Tannerhead, but not everyone knew the origin. That came from the mind of one Steve Raboin, a loving father and dedicated Kings fan.
"Tannerhead was my brainstorm when it became apparent that Tanner would not be able to make the trek to FFXIII," Steve told me back in November. I had reached out to Steve, whom I had known through the fan-driven LetGoKings message boards, when I had learned about his son's illness.
Originally, I wanted to do a piece on Tanner and this phenomenon of his laminated doppleganger. But as I got to learn about what Tanner had and how serious it was, I couldn't wrap my head around it are how to even approach it. I'm usually a loose, carefree guy. I was unsure how to approach a serious subject like this.
I had contact with Tanner, who was battling Chronic Granulomatous Disease (also known as "Bridges-Good" syndrome) back east at the National Institutes of Health (NIH), in Bethesda, Maryland.
The last time we exchanged messages in January, he showed he was still willing to fight on through.
"I'm doing alright. There are the good days and bad days. I just didn't
realize I was going to be here for so long. I can't wait until I am
finally better."

In February, Tanner was treated to a Kings game 13 miles away from NIH at the Verizon Center against the Washington Capitals. Rocking a throwback Wayne Simmonds jersey, Tanner and his folks watched from the lower bowl as Anze Kopitar had a goal and an assist and Simmonds tallied two assists as the Kings beat the Caps, 4-1.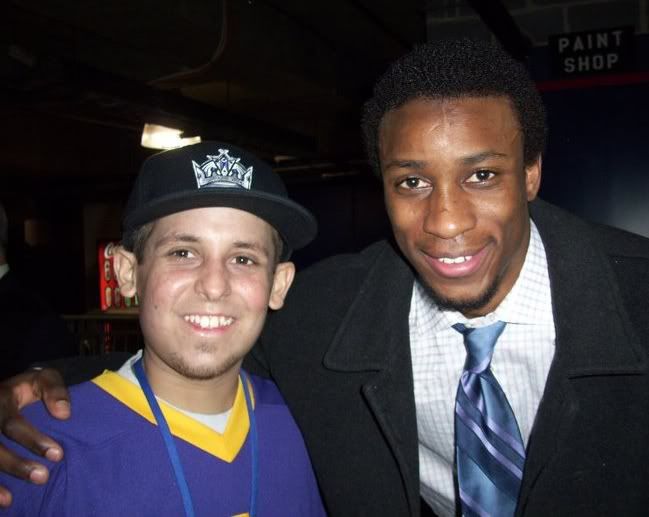 Afterwards, Tanner went downstairs and was able to meet and greet some Kings, including Jonathan Quick, Drew Doughty, Brad Richardson, Matt Greene, Justin Williams, Kopitar and Tanner's favorite player, Simmonds. It was a special night for Tanner and his parents, one that they would remember for a long time.
Tanner's condition proved to be very tricky. Doctors seems confounded by the disease that was wrecking havoc on Tanner's immune system. They were running out of time, when a novel idea emerged.
Inspired by some Kings fans and friends of the Raboin family, they held a bone marrow donor drive to see if they could find a match for Tanner. The Kings thought it was a great idea, and incorporated it into their fan appreciation day on April 9th. Over 300 fans got swabbed that day by the organ donor non-profit Be The Match, and many more were mailed out to fans who couldn't get to the game. It felt good to see so many people who were rallying around this kid.
Two days later, I got a very sombering text from a friend that read "We lost Tanner this morning." I felt as if I had been kicked square in the nuts. I instantly called her to find out what happened. After spending nine months in Maryland, he had made his way home. In the comfort of his bed and surrounded by family, Tanner passed away. He was 19.
His parents decided to donate Tanner's body to NIH for research. "We want to ensure that nobody has to endure the effects from the fungus that ultimately took his life," said Steve in a memo on LGK. "The fungus has not been identified to date, and it is important to us that NIH has the necessary tools to do so."
The family held a memorial service on May 7th out in Chino Hills, and the family had a special request. All Kings fans were welcome to represent by donning a jersey, or the colors of our Kings. I had decided to wear a shirt and tie, but threw a jersey in the back seat. I wasn't sure how many people would actually be sporting a jersey.
However, as soon as I rolled into the parking lot of the church, I had nothing to worry about. I quickly slipped on mine and filed into the gym. There must have several hundred people who were also sporting jerseys, including Kings color commentator Jim Fox. I was in good company.
The memorial was a touching celebration of Tanner's life, culminating in a tear-jerking video tribute of his life. It was amazing to see his life unfold before me with photos and old videos, and just how much of it revolved around his family's love for the Kings.
Several days after the memorial, I asked Steve how it felt to see so many friends and family out in support of his son.
"I was very high with a multitude of emotions," he said. "A very strong feeling of satisfaction, in that our wonderful son was being rewarded for his dedication to his Kings, and his immense Kings family.

"I also felt a great sense of honor, and pride that so many people cared for us," he continued. "We anticipated a good showing because of the outpouring of support we received long before Tanners passing."


Like many friends of Tanner, I was crushed. Here was a kid, whose face was popping up everywhere I looked, was inexplicably taken from us. Even today, as I write this, I have a hard time even processing it.
Obviously, the people I felt for was his family, especially his dad, Steve. Steve has always been supportive of me and my meager little blog, with kind words and a friendly face at the games at Staples. One of the nicest guys you've ever met, Steve is also one of the most devoted fathers I have ever known.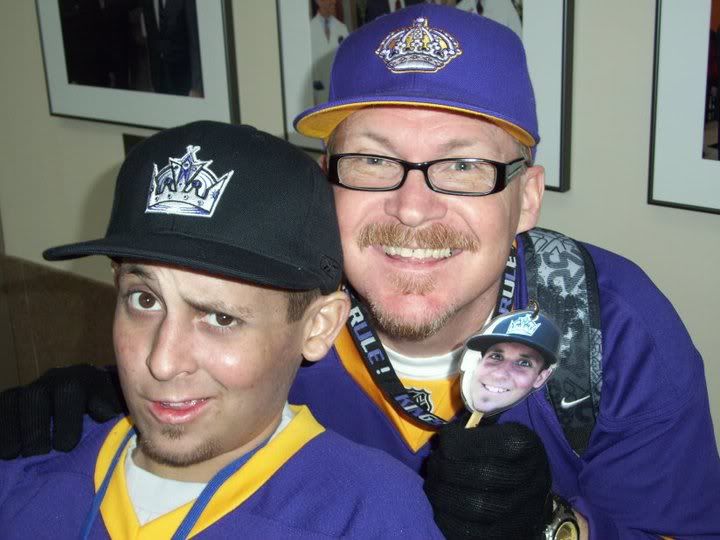 I look at Steve and saw a fellow dedicated father who is also a dedicated Kings fan. Before Tanner had gotten really sick, they were the Two Amigos at Staples. I had always saw them together in between periods, and were greeted with fist bumps and jokes. It was the type of father-son bonding that I hope I can have with both of my kids.
I've written several drafts of this story/memorial of Tanner, and I've abandoned each one. I kept veering off topic to areas that I found hard to navigate. I found myself wishing I was more of a poet, with the ability to write eloquently. I wish I could maintain a razor focus that other writers seem to naturally have. I wish I could offer up a profound meaning to it all.
But I'm not a poet. I can't find that razor focus. I don't have any answers.
I'm just one voice among hundreds of thousands online, each vying for readers' attention. If there was just one thing that you, the reader, could take away from this, let it be this: Be a donor.
There are hundreds of other people, many like Tanner, battling nasty diseases like leukemia or lymphoma. They rely on the kindness of strangers, in hopes of either finding a cure or extending their life.
Now I understand, this type of donating sounds is a lot scary than the one you'd normally do at your local Red Cross. However, the most common type draws the stem cells out through a process similar the one for donating blood. Even though surgery may be required in some instances, it's nothing compared to the sickness faced by the patients who need help.
A donor couldn't be located in time for Tanner, but it's not too late to help someone else. By becoming a donor, you could save actually save someone's life. And you're doing it with something that you can quickly regenerate in your body.
For more information on what exactly is the donation process for stem cells or bone marrow, you can go to www.bethematch.org/JOIN and use the unique code TANNER when prompted. A swab kit will be mailed to their house after filling out the consent form online. If you'd rather donate some green rather than some red, check out the official Tanner Raboin page over at BeTheMatch.org.
Tanner, you will be missed.
UPDATE: There's an event that I want to get the word out on:
You could be a part of Team Tanner in November's Be The One Run in Long Beach. Or you can contact Dawn Staub at rundawn@earthlink.net if you'd like to help donate directly to the family.