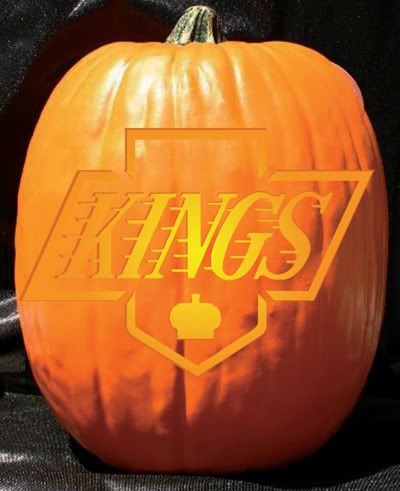 The latest Hockeywood pumpkin stencil another popular request: the Kings' Emblem logo from the Gretzky era.
Lovingly referred to as the Chevy logo, this incarnation was presented when Gretzky had his press conference to be introduced to the L.A. media. The tilted letters reminds some of the lettering used by the Lakers, which it should. It was the same lettering used when Jack Kent Cooke owned both franchises.
The logo itself was an update of the logo this Kings had from 1976-88. Other than the color change, the border was extended to include the text. The thing that always struck me as odd was the decision to use motion lines, as if to imply the team was fast. Which they weren't.
Now that the team was the italicized Kings on their helmets which I liked a lot more than the actual Home Plate logo. Which, by the way, hasn't found it's way onto the homepage of NHL.com yet. (They still use the Kings crown.)
Here's links to all the stencils that I've created for fans to download for free and carve. Once you've finished it, send me a pic so I can add it to our already impressive gallery of pumpkins.

CARVING HINT: I suggest starting in the middle of the design and work your way out.
• Click here for the Kings 2012 Stanley Cup stencil.
• Click here for the Kings Emblem stencil.
• Click here for the Kings Crown stencil.
• Click here for the Kings Chevy emblem stencil.
• Click here for the Bailey stencil.
For you talented carvers, click here for the Kings player stencils. One player is being designed right now and should go up this weekend. Stay tuned.