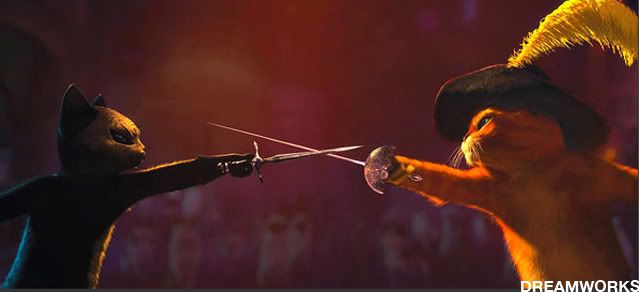 Sorry for the delay in the Power Rankings. Halloween has me all screwed up time-wise.
This weekend, I was sure a horror movie was going to take the top spot. After all, Paranormal Activity 3 was running unopposed in theaters at the right time, just before Halloween. Turns out I was dead wrong.
The Shrek spin-off Puss In Boots took the top spot for the weekend, a family movie that beat out other premiering flicks, Justin Timberlake's In Time and Johnny Depp's second stab at Hunter S. Thompson in The Rum Diary.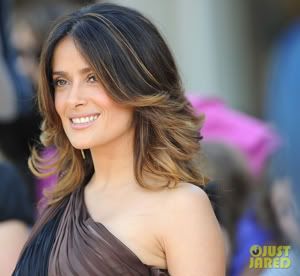 Having a kid's movie being the top spot isn't uncommon, but I hate it. Because it usually means I have to use some cutesy frame grab from the flick, like I did above. But when I found out Salma Hayek was in it, I figured I could add some sizzle and double dip.
Mmmmm, Salma.
Puss In Boots reunites Hayek with Antonio Banderas, both of whom first starred together in 1998's Desperado. Now 13 years later, who has aged better? Duh.
Turns out that I'll probably be dragged off to see Puss In Boots this weekend by the demon spawn. After all, it's been about a month since I've endured a kids movie. So, while I cannot give a real opinion on this flick, I can only say that the only thing I can look forward to is hearing Salma purr through her lines.
Mmmmmm, Salma.
At any rate, how did the Kings fare in the eyes of the media? Let's take a look:


• The Hockey News' Adam Proteau's Week 4 rating: 4. Last week: 4.


Six of next seven games are at home for Kings.
• Sports Illustrated's Adrian Dater's Week 4 rating: 6. Last week: 4.


These
guys are darn good, but there always seems to be one head-scratching
loss every few games, like getting blanked at home by New Jersey. That
just shouldn't happen, not in 2011. The Kings had lost three of their
last four entering Tuesday (one was in overtime, at Phoenix), but goalie
Jonathan Quick still has fans buzzing over his recent three straight
shutouts. The reason lots of hockey people like the Kings over the long
haul is the team's size and skill at the top three center spots, with
Anze Kopitar, Mike Richards and Jarrett Stoll. Richards might not
literally be a big man, but he certainly plays that way on skates.
• USA Today's Week 4 ranking: 7. Last week: 11.
• CBSSportsline's Adam Gretz's Week 4 rating: 8. Last week: 7.


Anze Kopitar always gets off to a fast start and this season has been no different. Having another center like Mike Richards on the team to anchor another line and draw some attention away from him certainly doesn't hurt things, either.
• TSN's Scott Cullen Week 4 rating: 8. Last week: 8.


Getting
Drew Doughty back in the lineup ought to help matters, even if the
Kings dropped the first two games of his return. With six of their next
seven games at home, this is an opportunity for the Kings to get back on
the winning track.
• Fox Sports' Jim Rosen's Week 4 rating: 9. Last week: 6.


Drew Doughty returned over the weekend, but we're still waiting for him to do anything of note. The Kings won once in four games last week.
• ESPN.com's Scott Burnside's Week 4 rating: 9. Last week: 3.


The
Kings stumbled slightly with twin losses, one in overtime to Phoenix
and the other to Colorado on Sunday. Still, the 6-3-2 Kings rank second
in goals allowed per game.
• Hockey Night in Canada's Nabil Karim's Week 4 rating: 10. Last week: 3.


surprised
with head coach Terry Murray's decision to not start Jonathan Quick
versus New Jersey after he had three consecutive shutouts? Besides
beating Dallas, it wasn't a real impressive week for Los Angeles,
although it's great to see Drew Doughty back.
Take the average and you get the Kings' Power Ranking of


I am a little disappointed about the lack of horror movies this time of year, and I can already tell I'm going to have to write about the latest Twilight movie in a few weeks. But I found out Kate Beckinsale is donned the fangs once more in a fourth Underworld movie, called Underworld Awakening, bowing in January. Now, instead of vampires and werewolves fighting one another, they must join together to fight humnas. Sigh. Can't we all just get along? Or at least all turn into zombies?