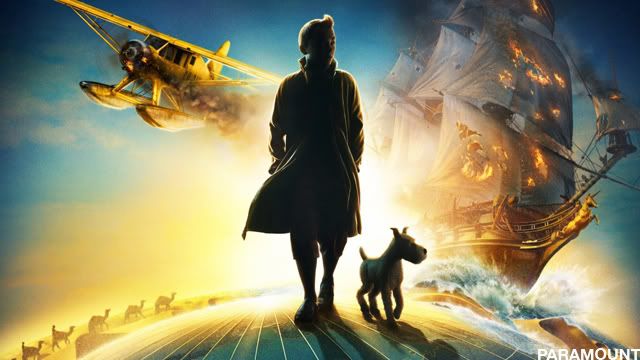 Puss in Boots led the box office again this past weekend, but I don't want to rehash what I wrote last week. Instead, I want to talk about a movie that has made double the amount of that dumb Shrek spinoff in the same amount of time, The Adventures of Tintin. Thing is, none of that money came from America.
As we all know, American movies are released worldwide. But usually they are released in the States first, then rolled out gradually across this big blue marble of ours. Not so in the case of Tintin, which was directed by Steven Speilberg.
Tintin, in case you didn't know, is based on a Belgian comic that first appeared in 1929. Basically, he was a reporter who was sent off to the ends of the earth to do some investigating, only to get wrapped up in some sort of shenanigans. Which is exactly why I got into journalism, shenanigans.
The decision to open this animated feature abroad has netted the 107-minute flick $125 million in two weeks, which is impressive. Considering it won't open in the States until Dec. 20, one wonders if it will get lost in the holiday shuffle. After all, it opens on the same weekend as the latest Mission Impossible sequel and David Fincher's Girl With The Dragon Tattoo.
All I know is I'll be sure to go see it, even if I go alone. After all, I dug the character as a kid and it's got both Spielberg and Peter Jackson attached to it, so it's sure to maintain some of its charm.
Speaking of charm, nothing is charming about the Kings' current losing steak. How did they fare in the media? Let's peep it out…
• The Hockey News' Adam Proteau's Week 5 rating: 7. Last week: 4.



No gimme games this week for Kings, who face Sharks, Preds, Canucks, Wild over next six days.
• Fox Sports' Jim Rosen's Week 5 rating: 14. Last week: 9.


Los Angeles ended a home scoreless streak of more than 158 minutes
with an entertaining 3-2 shootout loss to Pittsburgh on Saturday. The
Kings are winless since Oct. 27.
• Sports Illustrated's Adrian Dater's Week 5 rating: 15. Last week: 6.



Let's be honest: Drew Doughty has been a bust after holding out for big
bucks. Through the first nine games, he didn't have a goal and was a
minus player. And this team just can't find any consistency. It's great
one night, terrible the next. Dustin Penner (one point in his first 12
games) at $4.25 million is quite possibly the most overpaid forward in
the NHL. If these guys slip under .500, coach Terry Murray could be in
some trouble. Expectations are very high in L.A. this season and
ownership won't tolerate mediocrity without a change.
• TSN's Scott Cullen's Week 5 rating: 16. Last week: 8.



Losers of four straight, the Kings don't have an easy go as they try to
shake out of the slump, travelling to San Jose before hosting Vancouver,
Nashville and Minnesota.


• ESPN.com's Scott Burnside's Week 5 rating: 18. Last week: 9.



And just like that, the Kings are struggling, winning only once in their past six games (1-3-2).

• CBSSportsline's Adam Gretz's Week 5 rating: 18. Last week: 8.


A slumping offense has resulted in losses in five of their past six
games. Since his shutout streak ended, goaltender Jonathan Quick has
allowed three goals in four of his past five starts.

• Hockey Night in Canada's Nabil Karim's Week 5 rating: 23. Last week: 10.



Five losses in a row. So who's to blame? It's not Jonathan Quick (1.87 GAA, .936 save percentage). And it's not the Kings' penalty kill, which has been stingy killing 34 of their last 38 penalties. Point your finger at the offence. Just eight goals in five losses and averaging 2.14 goals per game. Dustin Penner (one assist in 12 games) is taking plenty of heat and rightly so.
Taking the average of all the media rankings, and you get the Kings' Power Ranking of:

15.8.


Disappointing, sure. So what's the big deal about Tintin? Check out the trailer…