In what has become a tradition, I've always opened up the upcoming schedule of the Kings and point out five games that should be on everyone's DVRs from the beginning. With the advent of NHL Gamecenter and other streaming possibilities, opportunities to catch an early Kings game are more commonplace.
But there are some games that should be circled on the calendar as MUST WATCH. This season, I had to pick more than five, mostly because I included ALL the games during the Grammy stretch in January, because it's a unique situation. Half the games are against Eastern Conference teams and half are important divisional rivals.
I also took it a step further this season and selected games that have epic goaltender matchups. Since L.A. has a legit All-World netminder in Jonathan Quick, many of these games are against other notable netminders.
So without further ado, I represent my own version of Must See TV.
• Nov 15: Kings at New Jersey, 4 p.m., Fox Sports West
The one game that all Kings fans were dying to watch last season but never happened: the Kings facing off against their Stanley Cup foes, the New Jersey Devils. Because of the lockout, Kings fans were ROBBED of the opportunity to rub the Devils (and the league's) nose of being the defending Stanley Cup champions.
This year, the Devils look to be ripe for the picking. Martin Brodeur looks to retire at the end of the season. There's gaping holes left from Ilya Kovalchuk, Zack Parise, and their leading scorer from last season, David Clarkson. Sure, Lou Lamoriello signed Jaromir Jagr, but even that won't come close to filling their scoring woes.
• Nov. 17: Kings at New York, 4 p.m., Fox Sports West
Another opportunity for the fans squandered, thanks to the bickering of millionaires and billionaires. Both the Kings and the Rangers have built their teams from the net out. In 2012, Henrik Lundqvist beat out Jonathan Quick for the Vezina Trophy, despite having a worse goal-against average, fewer games played and fewer shutouts. That's OK, because Quick went on to nab the Conn Smythe for the Kings magical run to the Stanley Cup. Suck it, "King" Henrik.
The Rangers fired John Tortorella and brought in Alain Vigneault in the hopes of shaking things up with a clean slate. As those of us in Los Angeles know, a coaching change can do wonders. And while the blueline looks to be solid, there seems to be a question in the depth of their forwards. Regardless, a little East Coast/West Coast rivalry always makes for a good game to watch.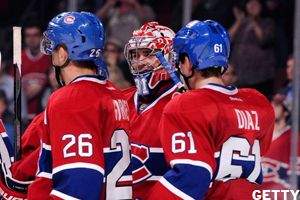 • Dec. 10: Kings at Montreal, 4 p.m., Fox Sports West & TSN
Maybe it's just me, but I still get fired up for Kings/Canadiens matchups. Sure, the Habs are the gold standard when it comes to the Stanley Cup. It's hard to argue with 24 championships. But part of me really wanted to see the Kings skate into the Bell Centre, finally as the defending Stanley Cup champions. (Which they still are, remember?)
The Canadiens were a surprise last season, taking full advantage of the shortened season, they finished first in the Northeast division after finishing dead last in the Eastern Conference the previous season. But many feel they will come back to earth this season, especially grouped in the Atlantic division. This should be another good game to watch, if for no other reason to finally see the Kings skating around without that weight around their neck from 1993. That weight now lies solely on the Canadiens, who haven't returned to the Finals since 1993.

• Dec. 14: Kings at Ottawa, 11 a.m. NHL Network and Fox Sports West
I don't think I've ever thought of the Kings/Sens as a must watch game. But I'm intrigued to see how far Ottawa has come. There really is no major history between these two franchises (unless you count that bench-clearing slobberknocker back in 2001, featuring the WORST goalie fight ever.)
No, this isn't your father's Senators. This team has the feel of a sleeper squad. Plus, I'm a little curious to see how former Duck Bobby Ryan does in a new uniform. I think he has a breakout season, which will pay dividends for coach Paul MacLean, who will need some firepower with the loss of Daniel Alfredsson.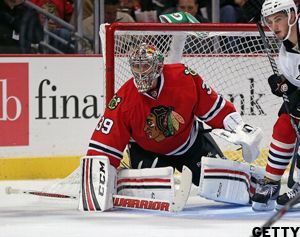 • Dec. 15: Kings at Chicago, 4 p.m., Fox Sports West
This is personal. The Blackhawks are kinda the current defending champs, but really they have an asterisk after that accomplishment. Shortened season and everything, you understand. No, this game will be a true measuring stick for the Kings. The last two Stanley Cup winners going head-to-head, to see just who is the better team.
Another reason why this game is must-see: there's a Long Beach connection! Former Long Beach Ice Dogs goaltender Nikolai Khabibulin will be backing up Corey Crawford. The Bulin Wall will always hold a spot in my heart, thanks to his tour of duty in the LBC. Also, this game will be the second of back-to-back games for the Hawks, meaning that we might just see the 40-year-old Khabibulin in net. Being in the 40s myself, I will always root for the old guy.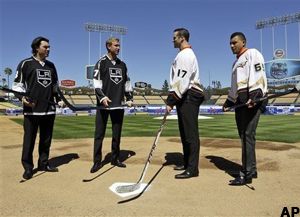 • Jan. 16-28: Grammy road trip
Ah, the annual Grammy roadie. Not since the 2010-11 season will the Kings be away from home for such an extended stretch. And it seems that the team has struggled a bit recently during their exile from Staples. (2-3 in 2013; 2-4 in 2012; but 6-4 in 2011).
But this year's Grammy roadie has two major differences. 1) half of the games will be played west of the Rockies and 2.) One of those games are actually a home game. (Remember, the Kings have "home ice" when they play the Ducks in the NHL Stadium Series at Dodger Stadium on Jan. 25.) But despite having so many games in the Western U.S., they will still log over 7,500 miles, the most since their 10-game bender across Canada and the east Coast in 2011 (9,600+).

• Extra credit: Mar. 25: Kings at Washington, 4 p.m., Fox Sports West
This is solely a personal pick. Not because I think the game will be good. But the fact that I may be at the Verizon Center! I am currently making plans to visit a friend in March, who recently moved to Virginia. He sold me on getting tickets to the Caps/Kings game. All I have to do is hop on a plane and come. How can I resist that?
That said, this game should also be a must watch. Alexander Ovechkin is coming off a brilliant season, winning the Hart Trophy. One of my all-time favorite NHL 94 players, Adam Oates, is entering his sophomore season as head coach. The team should be near the top in the East, so why not watch it?