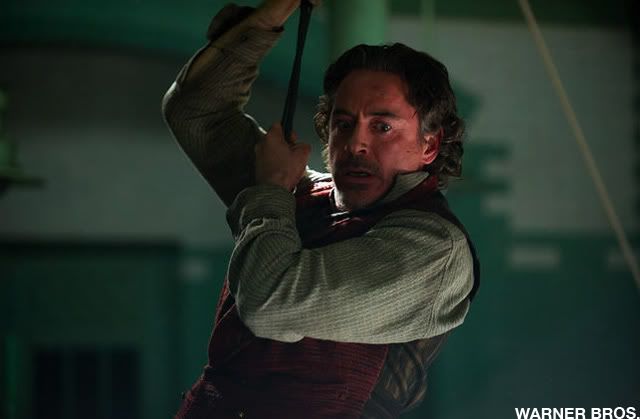 Sherlock Holmes: A Game of Shadows took the top spot at the box office, and while I can't speak to how the movie is (I have no desire to see it.) I can speak to being tired of Robert Downey Jr.
I get it, RDJ is a likable cat. After being arrested repeatedly for drugs, he kept getting free passes… because he was a likable person. And because he was a phenomenal actor.
He nabbed an Academy Award nomination for his role as Charlie Chaplin before appearing regularly on the entertainment news shows in front of a judge. I'll admit it, the dude can flat out act. At the same time, he's become the poster child of second, third and fourteenth chances.
His rise from the ashes story has become a
sort of how-to case study for drug-addled and mentally deranged actors
to get back into the limelight. In his case, it worked out famously, because he has the chops. I'm not so sure others will fare so well.
Thing is, as great an actor he is, I'm getting tired of seeing him play the same character type: eccentric, sarcastic and egotistical, delivering hilarious lines with a stone face. It works as Tony Stark/Iron Man. But it's kind of annoying.
Hey Downey, you want to impress me? Play something completely off the beaten path. Play someone other than yourself turned up to 11. I want to see the guy I saw in Chaplin, not the endless rehashes of Weird Science.
That said, you know what else I'd like to see? The Kings get their crap together.


• The Hockey News' Adam Proteau's Week 11 rating: 19. Last week: 14.



Drubbing at the hands of Red Wings the nadir of Kings' season; can new coach Darryl Sutter stink-eye them back into contention?

• ESPN.com's Scott Burnside's Week 11 rating: 22. Last week: 22.



Darryl Sutter, come on down and give it your best shot at salvaging this thing.

• Fox Sports' Jim Rosen's Week 11 rating: 22. Last week: 22.



Darryl Sutter can't arrive quickly enough for the sinking Kings. The one win in their last seven was against Columbus, and they've scored two goals or fewer for 11 straight games.

• TSN's Scott Cullen's Week 11 rating: 25. Last week: 22.



New coach Darryl Sutter comes into what is virtually a no-lose situation. The Kings are currently inept, having lost six of seven games, the last one an ugly 8-2 loss at Detroit, and they're 0-for-18 on the power play in the last six games. If Sutter comes in and this talented team gets its act together, he's a hero and if they don't, they're still not going to be any worse than they are already.

• Sportsnet's Luke Fox's Week 11 rating: 26. Last week: 23.



Firing the head coach won't bring Mike Richards back any sooner. The Kings have one victory (a narrow one, over Columbus) since Richards left the lineup. In their last 11 games and counting, they've scored two goals or less. And although no one seems confident that Darryl Sutter is the answer, could it get much worse?
• CBSSportsline's Adam Gretz's Week 11 rating: 27. Last week: 22.



Apparently the news of Darryl Sutter's upcoming presence behind the
bench didn't serve as much of a motivation given the Kings 8-2 loss in
Detroit on Saturday night.
Take the average, and you get the Kings' depressing Power Ranking of…
23.5.

It's a bitter pill to swallow, one that has this writer completely dumbfounded.
Speaking of being dumbfounded, check out this trailer for The Hobbit. Coming next December!