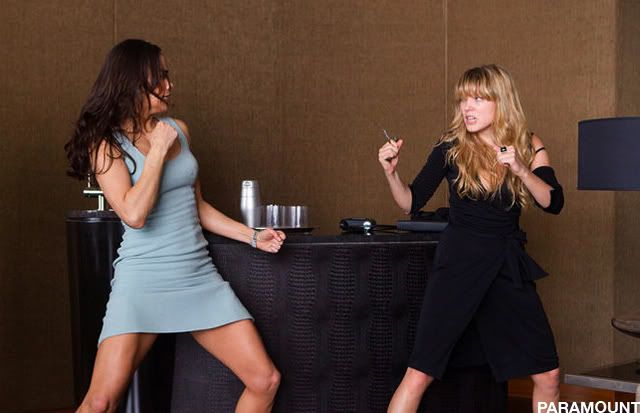 The number one movie at the box office was no surprise. Mission Impossible: Ghost Protocol was the winner, beating out Sherlock Holmes 2 and Chipmunks 3.
This is the fourth installment of the MI series, and it's hard to believe Tom Cruise keeps pumping life into this spy thriller. He's been able to do that by bringing in new directors for each flick. The first one was directed by Brian De Palma (Scarface, The Untouchables); MI2 was helmed by John Woo (Broken Arrow, Face/Off); the third Mission was brought together by J.J. Abrams (Star Trek, Super 8 and a guilty pleasure of mine, Cloverfield.)
As you can see, each of these directors have a unique style, whether's it's De Palma's cross-cutting plot, Woo's slow-motion uses of double guns and doves or Abrams' elaborate sets and action (and yes, his lens flares.) Each director brings a cache of knowledge to bring a new aspect to the story.
For the fourth time around, it was revealed that Brad Bird (The Iron Giant, The Incredibles) was getting the call. The unique thing? It was Bird's first live-action directorial gig. How did he do? Well, Bird knows action and he brings that knowledge to the movie with its' standout sequences (Cruise on the Dubai tower, a fight in an automated parking lot and an escape from a Russian prison.) But the best part? Chick fight! Paula Patton lays the smack down on French model/actress Lea Seydoux which grabbed my attention. Whether this will become one of Bird's trademarks remains to be seen.
One thing that also remains to be seen is whether the Kings can regain their scoring touch and find their way to the top of the Hockeywood Power Rankings. It may take an Ethan Hunt-type scheme to get there, but it's not Impossible. (Sorry, too punny).
How did the Kings fare this past week? Their first full week with new head coach Daryl Sutter? Let's find out:
• Sports Illustrated's Adrian Dater's Week 12 rating: 17. Last week: 22.
While some called it folly, the Kings are 2-0-1 since
Darryl Sutter began standing on the bench. None of the victories have
been particularly outstanding, but the numbers are the numbers. Sutter
seems to be getting highly talented D-man Drew Doughty to play better
again: four points, all assists, in the three games under the new bench
boss.
• Fox Sports' Jim Rosen's Week 12 rating: 20. Last week: 22.
New
coach, similar results. Despite highly competitive efforts, the Kings scored a total of three goals through Darryl Sutter's first 130 minutes behind the bench. Los Angeles has gone 14 games without netting three goals in one game.

• ESPN.com's Scott Burnside's Week 12 rating: 22. Last week: 22.
Darryl Sutter is 1-0-1 in his brief tenure behind the Kings' bench, but they still have gone 14 straight games without scoring more than two goals in any contest (not counting shootout goals). Arresting that streak will be the priority for Sutter as he tries to coax the underachieving Kings back into the playoff picture in the West.

• CBSSportsline's Adam Gretz's Week 12 rating: 24. Last week: 27.
The Kings were finally able to get Mike Richards back into the lineup, and he joined the list of players to score a goal in his first game back from a concussion this season, a list that includes Sidney Crosby, Claude Giroux and David Perron.

Take the average and you get the Kings' Power Rankings number of:
20.7.
That's up three spots. Could this be the turnaround we've been waiting for? Time will tell. Speaking of time, it's been a while since Ridley Scott has graced the silver screen with some sci-fi goodness. Here's the trailer for Prometheus.