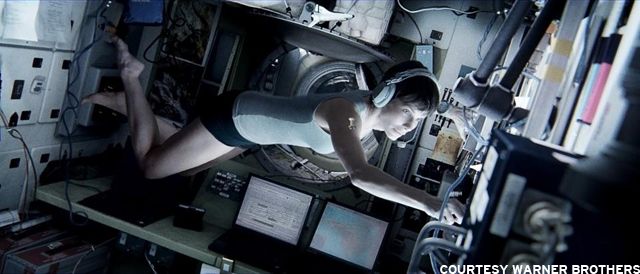 The first Weekend Returns of the season is always a tough one. Not enough websites have preseason power rankings, so it's not worth it to just do a post with just two rankings.
But also, some sites have stopped doing power rankings all together. The LA Times, The Hockey News and Sportsnet have seemingly gotten out of the Power Ranking business all together. But the cool thing is there's plenty to fill the void. Bleacher Report,
Speaking of voids, the number one movie at the box office last weekend www.boxofficemojo.com/weekend/chart/ was the sci-fi thriller Gravity, starring George Clooney and Sandra Bullock as two astronauts who are floating around in the void after their spaceship is destroyed. And from what I've heard, you really need to see it in 3-D.
I'll tell you what, I ventured into the IMax 3-D theater one time, and that was for Avatar. And other than being subjected to some fantastic visuals but a real crappy story (floating islands with waterfalls?!?) I swore to myself I wouldn't see another movie in that format again.
But if it means I get to see Bullock floating around in her space skivvies in three dimensions, I may make an exception. Does that make me a creeper?
Speaking of gravity, the Kings have felt the effect of going 1-2 in the first week. Those reporters who did do preseason rankings had the Kings ranked in the top 5. But based on their lackluster start, one dropped the Kings from 4th to 14th. Then again, it's ESPN.
Enough of this, let's get into it!
• TSN's Scott Cullen's Week 1 rating: 3. Last week: 3.

There's a lot of continuity with the 2012 champs too. A healthy Willie Mitchell on defence gives the Kings virtually too much depth and newcomer Matt Frattin has a chance to play in a scoring role, though if he can't hold a top six spot, Tyler Toffoli or Linden Vey can be summoned to fill the void.

• Bleacher Report's Jonathan Willis's Week 1 rating: 3. Last week: 3

The Kings have looked uncharacteristically weak in the early going, needing the shootout to beat the Wild in a game where Minnesota dominated the possession statistics, and then losing to a Winnipeg team that shouldn't be close to them talent-wise. But two middling games aren't enough to downgrade one of the NHL's best teams over the last two years.

• Metro.us's Rich Slate's Week 1 rating: 3.

Another proven winner that captured the Cup two seasons ago and reached the Western Conference Finals last spring. They didn't lose much and it's tough to bet against Jonathan Quick, arguably the best goaltender in the league.

• CBSSportsline's Brian Stubits's Week 1 rating: 7. Last week: 6.

Good to see Jeff Carter hasn't lost his scoring touch but still waiting for Jonathan Quick to get his score-stopping touch back.

• Fox Sports' Week 1 rating: 8.
GOOD NEWS: The talented power play has clicked at a 30 percent conversion rate so far this season.
BAD NEWS: Goaltender Jonathan Quick (3.18 GAA, .893 save percentage) has suffered another terrible start. Monday night he allowed one of the worst goals in NHL history.
BOTTOM LINE: Coach Darryl Sutter must see tighter defensive play, better goaltending and stronger even-strength play ASAP.

• Sports Illustrated's Allan Muir's Week 1 rating: 12.

Even if you can ignore Jonathan Quick's epic goaltending gaffe on Monday night against the Rangers, there's not much positive to say about his start to the season. He was pulled from a loss to the Jets and has allowed nine goals on just 86 shots. It hasn't helped that his teammates only seem to find the urge to compete after they've fallen behind.

• ESPN.com's Scott Burnside's Week 1 rating: 14. Last week: 4.

Not a particularly inspiring start for the Kings as they had to come from behind to beat Minnesota in overtime in their opener and then were mauled by surprising Winnipeg in a game that saw Jonathan Quick get the hook.

• NY Post's David Satriano's Week 1 ranking: 17.

They are off to a slow start again, allowing 10 goals in three games, but they're more of a May/June team, anyway.

You know the drill: we take the rankings, add 'em up and take the average and we get the official Hockeywood Power Ranking of:
8.25