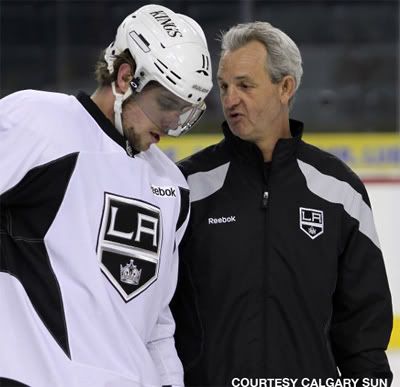 • Calgary Sun: Kings beat Flames in Darryl Sutter's return to Calgary
In the battle of Alberta's First Hockey Family, it was the elder Darryl who walked away victorious over brother Brent — maybe even a little satisfied after being asked to resign from his post in Calgary a little more than a year ago. Not that he'd admit it.

• Calgary Sun: Kings thriving under new coach Sutter
"He's different than what I expected. Coming in, I thought he was going to be really hard on us, yelling at us all the time," Doughty said. "He's awesome. He expects us to be at our best every night, working hard and be tough on players, and that's what we needed as a coach."

• Calgary Herald: Sutter as surly and abrasive as he ever was
The first time is always the worst time. But the novelty is now gone. The curiosity, evaporated. The intense scrutiny, at an end. With Saturday over, Darryl Sutter, and the Flames, can exhale and move on.

• Calgary Sun: Sutter's old grudge remains
To say Darryl Sutter wasted little time reminding the Calgary media how miserable life in and around the Flames organization could be at times when he ran the joint would be wrong.

They said it
"It's a great building to be in. That's what it's about. Hey, what more do you want? A kid from Alberta on Hockey Night in Canada in an Alberta building. Pretty awesome right?" – Darryl Sutter, on the first game back to Calgary.

"Everyone is aware of the situation, coming back here for him," Brown said. "Guys understood, whether he downplays it or not, I know he wants to win this game." – Dustin Brown, on the matchup of the brothers Sutter.

"I said this this morning — you guys make more of a deal about it than myself or Darryl does,. His job is to coach the L.A. Kings, and my job is to coach the Calgary Flames. I'm disappointed we lost the hockey game." – Brent Sutter, on the game.