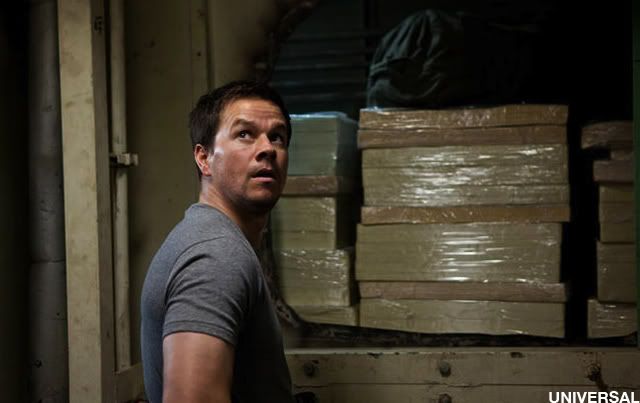 The top movie of the weekend was surprisingly the Mark Wahlberg action flick Contraband. It's rare that an action movie beats a family film, especially since the one in question is a beloved Disney classic.
Disney retrofitted Beauty and the Beast into 3D, in an attempt to snag some nostalgia for the classic. But it's $17.7 million debut was far less than their previous foray into reissuing an animated feature as 3D, The Lion King.
Back to Wahlberg. I think it's safe to say he's shed the Marky Mark image from back in the 90s, and he's become quite the executive producer. From Entourage to Boardwalk Empire to In Treatment, Wahlberg knows his television drama.
He's etched out a spot for himself in Hollywood, starring in movies like Boogie Nights, The Perfect Storm, The Italian Job and The Departed. But for every good role, he's had bad ones like Rock Star, Max Payne and Planet of the Apes.
All his characters have one thing in common: they are all dicks. In The Departed, he played a dick cop. In The Other Guys, he played a dick cop. In The Corrupter, he played a dick cop. Hey, is there a theme there?
Honestly, the one performance I was impressed with was in The Fighter, where he played a brooding fighter. A brooding fighter with dick tendancies.
It seems Wahlberg is at a crossroads in his career. He's trying to shed that dickish persona by taking on more comedic roles. Opposite Will Ferrell, he was anything but funny. His next movie, Ted, is Seth MacFarlane's directorial debut and is a comedy about a man and his teddy bear. Hmmmm.
All I know is Wahlberg doesn't seem to be going anywhere soon. You know who else isn't going anywhere? That's right, the Kings. How did they fare in this week's media power rankings? Let's take a look.
• Sports Illustrated's Adrian Dater's Week 15 rating: 11. Last week: 10.

Anybody still want to second-guess the Darryl Sutter hire? How sweet it was for his Kings on Saturday night, going into Calgary and dominating the Brent Sutter-coached Flames. Of note: Jonathan Quick's six shutouts lead the league.

• ESPN.com's Scott Burnside's Week 15 rating: 12. Last week: 12.

Darryl Sutter gets to see how far he has brought this team with a nice test Tuesday night at Vancouver.

• The Hockey News' Adam Proteau's Week 15 rating: 12. Last week: 9.

Since blowout 8-2 loss to Detroit Dec. 17, Kings have just one regulation-time loss in 14 games.

• Fox Sports' Jim Rosen's Week 15 rating: 13. Last week: 18.

Darryl Sutter's Kings have been inconsistent, trading off wins and losses over their last 10. Losses at home to Columbus and in overtime at Edmonton will be looked back at in frustration during a late-season playoff push.

• CBSSportsline's Adam Gretz's Week 15 rating: 13. Last week: 15.

The Kings are still on the rise thanks to their play defensively, but will they be able to find enough offense?

• TSN's Scott Cullen's Week 15 rating: 14. Last week: 17.

Suddenly the masters of earning at least a single point, the Kings have one regulation loss in the last 14 games. They've lost six times total, but only once in regulation.

• Sportsnet's Luke Fox's Week 15 rating: 16. Last week: 15.

Consistently average, the Kings have been alternating wins and losses for 10 consecutive games now. Centre Anze Kopitar (42 points) has come on strong, supplanting Mike Richards as the team's leader in all the major offensive categories.

Take the average, and you get the Kings' Hockeywood Power Ranking of:
13.0.
That's up .5 from last week. Unless the team can string together some wins, I'm afraid they are destined to be stuck in the same position as Wahlberg: struggling to change their identity.
Now for something completely different. I saw this trailer for Wes Anderson's Moonrise Kingdom, starring Bruce Willis, Brad Norton and Bill Murray, a trifecta of actors that I'd go see regardless of the movie.