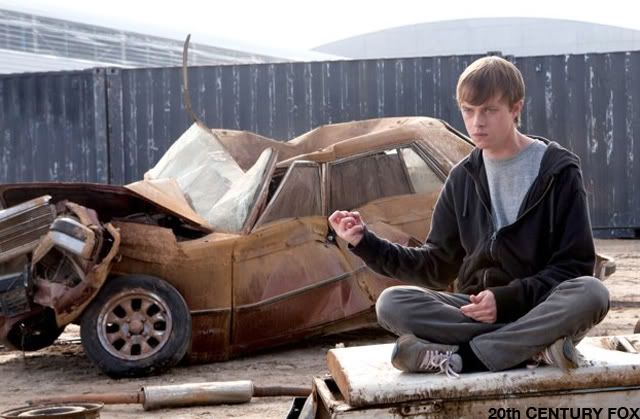 The top movie of Super Bowl weekend was Chronicle, the film for the trailer I posted last week. And I'm not sure anyone has noticed the death knell of the found footage genre.
Chronicle is the story of three high school friends who get superpowers after discovering a meteor. The movie is shot through their eyes as they realize what they could do. It devolves into their new power corrupting them.
Thing is, Chronicle really didn't need to use the "found footage" gimmick. They could've easily made this without all the bels and whistles, and it would've been a cool action/horror movie. Instead, it feels forced and I felt it damaged the overall experience of the flick. It sort of makes me wonder what could a real filmmaker do with this genre.
Take the other newly reborn genre of 3-D. James Cameron, one of the visionaries when it comes to making movies, jump-started 3D to make Avatar. He had the basic idea of the movie since 1994, but really spent five years working on it in earnest. Then decided to shoot it in 3D, creating million dollar cameras to do so. The result: a fantastic-looking movie that really utilized what someone could do with 3D. The story did leave a little to be desired, but I liked it.
Ever since, Hollywood has decided to take countless movies and force them to use 3D to try and capitalize on this trend, especially since they could charge almost double the amount for tickets. The result? Movies like Jackass 3D, where we get to see Bam Margera's peeing on others in the third dimension.
This weekend, Star Wars Episode 1 will bow in theaters again, this time in 3D. George Lucas has found another way to suck even more dollars out of SW fans, adding 3D depth to an already shallow movie. That doesn't mean I won't go see it. I am, after all, a huge SW nerd.
Imagine if Lucas actually made a movie for 3D, not just retrofitting his old movies. Could he give Cameron a run for his money? The same could be said about the found footage genre. What if Spielberg made a found footage movie? What could that be like?
His style is all about the perspective of ordinary people in extraordinary situations. I know there was some Spielberg-ian homages in J.J. Abrams' Cloverfield, so I know his style would lend itself to the genre. But his next project is a Lincoln biopic, followed by the promising Robopocalypse.
I doubt a director if his magnitude would want to tackle such low-hanging fruit like using a gimmick like found footage. Then again, if Martin Scorsese could get nominated for an Oscar utilizing a gimmick like 3D, anything is possible.
You know what else is possible? The Kings dropping in the Power Rankings, after losing two out of three games last week. How did they fare? Observe…
• Sports Illustrated's Adrian Dater's Week 18 rating: 13. Last week: 10.
Too
bad they couldn't take their clock-keeper on the road with them,
because they dropped two straight to start a six-game trip. OK, a bit of
a cheapie there, but the Kings need another kick in the butt. Their
inability to score goals has been one of the NHL's more puzzling
stories. Yet, they are a still good bet to make the playoffs. We think.

• Fox Sports' Jim Rosen's Week 18 rating: 13. Last week: 13.
Mike Richards is scoreless in his last eight games and with 26 points has been outscored by trade partner Wayne Simmonds, who has 31. The Kings have one goal in their 120 minutes of play since Clockgate.

• CBSSportsline's Adam Gretz's Week 18 rating: 15. Last week: 15.
New
week, same old story. Jonathan Quick is awesome, the offense … well
… is not. By far the lowest scoring team in the league, well behind
Columbus and Minnesota. Not a good sign.

• TSN's Scott Cullen's Week 18 rating: 15. Last week: 12.
Goals
haven't come easily all season for the Kings and C Mike Richards, who
was the team leader in goals when he got hurt, now has one goal in his
last 18 games.

• The Hockey News' Adam Proteau's Week 18 rating: 15. Last week: 12.
Kings must take advantage of four-game road trip against relatively soft opponents (Lightning, Panthers, Isles, Stars) to keep pace in post-season race

• ESPN.com's Scott Burnside's Week 18 rating: 17. Last week: 11.
Just
when you want to anoint the Kings a surefire playoff team, they go
sideways, as was the case in back-to-back losses in St. Louis and
Carolina. The Kings have won two of six, and the offense continues to
shoot too many blanks.

• Sportsnet's Luke Fox's Week 18 rating: 19. Last week: 16.
Although the Kings continue to be pretty average on the ice (as many wins as losses in their last 24 games), the people associated with the organization are up to some interesting things, whether that's the marketing department's "eat pancakes with Dustin Penner" promotion or their clock keeper's last-minute alleged tomfoolery.

Take the average and you get the Kings' Hockeywood Power Ranking of…
This weekend will feature the re-re-release of Star Wars Phantom Menace in 3-D. BUt I'm more excited about the new game from LucasArts called Star Wars: The Old Republic. Check it out…