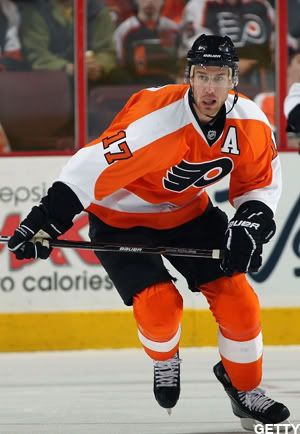 For the Hockeywood Dailies of CarterWatch 2012, click here.
There's your team, Los Angeles. Hope you like it.
Dean Lombardi finally acquired a high-scoring forward, after striking out two other times. (Ilya Kovalchuk and Brad Richards send their regards.) And for the most part, Dean made the best possible deal to acquire a top-six forward.
He didn't have to dole out an insane amount of time/money (Kovalchuk signed in NJ for 17 years at $100 million, Richards signed with the Rangers for nine years at $60 million.)
Carter is in the second year of his 11-year, $58 million contract he signed in Philadelphia. Even though the Kings are now on the hook for the remaining money on the contract, Carter's cap hit is now third on L.A. for forwards (behind Anze Kopitar and bestie Mike Richards.)
Lombardi also didn't trade away any prospects, either. He held onto Jonathan Bernier, who was rumored to be part of the deal for Rick Nash. The Kings are considered in the top five, organization-wise, for their prospects in the minors. Granted, he did include a conditional draft pick. But at this point, the Kings have a solid core in the minors that could conceivably be on the big league roster one day. The loss of one pick won't kill them.
For the most part, Lombardi has stayed true to form: conservatively building this franchise, which was in shanbles when he inherited it in 2006. He kicked the tires on several high-ticket items during his tenure, but consistently settled back on his long-term plan.
I can't say I was surprised. After all, in that Mike Richards' Twitterview with Sportsnet's Eric Gage, Richards possibly revealed Deano's plan…
Kings fans have had to endure six years of this "five-year plan," only to see this team completely go off the rails this season. These baby steps the entire franchise has had to take have to this point have now evolved into bigger strides. We have now established the core of this team for the next 10 years. Barring what happens with Jonathan Quick's contract, which is up at the end of the 2013-14 season, this team won't really change significantly anytime soon.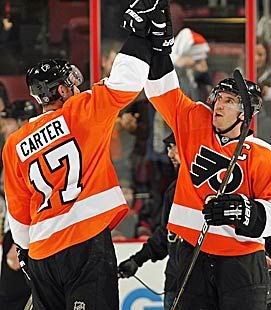 So the $64,000 is: is this enough? Can the Kings become perennial contenders as constituted right now? Unless Lombardi does something so out of character (like trade Quick for Nash), this is your Los Angeles Kings team for the foreseeable future. Are they good enough?
A good friend once told me that you can only live on potential for so long. Youngsters like Kopitar, Brown and Doughty are now out of that period in their careers. These players will now be judged as compared to the two outsiders Richards and Carter.
The time is now for Kopitar to assume his role as the team's most dominant player. No longer hindered by the head coach to make everyone else better, Kopitar needs to shoot and (more importantly) score more.
The time is now for Drew Doughty to evolve back into the Norris Trophy-contending defenseman he was in 2010. He'll need to crank up the intensity, as his job just got ultimately tougher with the Johnson trade.
The time is now for Dustin Brown to truly step up as this team's nasty leader. The type of nasty to allowed him to lead the league in hits for two seasons; the type of nasty that make other players uncomfortable.
Dean Lombardi's job as acquirer of a top-six player is done with getting Carter. From now on, he'll really have to rely on the evolution of the players down in the minors. But he's done something more than that. With this trade, he will have affected this franchise, whether it turns out good or bad, for the next decade. When you think about the scope of that, it's equal parts impressive and scary.
I think this should quell any rumors that Lombardi will lose his job at the end of the season. It wouldn't be the first time a team misses the playoffs after making it previous years. And this team still has its positives, heading into next season. There's 21 games left in this season, and anything can happen once you get to the playoffs. I'm thinking we're going to see something amazing in the next two months.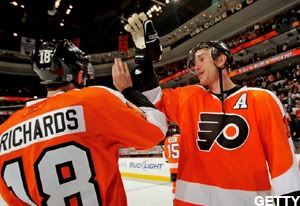 • L.A. Times: Kings acquire Jeff Carter from Blue Jackets for Jack Johnson
Lombardi has come under significant pressure to add offensive punch to a team than ranks last in the NHL in scoring and is in danger of missing the playoffs. The Kings are 10th in the Western Conference, tied in points (61) with eighth-place Dallas and ninth-place Calgary. Three other teams, including the Ducks, are within four points. The top eight teams make the postseason.
• Yahoo: Jeff Carter traded to Los Angeles Kings: Scorer gets another second chance
He and Richards had made long-term commitments to the only NHL team they had ever known, dreaming of raising Cups together in the City of Brotherly Love (in more ways than one), only to have the Flyers split them up and send them on their separate ways before their no-trade clauses kicked in.
• Yahoo's Puck Daddy: Analysis: Deal a royal coup for Kings, conditional success for Jackets
He's slowly pushed his chips into the middle of the table, through free-agent signings and two blockbuster trades for former Flyers. Now, he gets Jeff Carter for half the asking price of Rick Nash — rumored to be a frontline player, two prospects and a first-round pick — and for a much smaller cap hit.
• NHL.com: Kings feel rewards outweighed risks in Carter deal
Carter comes to the Kings with a desperately needed to score goals with regularity, but also with some serious questions. Perhaps the biggest concern revolves around the fact that Carter is just in the second year of a whopping 11-year, $58 million contract extension that he signed with Philadelphia in November of 2010, just months before he was traded to Columbus in the summer's biggest blockbuster. The Kings are now on the hook for $5.2 million annually through 2022.
• NBC Sports: Kings acquire Jeff Carter for Jack Johnson, first-rounder

Carter provides goal-scoring zip and perhaps some depth down the middle, although he might make more sense on the wing. Los Angeles is heavy on defensive talent – one can imagine that Johnson's absence will be a boon for Slava Voynov and/or Alec Martinez – so losing the attacking blueliner shouldn't be too difficult.
• TSN: A Royal Deal
Carter, who has 368 points (196 goals, 172 assists) in 500 career games, has scored at least 30 goals three times. He has hit the 20-goal mark five times during his six-plus seasons in the NHL but struggled to find a role in Columbus.

They said it



"This isn't a rental. This isn't a classic trade-deadline deal where
you are giving young players for a rental-type situation. It's a hockey
deal." – Dean Lombardi, on the deal.

"I am obviously excited. I am familiar with the team and a lot of guys on the team. I looked at the Kings at the start of the year as being a club in a good position to win. I look forward to coming to L.A. and being a part of it all." – Jeff Carter, on coming to Los Angeles.

"I want to be part of the solution there. I know they've had some bad breaks and some tough seasons, but it's going to be great when it turns around. Really, I don't think there is anything sweeter in sports than being part of a team when they get it turned around." – Jack Johnson, on heading to a rebuilding Blue Jackets club.