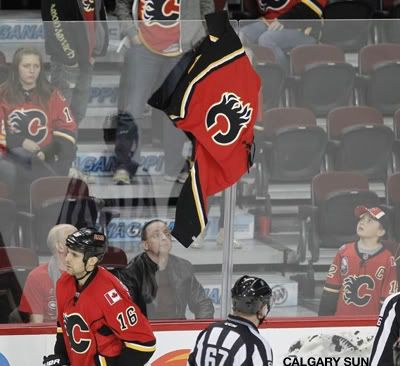 • Calgary Sun: Flames shut out by Kings

If the Calgary Flames' season was already on life-support, the Los Angeles Kings just yanked the plug. Magic numbers aren't as cut and dry in hockey as they are in baseball. But Wednesday's 3-0 loss to the Los Angeles Kings was brought to you by the No. 93. As in, the Calgary Flames' best-case scenario when the regular-season comes to a close next week is 93 points in the NHL's Western Conference standings.

• Calgary Sun: It's lights out for the Flames

Sure, the Flames can talk about still having a mathematical chance of reaching the NHL post-season and crow on about having faith — cue the insipid Journey classic rock staple Don't Stop Believin' for added effect — but Wednesday's 3-0 loss to the Los Angeles Kings all but sealed their fate.

• Calgary Sun: Flames fans voice their disapproval

With a few minutes left, the stoppages in play prompted floods to the exits and an ironic cheer after a long shot on goal. The tipping point came in the final minute, as a Flames jersey hit the ice. Tom Kostopolous threw it back into the crowd, but the message was clear.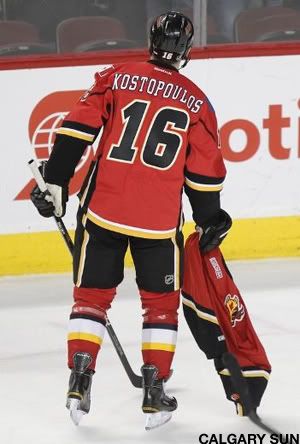 They said it

"I just thought our decision-making was a step slow tonight and theirs was probably half a step quick. It's not good. The result was them executing both ways, and us making poor decisions and allowing them to execute and not forcing them to defend us." – Former King and current Flame winger Mike Cammalleri, on the game.

"It's a tough loss. It's as tough as any this year — probably the toughest. We didn't generate anything. We get up tomorrow and try not to eliminate yourself. We will let other people do it." – Flames captain Jarome Iginla, on putting loss behind them.

"For both of these hockey teams, it's such a huge position. When you look at what Kipper has done for us this year, and for this organization in the past, and you look at how Quick has played in L.A. and how he has developed and what he has brought to that hockey team, it tells you that your teams start with your goaltender on out, and that's the way these two teams are made up. Our best player is our goaltender, and so is theirs. That's really it, at the end of the day." – Flames coach Brent Sutter, on the importance of goaltending to these two teams.


On location: The Calgary Dailies
Here's Jerome Iginla after the game.
Mike Cammalleri's postgame comments.
Lee Stempniak spoke to the media as well.
Brent Sutter's postgame presser.