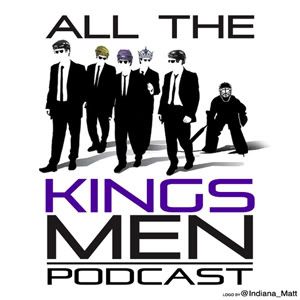 Another Thursday, another episode of All The Kings' Men.
On the same night that The Mayor and Hipcheck hosted live Kings shows after the game, Jesse, The Royal Half and myself got together and record a live podcast.
Sort of.
Live on tape.
Whatever. We bask in the post-coital glow of the 3-0 shutout of the Flames, as we gush over the Kings and Jonathan Quick, as well as try to make sense over the previous loss to the Bruins.
We have a brief discussion over the various Kings jerseys and which player we associate with each era. (Rogie with the old-school sweater, Dionne and the striped sleeve, Gretzky's white Chevy jersey and Luc's purple third jersey.) Which King would you associate with the Home Plate jersey?
We also crown the King Of The Week, although the recipient is truly no surprise. After all, all three of us are card-carrying members of the Jonny Quick For Vezina Marching and Chowder Society.
We are also joined by Joe Yerdon from NBC Sports' Pro Hockey Talk website as he breaks down how he see the Western Conference race shakes out and his unabashed support of the Kingdom all season (even though he's a Habs fan. Boo.) It's a great conversation with Yerdon, as he offers up some beauty analysis, such as 'the Western Conference is a "mudpit of nonsense."
Don't forget to follow the show on Facebook and subscribe on iTunes. Or you can download it on the official show site. Or listen to it here on LIH. There's so many to choose from. Enjoy.