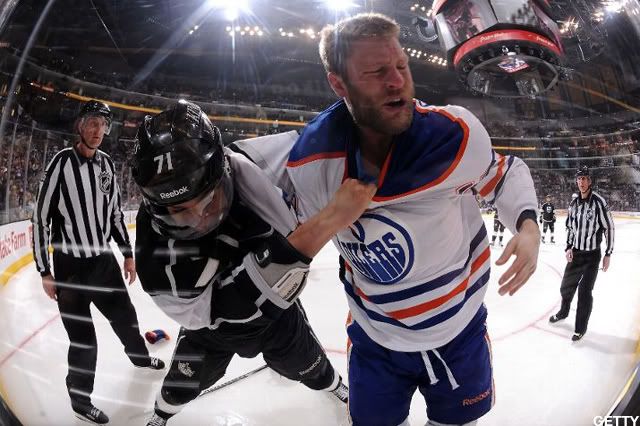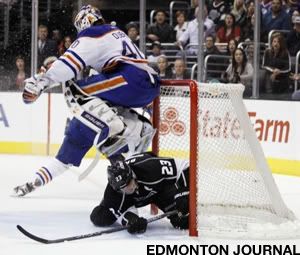 • Edmonton Sun: Oilers shoot blanks in L.A.

The Edmonton Oilers are starting to wonder if the referees are basing their decisions on the standings, not the game. Monday night in Los Angeles, in what has become a recurring and rather disturbing scene, the Oilers seemed to be playing in a contest with two sets of rules — one for a playoff team and one for a lottery team.

• Edmonton Journal: Kings upend Oilers, even as Dubnyk stands on his head again

The Edmonton goalie made 27 saves by the time the game was 40 minutes old, including a stop on Brown on a late second period power play. He got some help, too. Twice the Kings rang pucks off the iron and, late in the second period, a goal was waved off because the net was dislodged before the puck crossed the goal-line.

• The Copper & Blue: Kings 2 – Oilers 0: We've seen this before
It seems like every Oilers season ends like this: a long, slow march to the end where fans wonder what next year will be like and hope that the next draft pick will get the Oilers out of last place.

• Edmonton Journal: Kings improve playoff chances with win over Oilers

While the Oilers are coasting into the off-season, the Kings are desperately trying to lock down one of the three remaining playoff spots in the Western Conference. Los Angeles has 93 points and a two-point lead over the Phoenix Coyotes in the Pacific Division.

• Edmonton Sun: Life's A Beach
There is a big difference between a fishbowl and the ocean. Matt Greene
and Jarret Stoll, four years after moving from Edmonton to Los Angeles,
know this better than anyone.
"It's different, that's for sure, than being in Edmonton," said Greene,
who spent three seasons under the hockey microscope before a 2008 trade
to LA gave him a little breathing room.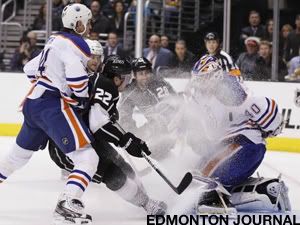 They said it

"They're good at home, and again, they're a desperate team. They're certainly going to stick to their game plan and hope that their opponent makes the odd mistake to give them a chance, and that's what we did." – Head coach Tom Renney, on the Kings' game plan.


"Maybe they (the NHL), needs Hollywood in the playoffs. I'm not sure. "It's tough sledding out there. We had to kill a couple too many penalties." –Renney, on the Oilers getting called for too many penalties, in an Edmonton newspaper.


"They definitely kept us on the outside. I don't think we got any chances inside, and (we got) hemmed in … you don't get any offensive chances and we're a team that has a lot of offensive power. It's tough. We knew that coming in. We played two pretty good periods as far as keeping the puck out of our of net, but at the end of the day, I think we just got a little too fancy." – Jordan Eberle, on the game.


"I think if you want to beat a team like that, who is playing desperate hockey, you've got to play in their end a little more. You've got to get pucks in deep and force their defense to turn pucks over, and we didn't really do that tonight, and we've got to learn from it." – Oilers forward Sam Gagner on what it takes to beat a team like the Kings.