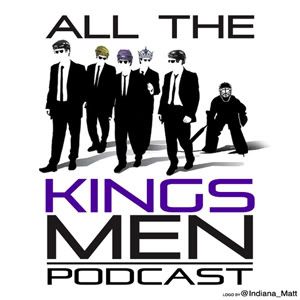 Back in 2011, Jesse and I created a monster. A monster that consumed all in its path. A monster so big in size, it eclipsed us all. A monster named… Megapod.
Megapod is the brain child of Jesse, who pointed out one guest is good, two is great, but six would be awesome. Which it was, and it was good. It roamed free once more this season, before returning to the depths.
Now with All The Kings Men becoming the preeminent Kings podcast across Hockeywood, the Mad Scientist that is Dr. Naysay has improved upon his creation. This ultimate creation will spell certain doom for small bands of rebels struggling to restore freedom to the galaxy.
Introducing SuperMegaUltrapod! A show so big, we couldn't carry it in one Imperial Destroyer. So we built a bigger Destroyer.
Part One
00:00 – 07:15 Jim Fox
16:30 – 30:45 Keith Korneluk of
KingsCast
(w/ The Royal Half)
Part Two
00:00 – 10:00 Daryl Evans
10:10 – 18:45 Missak Tokhmanian
19:00 – 37:20 Dennis Bernstein (w/ The Royal Half)
37:30 – 48:20 Dave Joseph (w/ Matt Murray)
48:30 – 1:05 The Mayor (w/ The Half and Matt Murray)
That's almost TWO HOURS of L.A. Kings playoff podcasts! Don't forget to follow the show on Facebook and subscribe on iTunes. Or you can download it on the official show site.