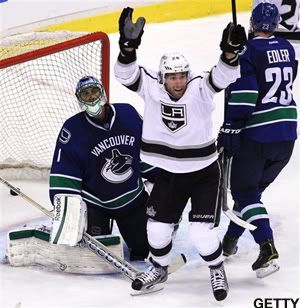 • For the Kings' media recap, click here. For the Hockeywood Dailies, click here.
The Vancouver Sun coverage
• Vancouver Canucks' discipline, special teams just part of problem

The Vancouver Canucks are trying a new way to win a playoff series. And we don't mean without Daniel Sedin, although that, too. They're trying to win it from behind after starting badly against the Los Angeles Kings and losing 4-2 Wednesday in Game 1 of their Stanley Cup tournament-opener at Rogers Arena.

• Vancouver Canucks outclassed, lose 4-2 to L.A. Kings on late Dustin Penner goal

The Canucks did not look like a team about to embark on a long Stanley Cup run. They were totally outclassed, especially in the first two periods, by a Kings team that regularly beat them to the puck and looked dangerous much of the night.

• Game Within Game: Kings get full marks for win

PIVOTAL POINT – With less than three and a half minutes to go in the third period, Canuck defenceman Alex Edler coughed up the puck in his own zone to Mike Richards, who fed Jeff Carter, the puck bouncing off Carter right to Dustin Penner for an easy tap-in and the game-winning goal with 3:14 remaining.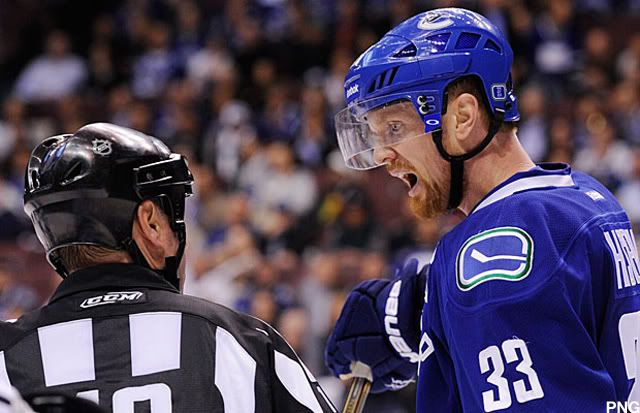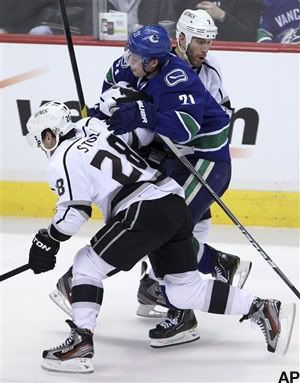 The Province coverage
• Canucks over-emotional, distracted, in 4-2 loss to Kings

The Canucks reasoned they may have been over-emotional. Too charged up, they said. Maybe they were distracted too, running around, chirping players. What they weren't was ready.

• Canucks chase Kings, flail with penalties and appear coached by Mike Keenan

For starters, will those who repeatedly keep singing this team's praises and ignoring the ongoing issues like the power play and the lack of attack at least take one night off after this one? Will the 'everything is wonderful' crowd at least admit that home wins over Edmonton, Colorado and the like down the stretch may not have meant a whole lot?

• Canucks get smacked 4-2 by chirpy Kings

Get well soon Daniel Sedin. Real soon. As much as the Vancouver Canucks were convinced it didn't matter what lineup they iced in the Western Conference quarterfinal series opener Wednesday, the reality was the Presidents' Trophy winners will need their top offensive threat if they expect to get past the Los Angeles Kings