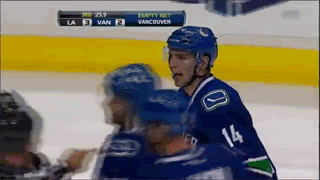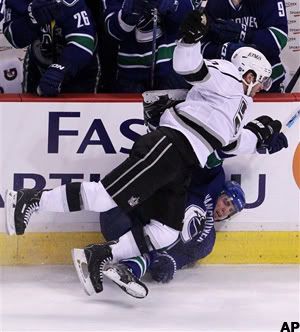 • Sportsnet: Solving King Richards

How does a No. 8 seed go about knocking off a two-time Presidents' Trophy winning No. 1 seed? Well, the recipe begins with a star player taking a Game 1 matchup favoured by the home team coach, and turning it into a nightmare the way Richards did. Then, when that player put his team atop his shoulders — scoring the first goal, making the game-winner with a fine rush, and finally, setting up the empty netter — you've got a solid foundation for an upset.

• Vancouver Sun: Vintage Mike Richards spells trouble

Richards matched a season-high by registering three points in the 4-2 win and he co-led the Kings with four hits, capped by a slobber-knocker on Canuck Alex Burrows in the final minute of regulation time when Vancouver was pushing for a tying goal and probably not expecting Richards to close on someone like an anvil on Wile E. Coyote.

• The Province: Ryan Kesler vs Mike Richards is a tale of two warriors

Alain Vigneault isn't so sure. When pressed on pitting Kesler against Richards during the 4-2 series-opening loss — a matchup that resulted in a goal and two assists for the Los Angeles Kings centre — the Canucks coach sounded like the Selke Trophy winner came out second best. Even though he had two assists and nearly scored a backhand wrap-around goal.

• The Province: Richards relishing NHL playoff redemption
"It's a fresh start in playoffs. Everybody starts at zero. I never lost confidence in myself. Even though I wasn't getting the points, the bounces, you knew if you stuck with it, it was going to come. You stick with the game plan. It's not cheating offensively. It's playing good defence. It was nice to have a game like last night, but it's time to move on and look ahead to Game 2."
The Province coverage
• Canucks' Bitz suspended 2 games, admits hit on Clifford was wrong

Byron Bitz will miss two games for his boarding of the Kings' Kyle Clifford on Wednesday night. He received a five-minute major and game misconduct for the infraction, and the Kings scored late in the power play to go ahead 2-1.

• Canucks show no discipline or intelligence against Kings

When you play almost one-third of the first two periods shorthanded; when you're outshot 29-14 over that same span; and when you play without a shred of the discipline and intelligence needed for the postseason, you aren't going to win too many games.

• Canucks of years past back to haunt the Kings, and fans

It's not that the Vancouver Canucks lost Game 1 of the NHL playoffs, the first time they've done that in nine postseason series and so handed the Los Angeles Kings home-ice advantage… It was the way the Canucks lost.

• Canucks Hat Trick: Higgins disappears, Edler struggles, Kings tweet

Tuesday night (Chris Higgins) seemed to be invisible, for whatever reason. One game is hardly reason for any significant concern, but last year he played a poor regular season and was great in the playoffs. Let's hope he isn't changing it up this year and deciding to play a great regular season and then take the playoffs easy.

• Canucks carry power play woes into NHL playoffs

In the case of the Canucks' power play, you could argue the stats since mid-January — a once-mighty man-advantage that slipped to one of the NHL's worst, clicking at around 12 per cent the past three months — are dreamy heights beyond reach of these guys now.

• Willes: Canucks haters out in force, even though NHL playoffs have just begun

The idea that the Canucks are the NHL's most hated team has been repeated so many times it's now accepted as fact. But why?

Vancouver Sun coverage
• Darryl Sutter turns Kings around while brother Brent gets axe in Calgary

When it comes to dealing with the media, Darryl Sutter doesn't necessarily ooze personality. But there's no denying at least the immediate impact he's had on the Los Angeles Kings since taking over as head coach on Dec. 20, replacing Terry Murray, who was dismissed from the position on Dec. 12

• Canucks must tune out white noise of controversy that swirls around them

High on the list of things certain NOT to be discussed, however, were (a) whether Canuck winger Byron Bitz should have been suspended when Nashville's Shea Weber was not, (b) what to do about the Los Angeles Kings' official Twitter account administering a sharp jab to the Canucks' sorest spot after Game 1, and (c) whether they are, in fact, the most hated hockey club on the planet.

• Why Vancouver Canucks WILL / WON'T beat the L.A. Kings
Reason why: 1. EXPERIENCE: The Canucks have proven on numerous occasions they are a mature group not prone to groping for the panic button.
Reason why not: 1. NO DANIEL SEDIN: The Canucks' leading goal-scorer and Art Ross winner of one season ago did not skate in Thursday's optional practice, leaving little doubt that he won't play again in Game 2.