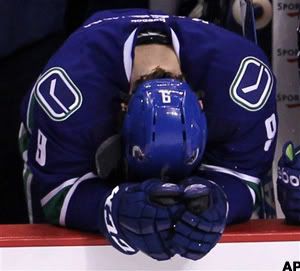 • For the view from the Kings' side of the game, click here.
Vancouver Sun coverage
• Canucks losing battles — and series — all over the ice

The Vancouver Canucks have lacked for many things over their history, but rarely in the last 20 years have they been without hope. They looked fairly close to it Friday night after Game 2 of their first-round National Hockey League playoff series, down 0-2 to the Los Angeles Kings, who are far better than people reckoned when the visitors were being picked to lose to the Canucks in five games — six, max.

• Canucks blue after getting Dustin Brown'd by L.A. Kings

The Vancouver Canucks' power play is performing about as well as one of those North Korean missiles. And because of it, the Canucks just may crash and burn right out of the National Hockey League playoffs.

• Canucks' challenge more desperate the longer Daniel Sedin sidelined

A few ears perked up Friday morning when — in answer to a question about star forward Daniel Sedin's progress or lack of same — Vancouver Canucks coach Alain Vigneault admitted he has never read the National Hockey League's concussion protocol. Then again, neither had I.


It's the first in 11 years the Canucks have been down 2-0 in a playoff series and the first time in team history they've been down 2-0 when starting a series at home … Since going out four straight to the Colorado Avalanche in 2001, the Canucks had appeared in 14 series in which they were either were up 2-0 or split 1-1.

• I Watched This Playoff Game: Canucks vs Los Angeles Kings, April 13, 2012

People are going to congratulate the LA Kings on their expert scouting of the Canucks' powerplay, especially after Anze Kopitar intercepted a sloppy Alex Edler drop pass on the Kings' first shorthanded goal. But let's get real: everyone knows about the drop pass. My wife knows about the drop pass. It's not hard to guess that the Canucks might employ the same zone entry play they've employed exclusively for two years. That's like predicting that Ash Ketchum will attempt to catch 'em all.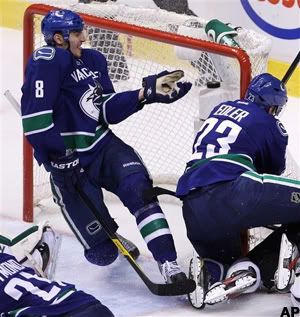 The Province coverage
• Canucks smothered by Kings in brutal 4-2 loss

The Canucks outshot the Kings 48-26, but could mount nothing at all on their five power plays except give up the two goals to Brown, while the Kings were one-of-four with the man-advantage, making them 25-percent (3-of-12) for the series so far.

• Canucks implosion against Kings beyond belief
Over the last 40 or so springtimes, Vancouver Canucks' fans have been preconditioned to expect a certain amount of unpleasantness and as they contemplated their team's prospects in 2012, they were likely aware further trials awaited.
But this? This? Even in their darkest moment, the most tortured member of the faithful couldn't have conceived of this.

• Canucks power play DOA against Kings

The Kings enacted their version of Get Shorty with the Canucks in Game 2 and it earned them a 2-0 lead in the best of seven opening round playoff series.