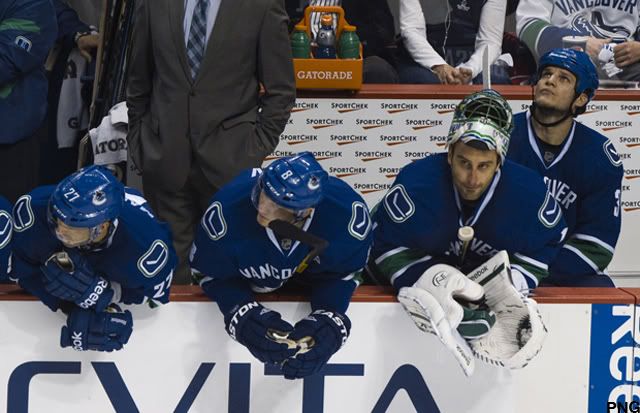 The Province coverage
• Two-game hole 'not insurmountable' for Canucks to overcome, Bieksa says
But the best example the Canucks can look to for inspiration as they trail the Los Angeles Kings 2-0 in their best-of-seven Western Conference quarter-final, is the Bruins in their opening round last year against Montreal. The eventual Cup champs lost the first two games at home but came back to win the series.

• Canucks' coach Vigneault mum on Game 3 goalie
Alain Vigneault had something interesting to say on Saturday when he was asked who would start in goal Sunday night.
"Have I decided on a starting goalie? Yes I have," the Canucks head coach said. "But I haven't shared it with my goaltenders yet, so . . ."

• Canucks remain confident despite series deficit
Over the last 40 or so springtimes, Vancouver Canucks' fans have been preconditioned to expect a certain amount of unpleasantness and as they contemplated their team's prospects in 2012, they were likely aware further trials awaited. But this? This? Even in their darkest moment, the most tortured member of the faithful couldn't have conceived of this.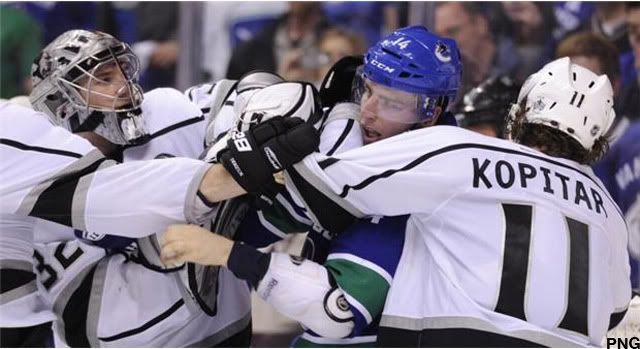 Vancouver Sun coverage
• Vancouver Canucks losing battles — and series — all over the ice
The Vancouver Canucks have lacked for many things over their history, but rarely in the last 20 years have they been without hope.
They looked fairly close to it Friday night after Game 2 of their first-round National Hockey League playoff series, down 0-2 to the Los Angeles Kings, who are far better than people reckoned when the visitors were being picked to lose to the Canucks in five games — six, max.

• Canuck star Daniel Sedin not on trip to L.A.
The reeling Vancouver Canucks will not have star left winger Daniel Sedin in their lineup again Sunday as they attempt to dig themselves out from underneath a 2-0 deficit to the Los Angeles Kings in their opening round Stanley Cup playoff series.

• Sportsnet: Canucks fight for survival; series shifts to L.A.

The first-place-overall finish, and the home-ice advantage that goes with it, will be all for nothing unless the Canucks can conquer the Kings at least once in the unfriendly confines of the Staples Center, which is known for soft ice and bad bounces.