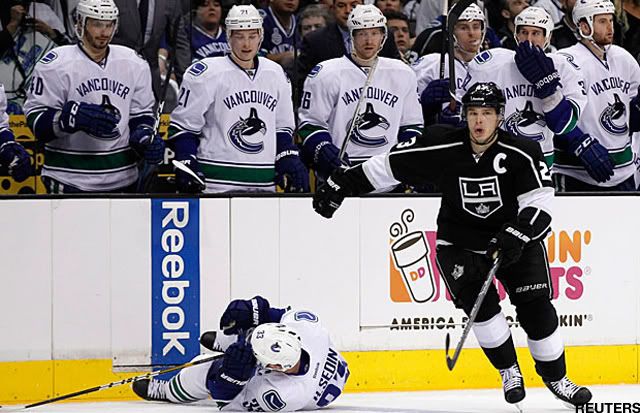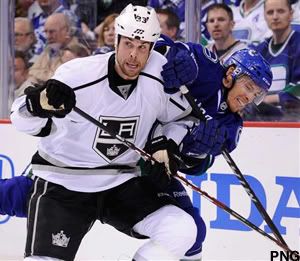 Vancouver Sun coverage

• To peep out all the Canuck videos from their Game 3 collapse, check out the Hockeywood Dailies: Canucks Edition.
• How badly does Willie Mitchell want to beat the Vancouver Canucks?

Willie Mitchell, one of the league's most accommodating and quotable players, laughed nervously for a couple of seconds and then said, "next question." Mitchell wasn't going there, but it is clear this series means more than he would care to acknowledge.

• Game Within Game: Quick lives up to his name

TWEET OF THE NIGHT: The L.A. Kings Twitter aficionado was at it again Sunday night, although he-or-she is proving to be quite the comedian. This time, it was a mid-second period tweet that garnered some laughs. "Dustin Penner goes off for charging, which we thought was a basketball violation," wrote @LAKings. Of course, L.A. Lakers star Kobe Bryant was spotted in attendance.

• Canucks on brink of elimination

Vancouver Canucks coach Alain Vigneault played the last good card available to him Sunday, replacing starting goalie Roberto Luongo with backup Cory Schneider. But the guy in goal for the Los Angeles Kings didn't change and neither did the endangerment of the Canucks' National Hockey League season.

• Canucks' season vaporizing, getting what they deserve

Hanging in the balance, from the moment they lost the first two games of the 2011-12 playoffs on home ice to the Los Angeles Kings, was their resume, their reputation, their confidence. It still hangs there. Only the thickness of the thread has changed.

• Kings' top line puts them in a special place

The Kings, for the first time in the history of a franchise that dates back to 1967, have a 3-0 lead in a playoff series. The Canucks, fresh off their second straight Presidents Trophy, are one loss away from being swept out of the first round.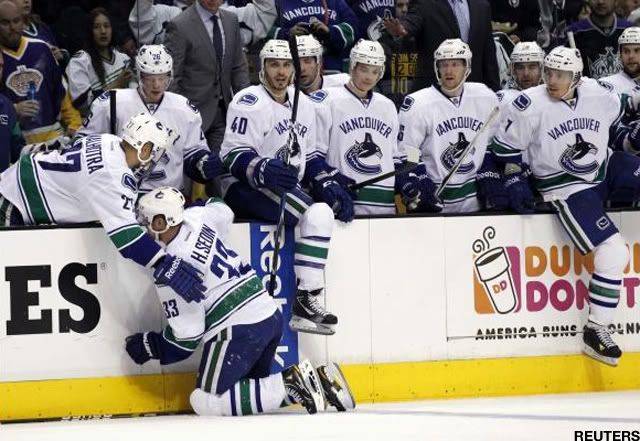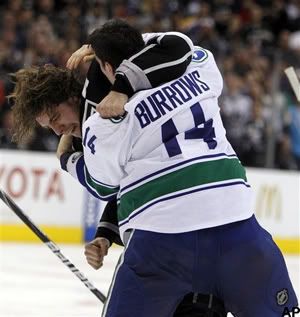 The Province coverage
• Dustin Brown hit on Canucks' Henrik Sedin was game changer

It was a hit that could have registered on the Richter Scale because it was looking like the biggest impact the Los Angeles Kings would make Sunday.

• Canucks checked into oblivion by L.A. Kings in Game 3

Clearly effort was not a problem based on last night, this team generating a laughable edge in play, plenty of scoring chances and mountains of shots. In that way they pretty much mirrored game two. But without their best scorer and an inordinate number of players lead by Alex Edler underachieving what might be considered their norm, this team's fate has been all but sealed.

• Canucks do-or-die after hard-fought 1-0 loss to Kings
The Canucks changed their goalie, played with fire, and improved their defence.

It all finally exposed the real reason they don't have a win in their first round series. It exposed the real reason they are on the verge of getting swept out of the playoffs, despite their status as heavy favourites.

• Canucks Van Provies for Game 3 vs. Kings

Best reality: You think the Rogers Arena atmosphere is lacking? You haven't been to the Staples Center. The whole presentation is amateur hour. The feel is minor league.

• Canucks vs. Kings NHL Playoffs: The Extra Attacker

Goaltending hasn't been the problem, it's simply putting some pucks in the Kings net. But that's easier said than done against a Vezina contending goaltender like Jonathan Quick and a defence that's been terrific all season at keeping shots to the outside.

• Sportsnet.ca: Spector on Canucks: Up against the ropes

What's the mood of this Canucks team right now? "What do you think?" Kevin Bieksa fired back at an innocent reporter (wasn't me!) post-game. "We're down three-nothing. It's not very good."