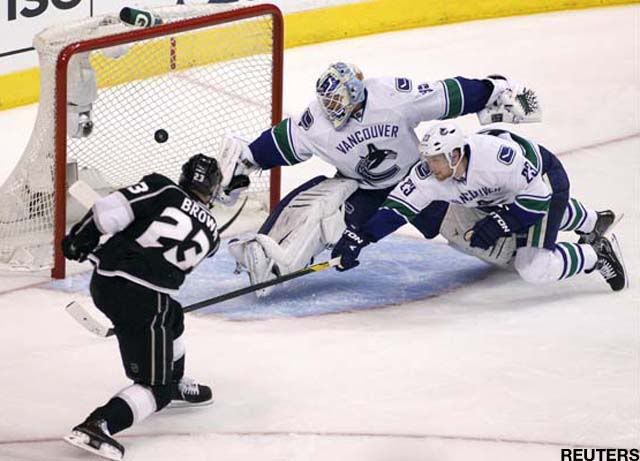 The Vancouver Sun coverage
• Dustin Brown definitely wanted 'to prove people wrong'

The Los Angeles Kings' captain, who endured 11-game goal droughts before and after his name was circulated at the National Hockey League trade deadline in February, has four goals in three games and has been the best skater in a series his team can sweep from the Canucks on Wednesday.

• Canucks hope to say 'you're it' to Daniel Sedin

"Headaches were my main thing, and that was bad enough," Sedin told reporters Tuesday after practising here with his team, which trails the Kings 3-0 and faces elimination in the first-round series. "It's tough to explain, but it's probably the toughest time, mentally, that I have been through."

• Canucks good, but not quite good enough to beat L.A. Kings
Suddenly, it's all about Jonathan Quick.
The Kings' goalie has barricaded his net and, clearly, developed beyond the jittery prodigy he was two years ago when the Canucks beat him at this stage of the Stanley Cup tournament.

• Vancouver Canucks vs. Los Angeles Kings playoffs: What they're saying

Check out a sampling of what media types are saying about the Canucks being on the brink of elimination – down 0-3 to the Los Angeles Kings – in their NHL first-round series.

The Province coverage
• Canucks' Daniel Sedin will be in Kings' crosshairs if back for Game 4

If Daniel Sedin returns to the lineup Wednesday after missing a dozen games with a concussion, he can expect two things from the Los Angeles Kings. He will gain respect. And the 30-goal scorer will be in the crosshairs in Game 4 of the Western Conference quarterfinal series which could see the Presidents' Trophy winners swept aside.

• Kings will not make exceptions for Canucks' Daniel Sedin
"It's not like anyone is going to specifically target him but if he's coming down on us and you have a chance to hit him you're going to hit him like anyone else," says Drew Doughty of the Kings, who has partnered with Rob Scuderi to play largely against Ryan Kesler's line but also some against Henrik Sedin's line as well. "You're better off just not thinking about who it is and just playing your normal game."
• Daniel Sedin says watching playoffs harder than playing in them

"If I don't feel right tomorrow [Wednesday], I won't play. I don't want to go through this again. It's been a tough four weeks and it's good to be back and first of all feeling good. That's my main issue. I really wanted to be back for the playoffs, but when that wasn't the case my main concern was getting back to 100 per cent. We'll take it day-by-day."

• The enormous mountain they're facing can be conquered one step at a time – Gallagher

Vancouver coach Alain Vigneault said earlier in the week that his team needs simply to concentrate on winning a period to get a start in these NHL playoffs. That's probably very wise advice, because if they considered the enormity of what they face in trying to climb out of this hole, it would be so very easy to just throw in the towel mentally and get the golf clubs cleaned and ready.

• Canucks Booth, Higgins switching lines in hopes of jump-starting offence

If David Booth can finish off his scoring chances as quickly and effectively as he downed a yogurt before facing a sea of microphones Tuesday, then the Vancouver Canucks might just put the bite on the Los Angeles Kings on Wednesday. Same goes for Chris Higgins, whose game has gone from reliable and versatile to inconsistent and incomplete.

• Is the Roberto Luongo era over in Vancouver?

A Schneider nod would be tangible evidence suggesting we may have seen the end of the Luongo era in Vancouver. A year ago, this scenario would have seemed unfathomable to some. Luongo was the former captain, with the huge contract, the long resume and status as the cornerstone of the team.