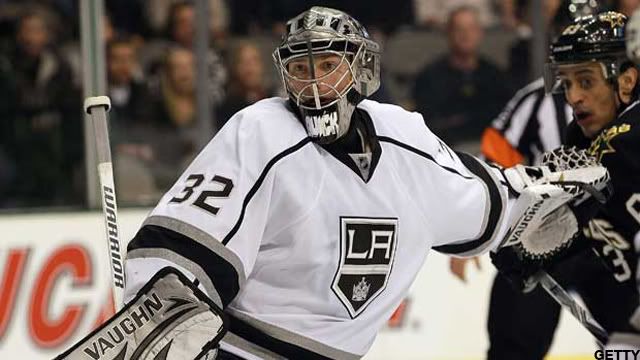 • LA Times: It's like old times for Kings' Quick, Canucks' Schneider

Quick, a native of Milford, Conn., and Schneider, who was born in Marblehead, Mass., are familiar foes. They opposed each other in prep school, when Quick attended Avon Old Farms School in Avon, Conn., and Schneider attended Phillips Academy in Andover, Mass. They went on to play against each other in college, too, with Quick at the University of Massachusetts Amherst and Schneider at Boston College.

• LA Times: Kings hope to break through in Game 5 after another extended break

It's been 11 years since the Kings won a playoff series, so what's another four days? Well, plenty actually, if you believe Kings Coach Darryl Sutter, who wasn't too happy about the extended break in their best-of-seven Western Conference first-round series against the Vancouver Canucks — and maneuvered his way through yet another off-day Saturday.

• LA Times: Kings benefit from Darryl Sutter's varied personality
If you don't like the personality of Kings Coach Darryl Sutter, then simply wait five minutes for the cold front to swirl out the door.
Or, in some cases, not even a minute.

• Fox Sports West: Kings looking for production from second line

That the fourth line was the team's best line is a trend that should not continue. If the Kings are going to finish off a significant upset — they would become the 10th eight seed to upset a one seed since conference playoff realignment in 1994 — they're going to need the Dustin Brown-Anze Kopitar-Justin Williams line and the Dwight King-Mike Richards-Jeff Carter to be their best lines on a nightly basis.

• ESPNLA.com: Outlook not promising for injured left wings

While the Kings wait to find out what time the puck will drop Sunday for Game 5 of their Western Conference quarterfinal against the Canucks in Vancouver, there has been some clarity on the status of three injured left wings.

• LAKings.com: Kings' focus shifts to Sedins
The Kings are on a mission to slow the Sedins, a mission that few teams are able to accomplish.
Daniel and Henrik Sedin, the Vancouver Canucks' start twin-brother forwards, were reunited in Game 4 on Wednesday when Daniel returned from a concussion. The Sedins were on the ice for all three Vancouver goals as the Canucks stayed alive in the series by beating the Kings.

• AP: AP Preview

The Canucks, down 3-1 in the best-of-seven series, face another must-win situation after beating the Kings 3-1 in Los Angeles on Wednesday night. Vancouver, first overall in the NHL for the second straight season, is attempting to become the fourth team in Stanley Cup history — 1942 Toronto Maple Leafs, 1975 New York Islanders and 2010 Philadelphia Flyers — to rally from a 3-0 deficit.

• CBC.com: Kings will be no pushover for Canucks

The last time the Vancouver Canucks were up against a Darryl Sutter-coached team in the playoffs, they saw their season end in the first round of 2004 when Calgary Flames forward Martin Gelinas scored 85 seconds into overtime in the seventh and deciding game.