• For all the previews you can possibly handle, check out Hockeywood Tonight.
LA Times coverage
• Kings-Blues preview: a first look
If the Kings walk by and look in the mirror, they see the St. Louis Blues.
Pleased to meet me.

• Kings, St. Louis Blues may stretch playoffs

Purists embrace the absence of the shootout when it comes to playoffs. Even some purists, however, embrace the concept of sleep, which may be in short supply after Kings-Blues games.

• Eliiott: Kings and Blues can't help but like each other

Blues Coach Ken Hitchcock was so generous he declared the Kings the top team in the West because they eliminated the No. 1-seeded Canucks. But he wasn't generous enough to give the Kings the home-ice advantage that comes with the top seeding, so the series will start in St. Louis on Saturday and Monday before moving to Los Angeles next Thursday and Sunday.

• Elliott: Kings follow rules of playoff success, chapter and verse
The gospel of successful playoff hockey, according to Kings Coach Darryl Sutter, is indisputable.
"Goaltenders, special teams, top players, unsung heroes and discipline. Write it down and don't forget it," he said. "It's true. It's part of the hockey bible. I've seen it for 35 years, live."

• Kings hope Dustin Penner's line switch pays off

The revamped lines will stay together against the Blues, with Sutter looking for Penner to respond to postseason pressure the way he did while playing for the Ducks' 2007 Stanley Cup championship team.

NHL coverage
• Blues, Kings eager to drop puck on battle of a series
"I think the media has drawn a lot of similarities … I think if you look at the stats, the defense, the scoring, everything is very similar," Kings captain Dustin Brown said. "Right now, we'll see what the difference is. There's going to be differences that show up once you have to play each other six or seven times."

• Goalies, defenses could reign in Blues-Kings series
The Blues were the League's stingiest team in the regular season allowing just 155 goals for a total of 1.89 goals per game. The Kings, however, were second, allowing just 170 goals for a total of 2.07 goals per game.
Those trends have carried over into the playoffs, as each team allowed a League-low eight goals in winning their first-round playoff series in five games.

• Kings' Mitchell still looking for ways to get better

Mitchell arguably has been L.A.'s best defensive player in the Stanley Cup Playoffs. He was instrumental in funneling the Vancouver Canucks to the outside lanes in the Western Conference Quarterfinals. He logged a game-high 28:17 of ice time and had eight blocked shots in a series-clinching victory in Game 5 that was a microcosm of a season in which he got back to the shut-down role he had with Vancouver from 2006-10.

• Top picks Doughty, Pietrangelo make early impact
The evolution of a player from starting an NHL career to firmly establishing his presence often takes a significant amount of time. It can be measured in a number of years before a player's potential is in full bloom.
But looking at the draft class of 2008, particularly among the defensemen, they've made their mark on the NHL in such a short span.

• X-Factor: Carter is wild-card to Kings' success

The Kings can play defense and prevent goals. They needed more offense to be a serious threat in the postseason, and the addition of Carter has provided that –whether it is his own production or other players on the roster benefitting from the attention his line now commands.

• X-Factor: Kings need Penner to play to his potential

Facing the League's best defensive team in the regular season, the Kings will need as much offensive help as they can find. With a top line anchored by first-round star Dustin Brown and Anze Kopitar, and a second line featuring proven playoff performers Mike Richards and Jeff Carter, getting positive contributions from Penner on the third line would make them that much tougher to beat.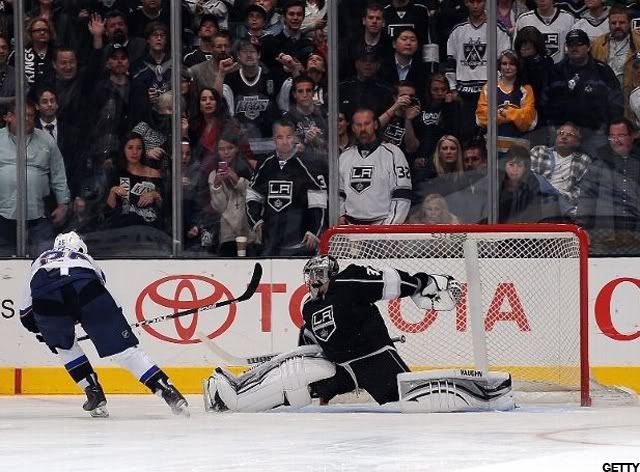 The Associated Press coverage
• Well-rested Kings, Blues set for Game 1
"L.A. plays nasty, they play real nasty," Hitchcock said. "They follow the coach's orders, and they finish all their checks. They play with a level of commitment to physical play that's going to be a challenge for any team."

• LA Kings excel in playoffs with meager offense
While the Blues aren't exactly an offensive powerhouse, Los Angeles is easily the lowest-scoring team to make the playoffs. The Kings spent most of the season with the NHL's most inept offense, relying heavily on Quick and an improving defense to make up for weeks of offensive struggles.

• LA Kings make long-awaited playoff breakthrough
The Kings had lost in the first round in two straight seasons after an eight-year postseason absence, but they've finally achieved something commensurate to their potential after a seven-month struggle to find their game. Their midseason woes cost coach Terry Murray his job, but the lowest-scoring team to make the postseason kept moving right through the Canucks.

Ken Hitchcock of the St. Louis Blues and Darryl Sutter of the Los Angeles Kings both have top-shelf goaltending and the two stingiest defenses overall. Both teams dispatched their first-round opponents in five games, too, with relentless styles of play.