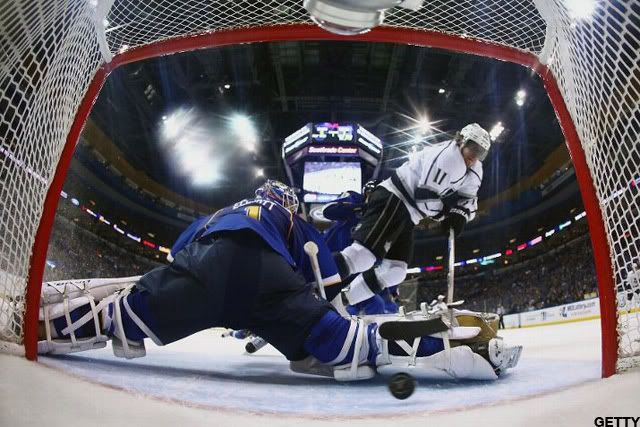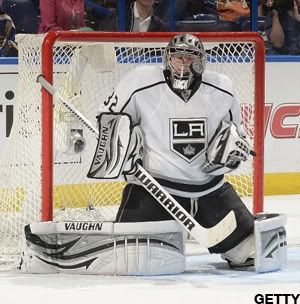 Game 2: Kings 5, Blues 2

• To peep out all the videos online about this game, check out today's Hockeywood Dailies.
• AP: Kings blitz Blues with 4-goal first period, take 2-0 series lead

The road has been an extended highlight reel for the Los Angeles Kings in the playoffs. A breakthrough regular season doesn't mean much right now for the St. Louis Blues.

• LA Times: Kings take 2-0 lead in series with 5-2 victory over the Blues

Leading the way for the Kings were captain Dustin Brown and center Anze Kopitar, who combined for five points. Kopitar scored twice, including a dazzling short-handed goal at 14:16 of the first period to make it 2-0. Brown had three assists, including one on the short-handed effort, and he has been involved in all four of the Kings' short-handed goals in this playoff run.

• LA Times: Elliott: Suddenly, the Kings can't be stopped

The team that ranked next to last in scoring this season, the same players who generated four goals in a game only twice in a dark December that began and ended with different coaches behind their bench, shredded the NHL's best defensive team Monday and drove the league's stingiest goaltender to slam his stick against the post in frustration.

• ESPN: LeBrun: Kings look ready to play in June
Question: Did the Los Angeles Kings drop to eighth in the West on the final weekend of the regular season in order to guarantee road-ice advantage?
We jest, of course, but make it a perfect 5-0 away from Staples Center for the Kings this spring, a record run up against the top two seeds in the Western Conference, no less.
Just call them Road Warriors.

• ESPNLA.com: First-period barrage lifts L.A. to 2-0 series lead

Whether a veteran teammate on the Kings grabbed the rookie winger by the collar and reminded him to stand up for himself at some point is unknown, but the fact that (Dwight) King didn't shy away from Crombeen's second invitation should have drawn some inspiration on the bench.

• FoxSportsWest.com: Recipe for road success? Try a little defense

It was also the Kings' seventh straight playoff road win, dating back to Games 2 and 5 in San Jose last April. Los Angeles is 5-0 on the road in the 2012 postseason, obviously a major foundation of what is beginning to resemble something special for a team that has only made it past the second round of the playoffs once since entering the NHL in the 1967-68 season.

• NHL.com: Kings take 2-0 series lead with 5-2 win

Feeling like they would get a desperate team on their home ice, the Kings decided to turn the tides on the Blues, and for only the third time in franchise history — including twice in consecutive series this season — the Kings head home with a 2-0 series edge.

They said it

"He's been probably one of our best players or, other than Quicker, probably our best player all year. When it comes to PK stuff, me and Kopi and PK'd now for five or six years. It's just instinct for us now, when we get out there and find each other.'' – Dustin Brown, on Anze Kopitar's game.


"We could be better on that, as far as not giving them those opportunities. That's something we need to improve on. Even on the kill, they're creating some stuff there that we can take away. Myself, my reads that I'm making, there's still room for improvement.'' – Jonathan Quick, on the Kings' penalty killing.


"He's playing well. He's been playing well for a while now. He's starting to get the bounces. He got a nice bounce in Vancouver and a nice bounce the other night to score the empty-netter. But he's earning his bounces. He's working hard for them. He's getting in the right spots and he's a big body. He's hard to move.'' – Mike Richards, on Dustin Penner's recent play.


"Well, I know there's a lot of good players on our team. It's hard, getting them to play all together at the same time. You know, I just look at is as, we're in a series. I don't look at an overview like that. We came here and we had a tough first period in the last game, and we had a good second and third. Tonight, we had an awesome first, and I don't think we played well after that. So, we've got some work to do here, and get ready again.'' – Darryl Sutter, on if this was what he envisioned when he took over, with the team reaching its potential.