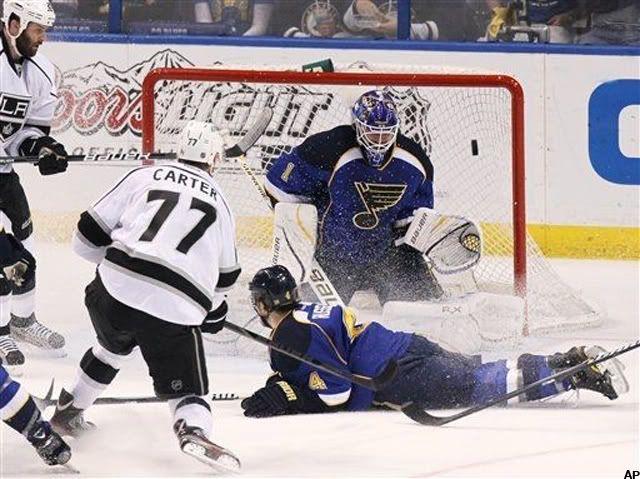 • After down season, things are looking up for Kings' Dustin Penner

His performance is a reprise of his success with the Ducks during their 2007 Stanley Cup run, when he contributed three goals and eight points while teamed with Ryan Getzlaf and Corey Perry. The young trio was split up when Penner signed a five-year, $21.25-million offer sheet with the Edmonton Oilers that summer, and without them to exert peer pressure his passion soon vanished.

• Kings try to maintain road karma at home

"I think it's more like we want our rink to feel like it's our rink," he said Wednesday. "We've never practiced there. Four years I've been here, we've never practiced there. Maybe that could do with our subpar home record the past few years. Maybe you don't get a feeling like it's your rink because you're never there, and I think I like this idea of being able to go there and practice there."

• Short-handed goals have been huge for Kings

The Kings have scored four short-handed goals in seven playoff games this spring. That stands out even more considering they scored nine in 82 regular-season games, led by Mike Richards with four and Kopitar with two.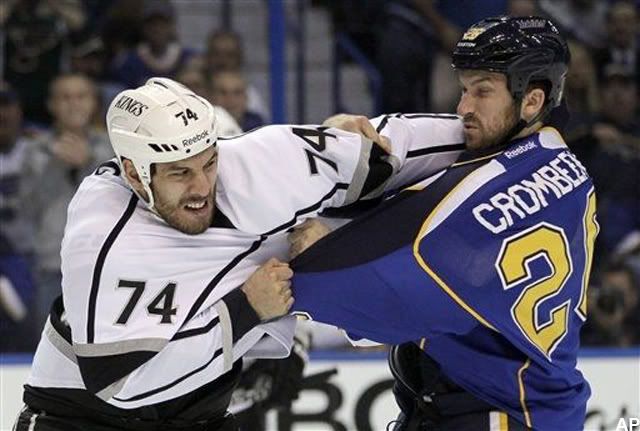 NHL.com coverage
• Kings aim for 60-minute effort in Game 3

"It wasn't the best," Anze Kopitar said. "There's no secret to it. I'm sure every other guy will tell you the same thing. We had, what, six shots the rest of the way? It's not good. It didn't hurt us last night. We had the start we wanted. But you want to stay consistent, obviously, and play like that for 60 minutes. There's room for improvement and we've got to be ready for Game 3. "That's probably one of the worst periods they had in their season so far. They said it, at least what I've heard from them. They're going to be ready for Game 3. We have to be focused."
• Despite road success, Sutter still prefers home cookin'

"If you have a distinct home crowd flavor, it's always better. I go back again, those old buildings, old Chicago Stadium. Now they say what's the difference? All the buildings are the same. The ice surfaces are the same. But your home crowd can influence if you handle it right. Composure with young players is a big thing. Preparation is a big thing. When you weigh all that stuff … I'm just set in my ways now."

• Clifford skating, working his way back into shape

Clifford said he passed his "psych" test and feels better but is cautious about possibly coming back too soon after seeing other players make that mistake.

• Penner's year goes from pancakes to playoff heroics
In theory, Penner's Stanley Cup pedigree is a benefit to the young Kings, most of whom have not advanced past the first round. Penner said that 2007 season gave him a distorted view of the postseason, though.
"Obviously you're excited to be in the playoffs and you think it's going to be this easy all the time," said Penner, who missed the playoffs three straight years after 2007.


More coverage
• Fox Sports West: Kings pushing, grinding way through playoffs
"99% of fights start with both guys dropping their gloves and a punch is thrown, and then when I saw a third man in…that's when I said, 'well, that's not fair, I have to come and help,' Penner said. "It wasn't a DDT, it was a rear naked choke hold. That's what they call it in UFC. It's terminology I'm not familiar with, it's just what I was told it was."

• ESPNLA.com: Kings: How they got from there to here
Forget trying to put a finger on what turned this season around. You won't have enough hands.
One of the favorites to finish high in the Western Conference standings coming into the season, with a roster full of skill, youth and experience, the Los Angeles Kings were underachievers almost from the start.
Well, except for goalie Jonathan Quick.

• OC Register: Kings treating home like the road
The Kings have routinely held their practices and game-day skates at their El Segundo practice facility, but Coach Darryl Sutter downplayed the maneuver, saying that he took advantage of a rare opening while the Lakers and Clippers are out of town.

• NBC Sports: No joke: Dustin Penner's been a force for Kings
From taking a thunderous hit from T.J. Oshie that generated quite a skirmish (including some knuckle sandwiches exchanged between Oshie and Mike Richards) to other rougher bits, Penner was very much in the thick of things.
Before the playoffs, many would say he was just thick.

• NESN: Quick, Kings Could Have A Legitimate Claim to Throne As L.A. Continues to Dominate West's Elite
But Quick isn't a one-man act. The Kings are playing solid defense in front of him and using a balanced attack to overwhelm the Blues the same way they did the Canucks. Add in the physical play the Kings have brought and there are shades of the formula Tim Thomas and the Bruins rode to a Cup last year.

• Slam Sports: Penner starting to look like old self
The irony of Penner speaking to L.A.'s focus and intensity isn't lost on many; those words haven't been used in a lot in discussions about the former Edmonton Oiler recently but he looks a driven man right now.

• Philly.com: Carter: Kings' fight forged in stretch run
"We had to fight just to get in, and once you get in, anything can happen with how close the teams are," Carter added. "An eight seed doesn't really mean anything once you're in. Anything can happen. That month before the playoffs started has helped us. We just kept rolling the way we've been playing. It's good."

• The Globe and Mail: Kings becoming the team that GM envisioned
Consider that at the de facto three-quarter mark of the season, the Kings and Calgary Flames had identical records, 66 points from 61 games, and both were outside the top eight in the West. The Kings needed about 70 games to sort themselves out, played 10 strong games down the stretch, mailed in the final two and entered the playoffs as an unknown wild card, sitting there with some dangerous potential because of the overall consistency of its goaltending, and the certainty that all the key pieces, from defenceman Drew Doughty on out, could be better – in some cases, a lot better.