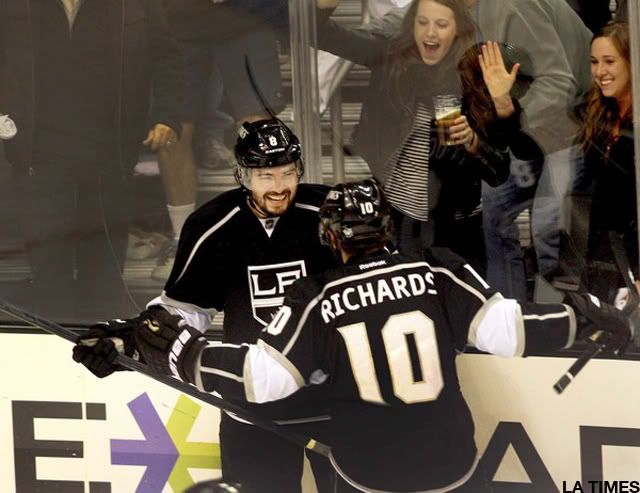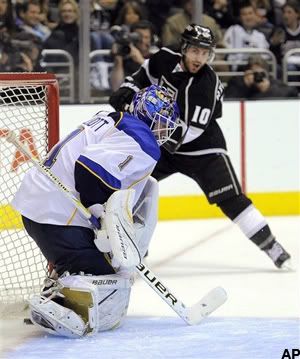 Game 3: Kings 4, Blues 2
• To peep out all the videos online about this game, check out today's Hockeywood Dailies.
• AP: Kings shut down Blues, take commanding 3-0 series lead
When captain Dustin Brown crunched Alex Pietrangelo with a hit along the boards in the opening minutes, the Los Angeles Kings knew they hadn't lost whatever fire has driven them deep into the playoffs.

• LA Times: Kings one win from conference finals
Finally, the names Wayne Gretzky, Luc Robitaille and Kelly Hrudey are on the verge of having some long-awaited company, some fresh names in the Kings' playoff ledger.
How about Mike Richards, Dustin Brown and Jonathan Quick, to name a few?

• LA Times: Elliott: Kings' Game 3 victory over Blues rewards fans

To a franchise whose crowning postseason moments are so rare and so old they're classified as ancient relics, the Kings' 4-2 victory over the St. Louis Blues on Thursday was a defining moment, a performance so cohesive and impressive that it would be held up as a new standard if it weren't like so many other exemplary efforts the Kings have mustered this spring.

• LAKings.com: The Key Three: May 3

ANOTHER SPECIAL-TEAMS WIN: The Kings got a power-play goal. Tough to believe, yes, but it's true. More importantly, they once again won the special-teams battle, this time through more conventional means. There were no shorthanded goals for the Kings, but they did score a power-play goal and went 2-for-2 on the penalty kill.

• NHL.com: Kings top Blues 4-2, lead series 3-0

If the Los Angeles Kings weren't already being seen as a potential Stanley Cup Playoffs monster, they practically grew another head Thursday night.

• Fox Sports West: Richards, Doughty highlight Kings' leadership

By virtue of their responses and cutthroat instinct that were on display in a 4-2 win Thursday night at Staples Center, their confidence and command of the play against some of the NHL's elite is reminiscent of some of the Los Angeles Lakers' signature performances during the more dynastic moments of the previous decade.

• ESPNLA.com: When push comes to shove, L.A. knows how to respond

Brown drew the first three minor penalties on the Blues, all retaliatory after he had laid a legal hit on one of the St. Louis players. Brown never forcefully reacted to the penalties, allowing the Kings to have the man advantage.

• ESPNLA.com: Kings find success in road mentality

The Kings had already done their best to make sure they would be on the road as much as possible this postseason, having lost their last two games of the regular season to finish as the No. 8 seed. Perhaps the Kings could have gone a step further, and put a call into NHL commissioner Gary Bettman and suggested they play all their playoff games on the road. After all, there is no shortage of games going on at Staples Center these days with the Lakers, Clippers and Kings in the postseason together for the first time since 1993.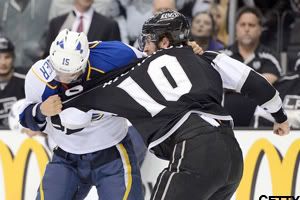 They said it
"I don't know. I think it's my first one. I think the intensity carried
over from the last game a little bit, and we wanted to carry over with a
good start, and they did too. Things happen in games, and we got some
lucky bounces tonight that allowed us to win, and Quickie made some big
saves. I think we did a good job in the third period of shutting it
down.'' – Mike Richards, on his Gordie Howe Hat Trick.

"We feel great in here. We're confident that we have a really good team in here, all the forwards, all the goalies, all the D. At the same time, we can't get too high on ourselves. It's three-nothing right now, but the fourth game is going to be the hardest, to close out, and we've got to make sure it's our best game of the series, and it's going to be the toughest one to win.'' – Drew Doughty, on the Kings' confidence level right now.

"We did a great job of playing whistle to whistle, not getting involved in that (after-the-play) stuff. We don't need to get involved in that stuff. If they do, that's fine. It seemed like they got some penalties tonight and we got a huge power-play goal from Richards. We got that big goal, timely saves from Quick, and we shut them down in the third." – Jarret Stoll, on the game.


"We're not going to be a team that is going to be winning games just with one line scoring. We got to have contributions from everyone and sometimes it's Quick making a big save, sometimes it's our defense making a big block, but tonight we got big games from some of our top guys." – Dustin Brown, on the game.

"Things are going well because we're working hard right now. Guys are paying the price, doing every little thing that's important at playoff time. That includes boxing out, letting the goalie see pucks, not letting second opportunities get in and, obviously special teams again." – Justin Williams, on the game.


"I don't think you get to this point by panicking, that's for sure. I think you've got to score big goals. It's simple. You can manage it however you want, but hey, Mike Richards, that's a big power-play goal too.'' – Darryl Sutter, on not panicking.