Game 3: Kings 4, Coyotes 0
• To peep out all the videos online about this game, check out today's Hockeywood Dailies.
• AP: Kings up 2-0 after Jeff Carter's hat trick, Jonathan Quick's shutout

The Kings shook off the big hits — a couple that led to game misconducts — and continued a can't-stop-us roll that started with a playoff push the last month of the regular season.

• LA Times: Kings don't miss a trick in rolling to 2-0 series lead

The Kings' dormant power play stirred to life, as did forward Jeff Carter, and the Phoenix Coyotes picked the second game of the Western Conference finals to look like they had spent too much time in the midday sun.

• LA Times' Helene Elliott: Coyotes might have lost more than Game 2

As the sun and the Phoenix Coyotes sank slowly in the West, the key question after the Kings' 4-0 conference finals victory Tuesday was whether the NHL, which has operated the Coyotes franchise for three years, will suspend one or more of its players for the frustration-driven fouls they committed.

• LA Times: Kings are showing their youth and talent in postseason run

Only three Kings who have played in the postseason are 30 or older. Of the 20 players in uniform Tuesday, only two were free agents, while 11 were Kings draft picks, eight of which were drafted since Lombardi was hired.

• NHL.com: Kings crush Coyotes 4-0 for 2-0 series lead

They have won seven straight road games in these playoffs, tying a record last matched by the 2010 Chicago Blackhawks. Their 7-0 road record to start the playoffs ties a record set by the 1999 Colorado Avalanche. They've won nine straight on the road dating back to last spring. That ties the record for most road wins spanning consecutive postseasons, previously done by the Islanders in 1982 and 1983.

• NHL.com: Coyotes lose their composure in 4-0 loss

"It's a dangerous place, but (Lewis) can't put himself in that position, either," Phoenix coach Dave Tippett said. "I'm not saying it was a good hit, but any player in that position and a guy is beside you and then he turns his back to you … you can't stop. That's the way I saw that one."

• Fox Sports West: Carter's big game keeps Kings rolling
In recording the club's first postseason hat trick since Wayne Gretzky's unforgettable performance against the Toronto Maple Leafs in Game 7 of the 1993 Campbell Conference Finals, his efforts lifted the Kings to their third consecutive 2-0 series lead in advance of heading back to Staples Center for Game 3.

• ESPNLA: Kings set club record with seventh straight road playoff win

Over the long haul, Kings goalie Jonathan Quick might have edged ahead of teammate Dustin Brown as the front-runner for the Conn Smythe Trophy. Quick stopped 24 shots for his second shutout of the postseason. He has allowed 16 goals in 11 playoff games and stopped 309 of 325 shots for a sizzling .951 save percentage. He has allowed more than two goals in a game only once in the playoffs, a Game 4 loss against the Vancouver Canucks in the opening round, L.A.'s only playoff defeat of 2012.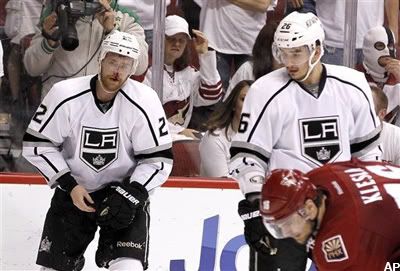 They said it

"You're obviously thinking about it. It's always in the back of your mind. I tried to keep patient and keep working in practice, like I said, during the games trying to get to the net, trying to get a couple good bounces there. Lucky enough to get a couple today. It's a good start." – Jeff Carter, on whether his confidence ever sagged.


"You know what, that's part of the game, time of the year. There's going to be some chippy stuff going on. It's going to happen both ways. It's just part of the game. I don't think we got under their skin or anything like that. These guys won two rounds. You don't win two rounds this time of year being able to get rattled easily. We know what to expect here coming into Game 3. We know they're going to bring their best. That's all we're looking at right now." – Jonathan Quick, on the chippy play


"We were playing within the whistles. They took a few penalties after the whistles. and tonight we were able to capitalize on the power play. Other than that, it was just staying aggressive and not sit back. They have some very skilled forwards that can make you pay at any time, if you sit back and give them time and space. So, I think the biggest part is staying aggressive and keep getting after them.'' – Anze Kopitar, on the key to managing the game, with all the penalties


"I've probably been in dirtier games. The intensity out there, combined with the fact that we're in the Western Conference Finals, there were some hits out there that weren't good, but there were guys playing hard and we capitalized on some of the opportunities we had.'' – Dustin Brown, on whether this was the dirtiest game he's been in.


"I know you will probably will want to roll your eyes when I say this, but we haven't played our best game yet. That's the mentality you want to have in the playoffs, is that you're never satisfied. You can always be better, and you have to have that mentality, where you want to keep on improving until you've finally finished, until you have reached your goal.'' – Dustin Penner, on being up 2-0 in the series.


"That was key, obviously with some of the penalties here and there, and our power play played good for us, and the penalty kill again. The ups and downs, we managed them really well tonight and came out with a win.'' – Dwight King, on maintaining composure, despite all the penalties.


"I don't think so. I'm sure they were a little bit frustrated. They had some good chances tonight. I thought Quickie was on top of his game when we needed him. The rest of the time, I thought we played pretty well defensively. Some of the guys you're looking at aren't usually dirty players. So, I don't really think it's a case of them trying to do anything. I just think they were trying to get themselves going a little bit, that's all.'' – Rob Scuderi, on whether this was a dirty game.


"Well, I didn't think tonight we were especially great. I thought we were better the first game than we were tonight. I think tonight we wanted to get through that first period because we knew it was going to be important for them. I think we scored the deflection goal, then we scored a power-play goal. That was really important for us, I think." – Darryl Sutter, on his team's confidence.