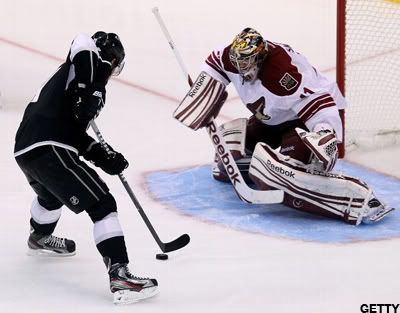 WCF Game 3: Kings 2, Coyotes 1
To peep out all the videos online about this game, check out today's Hockeywood Dailies.
• AP: Kings on verge of
sweep of Coyotes after Game 3 victory

Quick made 18 saves, and the eighth-seeded Kings improved to 11-1 in an undeniably charmed run through the NHL postseason by a franchise with 44 seasons of frustrating, Cup-free history.

• LA Times: Kings one win way from Stanley Cup finals
They were mere steps away from each other in the giddy, crowded hallway at Staples Center: Tim Leiweke and Bruce McNall.
The present and past nearly collided Thursday night, the bookend faces of a long and winding and often frustrating hockey journey for the Kings' franchise.

• LA Times's Helene Elliott: Starting with Dwight King, Darryl Sutter plays to Kings' strength

Sutter's decision to put brawny rookie Dwight King with Jarret Stoll and Trevor Lewis on the third line and move the hard-to-motivate Dustin Penner alongside Mike Richards and Jeff Carter on the second line was a stroke of genius.

• LA Times: Kings' Dustin Brown, Anze Kopitar and Justin Williams deliver
The Phoenix Coyotes finally had a chance to exhale after taking it in the solar plexus the first two games of the Western Conference finals.
That giddy feeling, and a 1-0 lead, lasted 2 minutes 7 seconds for those counting.

• NHL.com: Kings beat Coyotes 2-1 to take 3-0 series lead

It was Kopitar's fifth tally of the postseason and the sixth straight game in which he has recorded at least one point. Brown now has 15 points in this year's playoffs, the most of anyone still playing. He has 10 points in the past seven games.

• NHL.com: King, Nolan have formed their own support group

Among the plethora of reasons why the Kings are one win away from the Stanley Cup Final is the play of King and Nolan. Since getting called up together from the Manchester Monarchs of the American Hockey League on Feb. 10, they have injected a youthful spark along with an abundance of size, speed and skill into a team that desperately needed a heaping portion of both.

• NHL.com: Kings' forecheck is grinding down opponents

Too often, that meant that whichever Phoenix player had the puck — more often than not one of the six defensemen — was left with nothing but poor alternatives. If Phoenix was lucky, the puck at least made it to the neutral zone before it ended up back on the stick of a Kings' player.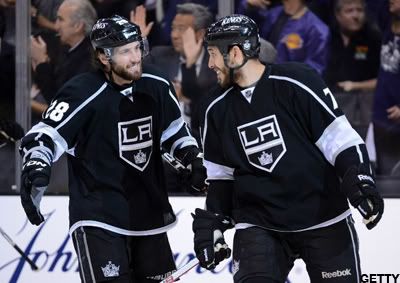 • NHL.com: Stoll finds his niche on Kings' dynamic third line

Stoll put his gloved fingerprints all over the game from start to finish. The highlight was his steal from defenseman Michael Stone that led to Dwight King's game-winning goal early in the third period. Stoll also drew two Phoenix penalties in the first two periods and danced around Daymond Langkow for a shot on goal in the third.

• ESPN.com: Jarret Stoll sacrifices for bigger goal

Stoll has had better offensive years, of course, since he played a top-six role during parts of his NHL career. And while he did play some top-six minutes as a winger this season, he became a rock for the Kings once he permanently took over the No. 3 center job — providing excellent play at both ends of the ice while being a key penalty killer and top faceoff man.

• ESPNLA.com: Kings have a habit of not staying down for long

The Kings have answered nearly every goal by the opposition with one of their own, and usually very quickly. They managed that again Thursday night in Game 3 of the Western Conference finals against the Phoenix Coyotes, tying the score just 2 minutes, 7 seconds after the Coyotes had taken their first lead of the series.

• Fox Sports West: King-sized emergence lifting Los Angeles

A towering presence along the boards and around the opposing net, King offered a snapshot of his multifaceted ability when, on a delayed penalty early in the third period, he scooped up a puck deep in the corner before circling around unmarked to the right faceoff dot, where he beat Mike Smith up high, glove side, with a lethal wristshot. The play seemed to distance itself from the close-range, net-crashing tallies he had offered during the second half of the regular season and the prior 11 playoff games.