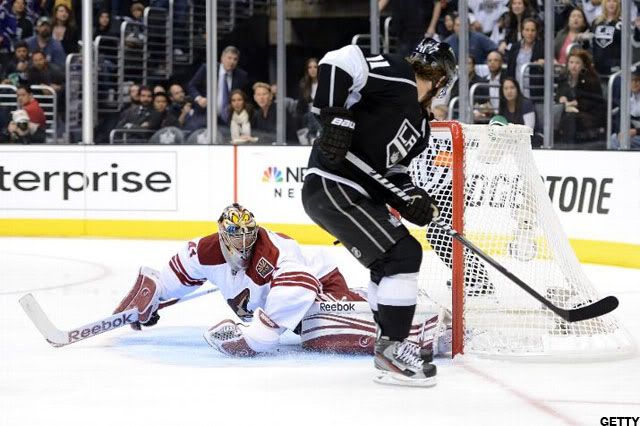 To peep out all the videos online about this game, check out today's Hockeywood Dailies.
• LA Times' Helene Elliott: Kings are not used to this company

A victory over the Phoenix Coyotes today at Staples Center would give the Kings a berth in the Stanley Cup finals with a 12-1 record, the fewest games any finalist will have played since the NHL expanded the first round to a best-of-seven format in the 1987 playoffs. The quickest route has been 14 games, taken several times, most recently by the 2008 Pittsburgh Penguins.

• LA Times: Kings are not taking 3-0 series lead against Phoenix for granted

The Kings, at this point, should know how to handle a 3-0 series lead. They won the first three games in the two previous series against Vancouver and St. Louis, though they did lose Game 4 to Vancouver.

• LA Times: Rookie Dwight King has been a surprising scorer for Los Angeles Kings

The kid from Meadow Lake — a town of about 4,000 — has gone from starting the season in the minor leagues in Manchester, N.H., to one game from making the Stanley Cup finals. Game 4 of the Western Conference finals is at noon Sunday at Staples Center with the Kings on the verge of sweeping Phoenix.

• LA Times: Coyotes' coach changes his tune on diving

Playoff rants are a time-honored tradition in the NHL, like the team handshake after a series is over. Usually the chatter starts when a playoff series tilts in one team's favor. And Tippett's accusations Thursday night amused Kings players to some extent.

• OC Register: Kings know history awaits, but first they must win

Different players, it seems, have taken turns starring in every game of the Kings' 11-1 run in these playoffs. Their 3-0 lead over Phoenix — the third consecutive series in which they have had that advantage — has highlighted their impressive depth.

• OC Register's Mark Whicker: Unstoppable Kings refuse to look ahead

It could end Sunday and, if it does, would put the Kings into a Stanley Cup Final for the second time ever and the first since Wayne Gretzky marched through Toronto in 1993.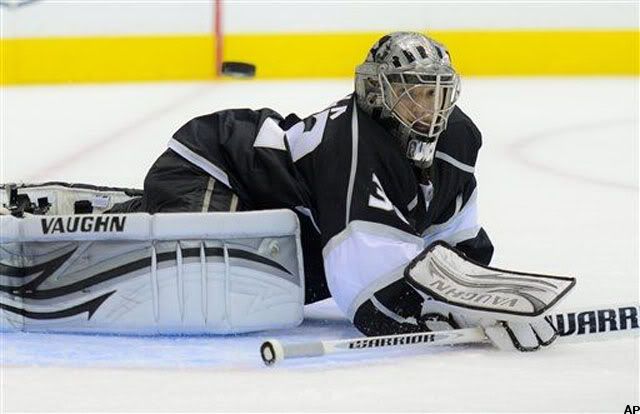 • Fox Sports West: Defensively astute Kings on verge of Cup berth

The Kings have not sat back at all in these playoffs, instead relying on waves of barreling, forechecking forwards that force disproportionate action in the offensive zone. It's an evolution of the defensive play they exhibited in the regular season, when their blueliners led the way to a second-place finish in hits and several games against Phoenix and Dallas — two other top-five teams in the hitting category — turned into physical, emotional affairs.

• Fox Sports West: Kings one win from Stanley Cup Finals

ince suffering a shootout loss and an overtime loss to San Jose in the final two games of the regular season — games in which the Kings uncharacteristically allowed four power play goals — they have taken three consecutive 3-0 series leads over their three division-winning playoff opponents. Los Angeles had never taken a 3-0 series lead in the 44 seasons prior to this year, yet when Jonathan Quick leads his team onto the ice Sunday afternoon at Staples Center, he will have a pair of Game 4 home close-out chances to draw experience from.

• Sporting News: Kings' Dustin Brown close to complete success

Dustin Brown was credited with nine hits in Game 3 of the Western Conference finals on Thursday night. Since the Kings' captain donates $50 to the Newborn and Infant Critical Care Unit at Children's Hospital Los Angeles for each of his hits, the Phoenix Coyotes' pain was sick kids' gain.

• CBC Sports: L.A. rookie Dwight King has Saskatchewan hometown abuzz

Meadow Lake, population 5,045, is the hometown of Kings' rookie sensation Dwight King. His No. 74 sweater has yet to be added to the collection that hangs inside the Milltown haunt, that includes three other NHLers from Meadow Lake, but manager Darcy Friesen said that if Dwight brings a Kings sweater back home this summer, they will be more than pleased to find some wall space.

• SLAM Sports: Kings whipped into shape
Darryl Sutter has a voice like a gravel road in rural Alberta.
He rumbles more than talks.

• New York Times: Far From Land of Nip and Tuck, Kings Are Thriving Incognito
Crossing the intersection at East 42nd Street and Vanderbilt Avenue, I had them lined up perfectly. I stepped in, took a sign and interrupted with a "Let's go, Kings."
Nothing. No caustic words, no dirty looks, no witty retort.
I might as well have said: "Excuse me. Never mind."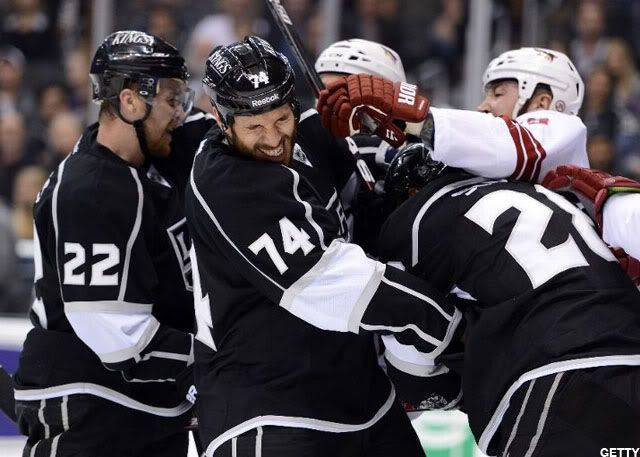 • NHL.com: Lewis continues to play huge role for Kings

"He was always a terribly fast, hard-working guy and he's invaluable at this level," Kevin Westgarth said. "You can see he works the hardest out there, and he's got a lot of confidence going now. That's huge. He's willing to carry the puck through the neutral zone and do a lot of stop-up plays. But his work ethic and his speed is what obviously has really gotten him to this level and made him flourish."

• NHL.com: Kings know there is still work to be done

"I think the biggest mindset right now is to finish this series," Scuderi said. "You get up 3-0, and everyone starts looking ahead. I think one of the good things that this team has had is we've been able to stay grounded and focused on what we have to do and that's to hopefully close out the Phoenix Coyotes sooner rather than later."

• NHL.com: Depth at center has Kings on brink of Cup Final

"Depth is something that we had success with all year," Richards told NHL.com. "It has never been one line. I don't think our line had the best game [Thursday] night, but [Kopitar's] and [Stoll's] line stepped up. The depth of our team is something that we take pride in. We play four lines and we play six D. We more or less just roll it over on the bench unless specialty teams are involved. I think that is were a lot of our success comes from."

• NHL.com: King, Nolan have formed their own support group
Dwight King and Jordan Nolan are two strapping 22-year-old professional athletes living in the shadows of Hollywood, a short drive from the beach, a freeway jaunt from the action. Talk about the dream, right?
Fun in the sun, parties, fine dining, celebrity lifestyle …
Uh, not so much.

• NHL.com: Kings' forecheck is grinding down opponents

Time after time, the Kings would dump the puck behind the Phoenix defensemen and then go hard after it. More often than not, the dump-ins were placed in such a way as to ensure that Smith, perhaps the best puck-handling goalie in the League, could not play it.