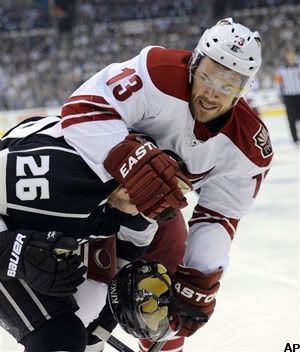 WCF Game 4: Coyotes 2, Kings 0

To peep out all the videos online about this game, check out today's Hockeywood Dailies.
• AP: Shane Doan goals, Mike Smith shutout keep Coyotes alive
The Los Angeles Kings' long-suffering fans gathered downtown shortly after dawn, eager to witness a series sweep and a coronation.
And then Captain Coyote and his goalie crashed the party for a win that suggests this series is far from finished.

• LA Times: Kings are jammed up as Coyotes win, 2-0, to extend series

First, the feared traffic nightmare didn't materialize Sunday, when cycling and hockey fans minded their transit rules in the morning. Then another doomsday scenario was averted when the Coyotes and goalie Mike Smith cooperated by shutting out the Kings.

• LA Times' Helene Elliott: Kings aren't good enough to get job done in Game 4

If success had dulled the Kings' memory of what it felt like to lose, if eliminating the Vancouver Canucks in five games, sweeping the St. Louis Blues and taking the first three games of the Western Conference finals against the Phoenix Coyotes had made them forget how deeply a defeat can sting, it all came back to them Sunday afternoon.

• LA Times: Kings fans are split on which Coyote to dislike the most

Doan, the Coyotes' captain, had a first-period power-play goal that gave the Coyotes a 1-0 lead, ending the Kings' penalty killing streak at 30. His wrist shot off a faceoff in the second period ensured that Phoenix fans would get a chance to disparage Brown in at least one more game.

• NHL.com: Coyotes stay alive with 2-0 win

Los Angeles now lead the best-of-seven series three games to one, with Game 5 set for Tuesday night in Glendale, Ariz., at Jobing.com Arena. The Kings had lots of shots, but not lots of quality scoring opportunities beyond the first period.

• Fox Sports West: Power play, net presence absent in Kings' loss
There may be a few dents in the Los Angeles Kings' seemingly impenetrable shell, after all.
By dropping a 2-0 decision to the Phoenix Coyotes on Sunday afternoon at Staples Center, the Kings lost for the first time in over a month and showed that home close-out games while nursing a three-games-to-none series lead don't necessarily bring out the best of their recent playoff abilities.

• ESPNLA.com: Kings: Coyotes stretch lead to 2-0

The bad: The Kings trail, 2-0, for the first time in the postseason. They've allowed two consecutive goals for just the second time in the playoffs as well. The other time was in their 3-1 loss to the Vancouver Canucks in Game 4 of their first-round series.

They said it

"I think tonight was more about the Phoenix Coyotes playing a good game. They sat back and they are opportunistic and that's how they've done it all year. They've been a resilient group all year and they showed that tonight. They executed really well and that's the bottom line." – Dustin Brown, on the game.


"Just shooting more and simplify a little more. We have to get some bodies in front of the net and make it tough on Smith.'' – Anze Kopitar, on how to improve the power play.


"At this level, we're all professionals, and we get to this point for a reason. When your back is against the wall, that's when it comes out, the character. They certainly had that tonight. They played well. They fought hard. Smith played well. Certainly, on the other hand, we certainly need to be better.'' – Justin Williams, on the game.


"They played really well. It's a good lesson for us. We had got the bounces, for the most part, until tonight. They threw themselves in front of a lot of shots. Their PK was really good and they got a power-play goal. So, they definitely earned this one, and we couldn't find an answer for Smith.'' – Dustin Penner, on the game.


"I think Phoenix played really well. They played a good game and came out hard. They got a big power-play goal against us there and they got a big faceoff goal. Smith was awesome tonight. They played well and we can play better. We need to respond better than that." – Matt Greene, on the game.


"Why, is because we're not a home-ice team. We've had to start every series on the road, and it's a tough league to get down in a series. It's like a lead in a game. You want a 1-0 game lead or a 1-0 series lead. That's the truth.'' – Darryl Sutter, on why the Kings have had road success.