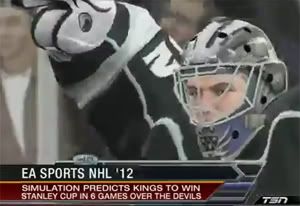 According to a EA Sports press release, the game's artificial intelligence uses real data from each team, including player ratings and line combos used, as well as factoring for things like hot streaks and injuries.
According to the simulations, L.A. will take the series in six games. Game 1 will see the Kings win 4-2, while Game 2 will see Martin Brodeur snap the Kings' road winning streak with a 2-0 shutout. Game 3 also has the Kings losing at home, 2-1. The Kings then win the next three games, 2-0, 3-2 and seal the deal at home in Game 6, 3-1.
Before you judge, just know these EA simulation has been right before. They predicted the 2010 Chicago Blackhawks as the Stanley Cup champs of that year, and also nailed the 2011 Stanley Cup Final match-up along with going 13 for 15 for the 2011 playoff match-ups.
But it's not always correct. In April, EA (and everyone else in the world) picked the Vancouver Canucks to defeat the Kings. So there's something to be said about actually playing the games. Peep the vids!
You can watch another simulation, complete with commentary, with the same result.