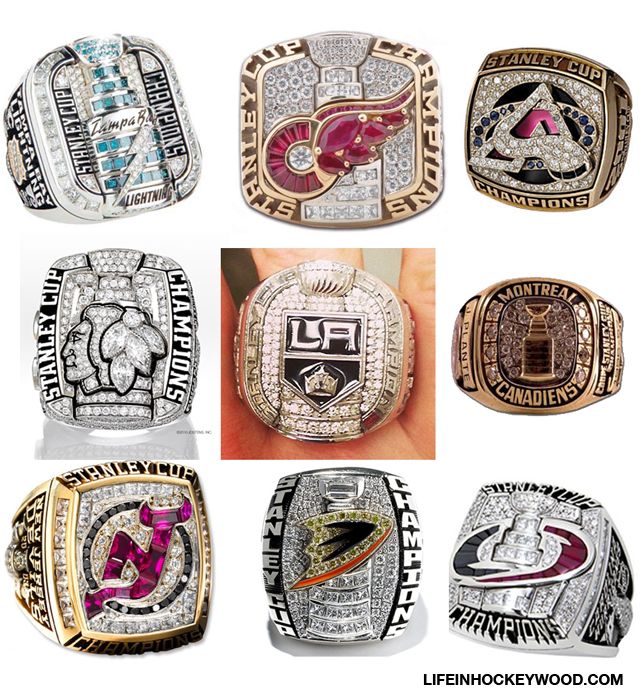 Above you see nine Stanley Cup rings. Which one of these is NOT like the other?
Thursday night, the Internet struck again. A rampant, baseless rumor appeared about the Kings Stanley Cup ring being leaked on Instagram. As rumors tend to do, it spread like wildfire until it reached the ultimate Kings blogger, Greg Wyshynski, where
he posted it late last night
.
As soon as I saw these alleged ring, I knew it had to be a replica one, and a bad one at that. Don't get me wrong, it looks fantastic. It's everything you'd want in a championship ring. Except for one thing: it's not blingy enough.
So, Friday morning, as I sipped my coffee, I decided rather than try to refute individual claims to this imposter ring, I'd do a post about it. I quickly compiled eight other Stanley Cup ring, and placed them all on the same image. (Please note, I said "quickly" compiled. All of these may not be the real deal. But even if one or two are fakes, they look WAAAAY better than the Kings one.)
Now, do you see it? Are you picking up what I'm putting down? This is NOT the Kings championship ring. It's CAN'T be. Oh, it's a ring. And it's got the Kings logo on it. And there's the Stanley Cup. But that's not the REAL Stanley Cup ring. At least, it better not be.
Have you seen a real Stanley Cup ring? It makes a grown man's finger look small. (Or at least
Sidney Crosby's finger
). The Kings imposter ring was supposedly leaked by the daughter of Tim Leiweke on Instagram. It looks nice and snug on her finger.
The concept is sure to be used for the real deal that will be handed out Jan. 19, but will have WAY more diamonds and jewels and have better detail. There's even been
a replica for sale
since summer that's better looking than this replica.
Plus, look at the other rings by comparison. That Kings ring looks like one of my daughter's plastic dress-up princess rings. What is that black stuff around the logo? I've never seen anything but plastic look like that.
Hell, the DUCKS ring looks way better, although that webbed foot is a blight on Lord Stanley's chalice. Look at the Tampa Bay ring, that's pretty impressive. And I'm pretty sure I could punch through a steel wall wearing the Blackhawks one.
My guess (and many other people not prone to spread rampant, baseless rumors online) is that this is a replica that will be handed out by McDonalds to fans. After all, the Kings announced a new partnership with the Golden Arches Thursday at their mundane press conference. (Nice to see Bob Miller though.)
Again, I bring this up not to be a dick, but to try and be level headed about this whole thing. I've been waiting to see what they will unveil Saturday afternoon when they finally drop the puck on the 2013 season. And I'll probably fork out some coin to get a replica one for my desk.
But if this is the real ring, I'll eat my hat.