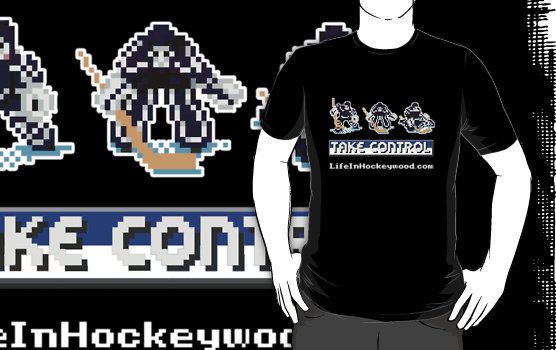 Considering how many years have passed since EA's NHL 94′ first graced my old TV in the garage, I've found that my old workhorse Genesis can still bring the fun.
As you know, I love me some NHL 94. I spent days (not hours, DAYS) playing this iconic game in the garage. The game was perfect in its design, and its replayability was insane.
One of the best parts about NHL 94 was the addition of the manual goalie. By holding down the B button down, you took control of the goaltender, and you could attempt saves, dive, poke check, clear the puck… basically everything Kings goalies couldn't do in the 2006-07 season.
It was the benchmark of a true gamer. If your opponent had a breakaway, nothing was better than becoming the goalie, then sprawling out to make the save.
In honor of the good old days of gaming, head over to our new RedBubble site and pick up your own Take Control shirt.