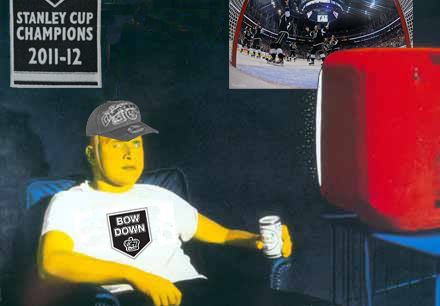 O.K., so the truncated season is now underway, and the Kings will be on the road 11 of the next 14 games. So naturally many Kings fans will be watching from the comfort of their homes (or assorted watch parties, more on that in a few).
And has been the
semi-annual
tradition
here on the blog, I'm going to look at the shortened schedule and give you five games that should be worth your while to record on your DVRs. (Which reminds me, I still have to take Game 6 off mine. Although that might be a little hard.)
Back when I started this feature, Kings away games were often hard to find on the tube without a satellite dish. But now that they are Stanley Cup champions, almost all the games will be broadcast in HD (as they were last season, thanks to Fox Sports West.)
But this season, there are NO Eastern Conference games to choose from. Which means no rematch against their Stanley Cup opponents Devils (which is a shame, IMO. But what can you do?)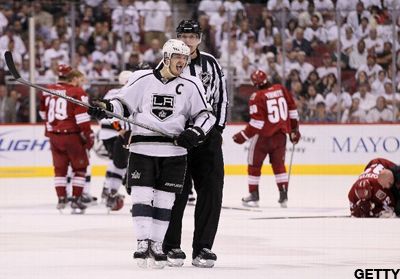 • Jan. 26: Kings at Phoenix, 5 p.m., FSW
What better way to kick off the Kings' Pacific Division campaign than against the team that they defeated in the Western Conference Finals 4 games to 1. The Yotes actually won the Pacific Division last season, on the back of goaltender Mike Smith. Smith deserved Vezina consideration, especially over Pekka Rinne. But Smith will need another stellar showing this season, since the Desert Dogs are offensively challenged. But they are a Bitch with a capital B on D. I doubt the team will be making any moves prior to their game next week, so you can feel good about watching this one.
• Feb. 10: Kings at Red Wings, 9:30 a.m., NBC, TSN
Nationally broadcast game pits Hockeywood vs. Hockeytown. Detroit lost Nic Lidstrom at the end of the season, leaving a gaping maw on that blueline now. Plus all their gambles to try and lure a high-priced FA failed, actually leaving them in an unusual position heading into the season: also-ran. They may be deep on offense, but they will need a miracle to regain a defensive stranglehold like they have had in the past. I know it's mighty early to start talking playoffs, but how sweet would it be to see these two rivals go at it in the postseason?
• Mar. 2: Kings at Canucks, 7 p.m., FSW/NHL Network/CBC
Another Stanley Cup playoff rematch, this time as the Kings return to Vancouver, the site of one of the greatest upsets in NHL history. The Canucks are the three-time, three-time, three-time President's Cup, and like the Kings, are virtually the same squad as they were back in April. The X-Factor here is what the team gets in return when they eventually trade Bob Long. They might be able to bolster that already deadly lineup. Seeing that this game will be broadcast on three different networks is a testament to just how big this game is.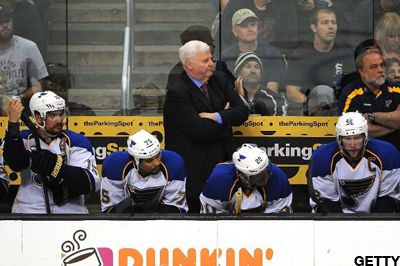 • Mar. 28: Kings at St. Louis, 5 p.m., FSW/NHL Network
O.K., so it's a bit of a cop-out to select the Kings' third playoff opponents as the games to watch. But this one will be particularly interesting. Especially if the Blues continue their ascension in the West this season. A hardcore defensive squad (tops in the NHL last season), St. Louis is being tabbed by many to have the best record in the West. The shortened season also benefits their goaltending tandem of Brain Elliott and Jaroslav Halak. This one will be a true slobberknocker, just like last postseason.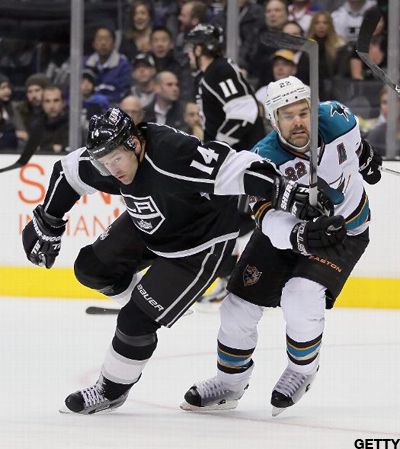 • Apr. 16: Kings at San Jose, 7:30 p.m., NO TV (yet).
I can already hear your complaining. "You said these are games to watch ON TV." Which I fully expect will happen by the time the season winds down. Considering how the Kings played last season, where they didn't clinch until Game 81, I'm expecting this game to have major playoff expectations. The Sharks are now the ONLY team in California to not have raised Lord Stanley's Cup, and as of right now, January 20th, their window is closing. They also couldn't add much in the offseason, but their core of Joe Thornton, Patrick Marleau and Martin Havlet still boast one of the league's deepest rosters.