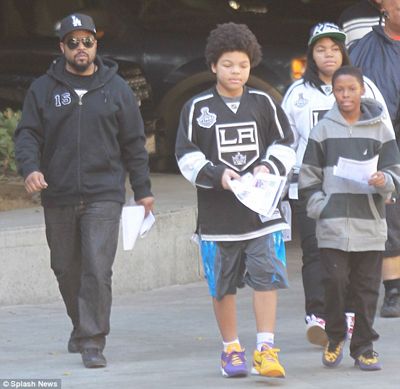 All summer long on my workout playlist, along with My Chemical Romance's "Welcome to the Black Parade" and The Brigg's "This is L.A." was Ice Cube's "Today Was A Good Day." The legendary hip hop icon directed an ESPN special called "Straight Outta L.A." about what it means to be a sports fan in Los Angeles, and he included a segment about how the Kings were inspired by the Raiders when they designed their jerseys. Cube is all about representing Los Angeles, so he has my respect.
Ice Cube and his family
were there back in June
when the Kings won the Stanley Cup, so it makes sense they would return to see the banner raising. I especialy dig the fact that his son not only is rocking a black jersey, but mismatched purple and…, er, forum gold and blue shoes.
But Cube, the least you could've done was rock an old school Kings script hat
like back in the day
. Guess you let Kimberly wear it.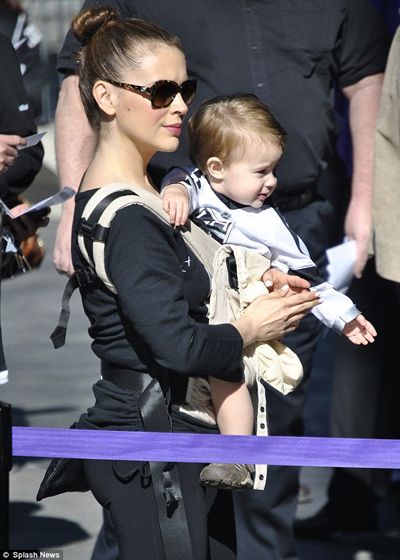 Actress Alyssa Milano was in attendance with Baby Milo. She was all over the TV when they cut away from the action to the celebs in the crowd during the playoffs. Baby Milo was rocking a Kings away jersey, while Mom donned all black. I'll give Alyssa credit, especially since she seems so willing to pose with fellow Kings fans.
Moments after this pic was snapped, she was quickly shuttled away from the line in Team LA to a private register to check out. Not sure if some face-painted freak had anything to do with that.
Director/writer/fellow podcaster Kevin Smith is an unabashed hockey fan, and took in the game with his wife, Jenn. He includes some kind of hockey reference in many of his movies, and now is currently developing a hockey miniseries called Hit Somebody. Smith, who is from New Jersey, is a die-hard Devils fans. but when I saw this pic, wearing all black, I thought maybe all his years on the Left Coast has left an impression on him. Until he snapped a pic on Instagram of his shoes.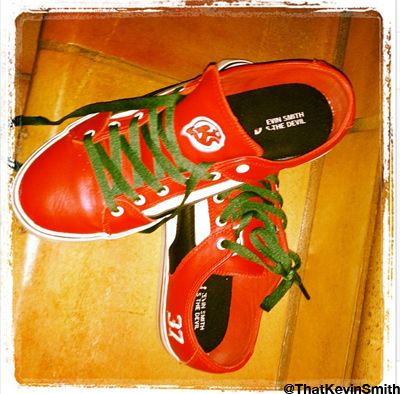 Well played, sir.
Actor Colin Hanks may be the son of one of America's greatest actors, but he's considered the bigger Kings fan in his house. Even though the old man was featured on the Kiss Cam with his lovely wife, Rita Wilson. Unlike many stars in attendance, Colin actually sported a Kings hat. Good for you, sir.
Matthew Perry was also in attendance, albeit from the safety of a suite. Not sure if the view is better, but I know the food and booze service is better. The star of NBC's "Friends" and new show "Go On" hosted a Stanley Cup party for Anze Kopitar earlier this summer, which had to have been surreal to the Slovenian Stunner.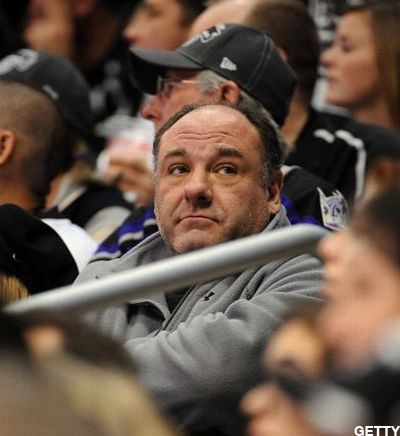 Sopranos star and Kings diehard James Gandolfini, who I recently saw in the war movie Zero Dark Thirty, was back in his seats in the lower bowl to witness history. I got nothing but love for Gandolfini who, like Kevin Smith, grew up in Jersey. But it's apparent the Kings have his attention over the Beast from Back East.
Hilary Duff and her husband, retired player MIke Comrie wear also in attendance. Not sure if Duff had called Alyssa Milano on what was the appropriate hair style to wear for a day game, but apparently up in a bun is the industry standard.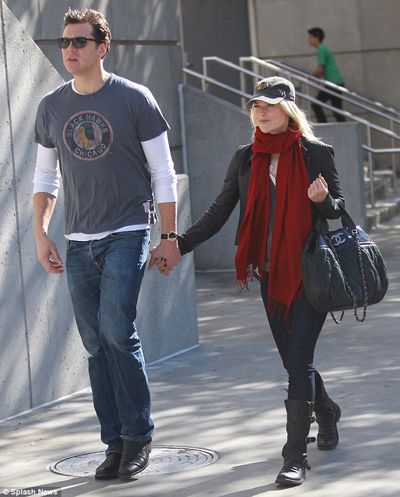 Finally here's Ali Larter with her husband, actor Hayes MacArthur. As you can see, MacArthur is a Blackhawks fan, and has forced his wife to wear a Blackhawks hat.