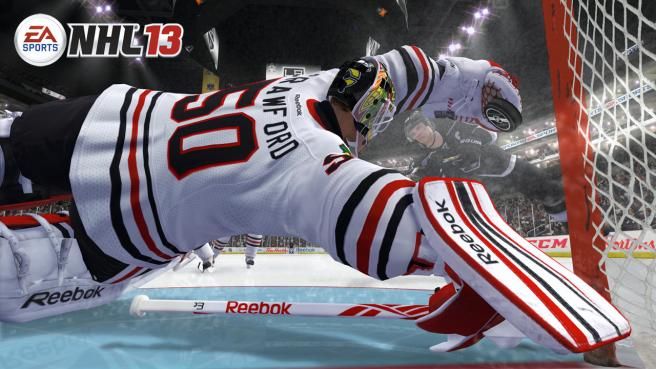 One of the things that I looked forward to when I bought NHL 13 was the opportunity to play the myriad game options, in addition to the usual season mode.
The one that really intrigued me was the NHL Moments Live, where they offer up 26 different scenarios to see if you can rewrite the record book. In addition to that, EA says they plan on updating the Moments throughout the season.
Well the first update is in, and guess what one of the Moments that can be rewritten? Yup, last Saturday's third period by the Kings…
Raining On Their Parade

Summary: Last Saturday, the Los Angeles Kings took on the Chicago Blackhawks in the first game of the NHL season. This was a special night for the Kings as they celebrated their Stanley Cup® victory with a ring and banner raising ceremony. The Blackhawks were not intimidated by the champions as they got off to a fast start by scoring 3 goals in the 1st period. With the score at 4-1 in the third, the Kings got a glimmer of hope from a Jordan Nolan goal. The comeback was short lived as Chicago's Marian Hossa put the game away just seconds after Nolan's tally.

Objective: With 10:25 left in regulation, win the game as the Los Angeles Kings. CAN YOU CHANGE HISTORY?
I will change history. As God as my witness, I WILL CHANGE HISTORY!!!
As a lifelong gamer, this is one of the coolest things I have ever seen. The game is so interactive, I can try to rewrite a scenario that I witnessed first hand days ago. Amazing.
Let me know if you do it as well… Snap a pic and send me your score…
BTW, here's a video of the banner raising I grabbed from NHL 13 before the season started. If they actually changed the banner to the real one, then I'd be FLOORED!