A night after the Screen Actors Guild, actress Amanda Seyfried went to Monday night's Kings game with actor/Hockerazzi mainstay Kevin Connolly.
Keep in mind that Amanda, who was deemed
among the most beautiful
of the Beautiful People at the SAG Awards, also stepped out after the awards ceremony wearing a
totally sheer dress
. It seems Kevin decided to get Amanda to slip into something a little more comfortable: a Dustin Brown jersey.
Amanda's working that jersey (and seems really worried about the Kings' power play.) There were rumblings at the SAGs that Amanda wore an identical dress as Jennifer Lawrence. So what better way to stand out than wear a jersey worn by half of Staples. I kid! Sticktap to the future Linda Lovelace, however, at least she WORE something Kings related (unlike many stars who come to the games).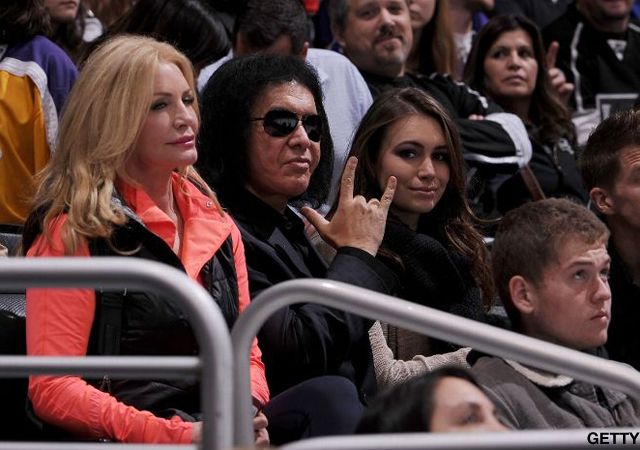 KISS frontman Gene Simmons made his return to Staples Center alongside his Canuck wife Shannon Tweed and his daughter Sophie. Turns out Sophie is almost a bigger hockey fan than her mom. After the game, Shannon politely congratulated the Kings on their shootout win. Sophie sadly ate a banana.
Good game Kings win on shoot out.

— Shannon Tweed (@shannonleetweed) January 29, 2013
Sad girl, healthy snack twitter.com/SophieTSimmons…

— Sophie Tweed-Simmons (@SophieTSimmons) January 29, 2013
I've always had a hard time trying to figure out what the deal is with Gene Simmons. But after hearing
he performed a "modified Cabbage Patch" to the Ramones' Hey Ho, Let's Go
, I think he and I share one thing in common:
trying to embarrass our daughters in public
.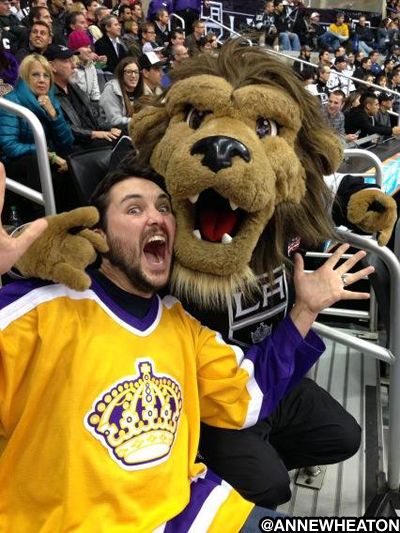 Actor/blogger/diehard Kings fan Wil Wheaton went to the game with his wife, Anne. Now Wheaton is a true fan because he, like many other Kings fans,
was in awe
of seeing the actual Stanley Cup banner high in the rafters of Staples.
That's a Stanley Cup Champion banner. In my hometown arena. *wilflail.gif* imgur.com/8RJAx6v

— Wil Wheaton (@wilw) January 29, 2013
But also, as a "champion of geek culture," he was NO problem posing with Bailey during the game, wearing an old school Kings jersey. That's why I've got noting but R-E-S-P-E-C-T for Wil.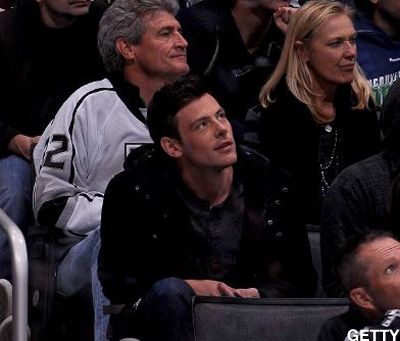 Finally, another Canucklehead fan, Cory Monteith, was in the house. Cory was also at the SAG Awards with his girlfriend from Glee and in real life, Lea Michele. Apparently he couldn't convince her to come to Monday's game. So he sat on the aisle, tweeting back and forth with other Canuck fans who saw him on TSN.
absolutely "@emmanelson2323: @corymonteith is that South Park voice as annoying in person as it is on tv?"

— Cory Monteith (@CoryMonteith) January 29, 2013