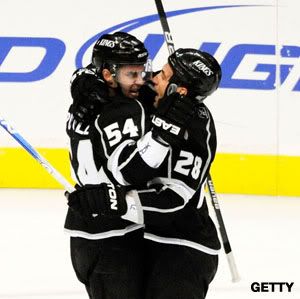 Game 2: Kings 6, Sharks 4
After the debacle on Saturday, the season can now officially start after last night's impressive game against the San Jose Sharks. I was able to procure some nice seats thanks to a good friend (thanks Amy,) and so I took my daughter to the game. I try to take her to at least one game a season, so I figured this wouldn't hurt. On a school night. Note to self, stick to weekend games for the kid. She got tired and was worried she'd be sleepy at school, so we left after the second. (I know, I know…)
I rationalized it by saying I didn't want to be there when the Kings lost their four-goal lead, and I'd like to leave on a high note. I got home just as Davis Drewiske potted an empty-netter to ensure the Kings first win of the season. Oh well, there will be other games. (There always are).
The difference between Saturday's team and the team on Tuesday was multifold: instead of looking tentative, they looked aggressive. Instead of having one line providing chances, there were three. And instead of some players coasting around waiting for opportunity, they made their own.
One of those players is Ted Purcell (or I guess he's going by Teddy now) looked really good last night, causing several Sharks turnovers and playing like he's 6-foot-3, instead of 5-foot-9. Add 15 more pounds of muscle on Purcell, and he'll be a monster. His game-winner from behind the net was a thing of beauty. Lucky? Sure, but it shows that good things happen when you throw the puck toward the net.
On the last Hockeywood Insider podcast, I mentioned that this is the season for Anze Kopitar to become a 90-100 point player. Or at least a point-a-game player. Well, Anze now has two multi-point games. He has really found the player to compliment his skills in Ryan Smyth. Honestly, Smyth could make any player better. And on the other side of the line is Justin Williams. And even though he's been quiet offensively, he's done good things in the neutral zone.
I just want to say one thing: Alexander Frolov is not on the third line. I was sitting next to a few yahoos last night, complaining that Frolov should be on the top line with Kopitar. Rather than turn to them and knock their heads together, I'll just bash them anonymously on my blog. It's not an actual ranking, it's just a name. L.A.'s "stopper" line played outstanding against the Sharks top line. Plus, any line with Wayne Simmonds can't possibly be ranked third in importance. Step away from your XBoxes and pay attention.
Let's talk about Raitis Ivanans and his fight with Jody Shelley. (Heh, Jody has a girl's name…) Raitis, or as I have now dubbed him Bullet-Tooth Raitis, jumped to the defense of Davis Drewiske with the savagery of the character from movie Snatch. Over at HockeyFights.com, they deemed Bullet-Tooth the victor. I especially like how, at he end of the fight, Ivanans turned Shelley (heh, his last name is a girl's name, too…) around and shoved his face against the glass, WWE-style. The only thing I could think was "Thank God Ivanans is on our side."
The Kings did give up a four goal lead. The one glaring thing that sticks out to me was the mental lapses that resulted in penalties, especially in the second period. Too many men on the ice is flat out unacceptable. The penalty lead to the Sharks' first goal by Setoguchi, and started their rally. And Frolov's double minor was regrettable, but at least it bloodied Setoguchi.
Which brings me to the special teams. Last game, the Kings killed off three of the four penalties against the 'Yotes, while notching three power play goals. Tuesday night, they gave up four power play goals, while only scoring once on the man-advantage. Guess you can chalk that up to the law of averages. The Kings are still at 50% with the man advantage, and there's an effort to improve the 5-on-5 scoring.
But don't think this win doesn't hold some considerable weight. San Jose is still the reigning President's Cup team, and the addition of Dany Heatley makes their top line a formidable one. Remember that scene in Jaws, when Brody is chumming the waters, mocking Quint when all of a sudden, the shark's huge head appears and scares the crap out of Brody. This Sharks' team is that dangerous, as evidenced by coming from four goals down. Always lurking under the surface, waiting to strike. But the Kings showed the temerity to fight through adversity to come out on top.
Enough analysis, let's celebrate the Kings first win of the season!
• AP: Kings blow 4-goal lead, rally to beat Sharks 6-4

It's still awfully early, but the Kings believed such a stirring victory is a sign that perhaps the same old Pacific Division pecking order could change this season.
• Canadian Press: Kings blow 4-goal lead but rally to beat Sharks

Blake, the Sharks' new captain in his second season with the club, was booed every time he touched the puck by the crowd in half-full Staples Center.

• L.A. Times: Kings almost let a big one get away

Davis Drewiske secured the victory for the Kings (1-1) by scoring into an empty net, his first NHL goal. Ryan Smyth scored his first goal as a King and Rob Scuderi suffered his first nose injury — bruised but not broken — and certainly not his last.

• LAKings.com: Purcell's late goal lifts Kings over Sharks, 6-4

"We're glad that we stayed composed and (we're) pleased to get the win," Kings defenseman Matt Greene said, "but obviously the penalty kill has to be better and that put the game in jeopardy. It shouldn't have been that way. For the most part, the guys stayed composed and we came back to win the game."

They said it

"I really like what Raitis did there with the hit on Drewiske. They're trying to get something going. I know that. They've got some energy guys out on the ice and they're trying to stimulate their team and get excited about something. They got a hit and Raitis steps in and supports his teammate. It was a great job by him. It might have got them underway a little bit, but in the long term, those kind of plays by our guys responding, are critical to our success." – Terry Murray, Kings head coach
Other royal observations
• LA Kings Insider: Game notes

So much for faceoffs being a key, as the Kings won only 26 of 61 faceoffs (43 percent) Jarret Stoll won 11 of 14 faceoffs but Michal Handzus lost 17 of 24 (30 percent).
• Frozen Royalty: Kings Blow Another One…Almost

Kings center
Anze Kopitar led the way for the Kings with a goal and twoassists, while defenseman Davis Drewiske scored his first National Hockey League goal and added an assist. Center Michal Handzuscontributed two assists.

Around the Kingdom
• A Queen Among Kings: A Questionably Solid Win: Kings 6, Sharks 4

My mantra of the Kings being "consistently inconsistent" continued last night by their sheer meltdown in the middle of the game. Yes, their passing and transitions were impressive, but the inevitable excitement and inability to immediately calm the nerves after their lead was built lead to the Kings suffering 4 unanswered power play goals from the Sharks.

• Press Box Perspective: Kings refused to give up

Also, for those Kings fans who worried that Rob Scuderi had won the Stanley Cup in Pittsburgh and might not play as hard for a the Kings in LA… I think Rob proved himself to be the tough guy he's always been last night. Scuderi took a puck to the nose (it's not broken, just caused gushing blood) and only missed a shift as they got him cleaned up and made sure that he wouldn't bleed all over as he went out to play the rest of the game.

• The Royal Half: One down.

If you would have told me that after 2 games the Kings would have 9 goals… I would have been beyond happy. But if you told me that they would have also given up 10 goals in those 2 games… not so much… Jon Quick looks brilliant at times and downright LaBarberian at others.

• Inside Hockey: Who were those guys?

Almost the same bunch of guys suited up in black Tuesday night as had three days earlier for the Kings when they lost 6-3 to Phoenix Saturday night. Most of the same things happened before the game, including the singing of "God Bless America" instead of the national anthem. So you'd think, if you were into superstition, that the same things would later happen on the ice as had the game before. You would be wrong. Way wrong.

• Kings Kool Aid: I Now Love Raitis Ivanans (and new bonus nickname)

…because of the insane ferocity with which he charged at whoever it was who ran Drewiske. That was just about the scariest thing I have ever seen and every team in the league should have it in mind when they play the Kings.

• Battle Of California: Kings-Sharks: Exhale

It's funny how a win like this can be viewed by different people. If you're a Kings fan, are you happy that your team won, no matter what? Are you upset the Kings almost blew a 4-0 lead? If you're a Sharks fan, are you upset the Sharks were so terrible 5-on-5? Or happy the power play looked so good? If you're me, you just kinda wanna go to bed.

From across the aisle, the San Jose viewpoint
• Mercury News: Sharks come back from four-goal deficit but lose to Kings

"We're not going to win games giving up six goals," he began. "We're not going to win games not scoring five-on-five. We're not going to win games with goaltending like that. We're not going to win games if we don't get our penalty-kill clears out. We won't win games looking for players for the first half of the night."

Peeping the dailies
Here's the fight between Ivanans and Shelley