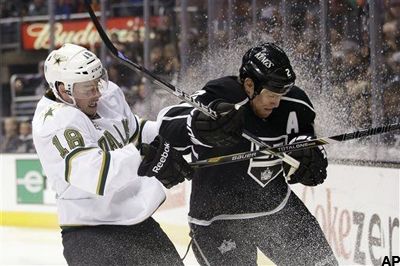 Game 45: Kings 4, Stars 3 (overtime)
To peep out all the videos online about this game, check out today's Hockeywood Dailies.
• AP: Kings stand alone in fourth place with OT win
The Kings (26-14-5) moved two points clear of San Jose for fourth place and home-ice advantage in the first round after the Sharks lost to Columbus. Both teams have three games left, with San Jose visiting Los Angeles for the regular-season finale Saturday.

• LA Times: Kings are getting stronger just at the right time
After a rocky start and adjustments on defense made necessary by injuries to Willie Mitchell and Matt Greene, the Kings have rediscovered the formula that a year ago boosted them from the No. 8 seeding in the West to winning the Stanley Cup. They're blending strong goaltending, punishing defense, good special-teams play and unshakeable resolve, and they've calibrated it to come together at precisely the right time.

• NHL.com: Kings edge Stars in overtime

The game-winner was appropriate – a wrist shot by Mike Richards from a steep angle on the left side that deflected off Jeff Carter's shoulder. Brown added two goals as Los Angeles moved two points ahead of the San Jose Sharks for fourth place in the Western Conference. It assured the Kings of finishing no lower than sixth.

They said it

"This is just my feeling about this team, that when the games become more meaningful we become a better team. And that's a positive and a negative because there's games that maybe you don't feel they mean as much but they do, early on in the year, and we've shown we like to dig a hole and climb out of it a lot. This year probably not as much, but off the start we didn't play very well." – Dustin Brown, on how the Kings responded Sunday.

"No matter how you get them, I guess, you get the two points. It's all that matters. I don't know how the other games turned out tonight, but I think if we continue winning, they're going to have to come here at the beginning of the playoffs. That's our goal right now. We want to have home ice, and we're just going to keep fighting every night to get to points every time we go out." – Jonathan Quick, on the overtime win over Dallas.


"The only team that nobody should want to play, quite honestly, is the team that's lost only five games this year. I don't think we're selective about that." Coach Darryl Sutter, on who the Kings DON'T want to play in the first round in the playoffs.